The Diva That Hosted Chinese New Year Potluck 2012
It's baaaaaack! By popular demand and because we had such an incredible time last year, Ken and I are hosting the "Year of the Dragon" Chinese New Year Potluck on February 4th, 2012.
I hosted my first Chinese New Year feast party around 20 years ago, with over 30 dishes and I cooked E-V-E-R-Y-T-H-I-N-G myself. When the guests arrived, my hands were bleeding and I was nearly comatose! I remember my mother saying to me, "WHAT DID YOU DO?" It was a killer party and I did it because I wanted to throw a party that I thought I'd never be invited to.
Last year, when Ken and I threw the first Chinese New Year Potluck I realized how crazy I'd been!!! This is how to do it! The tri-state food blogger and friends community came together, each bringing a dish and together we wound up with a stupendous feast of amazing foods from all over Asia… and we ate it! We ate every bit of it—seriously… there were no leftovers. So save-the-date and plan to spend the afternoon feasting on Asian food with your favorite food loving friends! 
Here's Ken's beautiful recap of our event from last year with delicious pictures.
Here's mine with the list of all the dishes that were served.
CHINESE NEW YEAR POTLUCK MENU
Bahn Xeo: Crispy Saigon Pancakes with Shrimp (savory), Chinese Broccoli with Oyster Sauce and Toasted Sesame Chocolate Dipped Kumquats (sweet) Jackie Gordon @divathatateny… this is my blog….
Sichuan Wontons in Red Hot Oil (savory) Margaret Sweet Savory Living
Auspicious Walnut Cookies (sweet) and Sesame Gold Nugget Cookies (sweet) Ken @hungryrabbitnyc Hungry Rabbit NYC
Scallion Pancakes (savory) Waisum @urbanblitz Urban Blitz Flickr
Almond Green Tea Cupcakes (sweet) and Cold Sesame Noodles (savory) Kate @KDBabbles Food Babbles
Asian Pulled Pork (savory) Nian Gao: Chinese Sticky Cake (sweet) Andrea & Jeff @highlowfooddnk http://highlowfooddrink.com
Peking Duck Pancakes (savory) Kathy @TheExpGourmand The Experimental Gourmand
Fruit Wontons (sweet) Georgie @GeorgieCakes Georgie Cakes
Indonesian Chicken Satay (savory) Borahm @kitchensurfing Kitchensurfing
5 Spice Almond Cake (sweet) Dan @renegadekitchen Renegade Kitchen
Fat Choy (savory) Veronica @veronicachan World to Table
Red Cooked Pork (Sichuan style) and Dry-Fried Green Beans. (savory) Grace & Michael @eatdinner Eatdinner Blog for Family Dinner
Thai Satay with Satay Sauce (not peanut based) and Cucumber Pickles (savory) Nicole @andbabycakes3 And Baby Makes Three
Long Life Noodles (Lo Mein) and Kabocha Squash with Ginger (Chao Nan Gua) Melissa @mmarksshih Everyone Into The Kitchen
Almond Cookies (sweet) and Egg Rolls (savory) Rodney & Larry @RodneyBedsole @LarryGarlandNYC Rodney Bedsole Larry Garland
Pad Thai Balls (savory) Eryn Ugly Food Tastes Better
Mongolian Cabbage Salad (savory) Stir Fried Bok Choy (savory) Laura @gourmettenyc Gourmette NYC
Laotian Deep Fried & Stuffed Chicken Wings (savory) Sweet & Spicy Mushroom Stir Fry (savory) April @aprilsomboun Sophisticated Palette
Vietnamese Chicken Salad (savory) Sekita KikaEats
Chicken Curry Onigiri (savory) Hazel @tastypursuits Tasty Pursuits
Vietnamese Shrimp and Pork Belly (savory) Ian Design By Ian Robinson
Kumquat Curd Topped Black Sesame Shortbread Bars (sweet) Emily @nomnivorous Nomnivorous
Japanese Kakuni Style Pork Belly (savory) Mariko @MarikoRENYC Mariko on Twitter
New Years Sushi Roll (savory) Simon
Fortune Cookies (sweet) Kirsty @goodtasteguide Good Taste Guide
Taiwanese Cucumber Salad (savory) Jessica @foodmayhem Food Mayhem
Tea Eggs (savory) and Banchan (savory) Brian Brian Yarvin
Almond Milk Dessert (sweet) Maria Of Pots, Pans And Food
Japanese Custard Pudding (sweet) Lillian @sweetsillianah Sweets By Sillianah
AustralAsian Pulled Chicken Curry (savory) Sarah @sarahmclellanny The Aussie Who Ate The Big Apple
Vietnamese Noodle Salad (savory) Alison @alisonpaterson5 Alison Paterson
Chilled Tofu with Scallions & Peanuts (savory) Debra @eatquestnyc EatQuestNYC
Thai Cucumber & Peanut Salad (savory) Alissa @glamsnack Glamorous Snacker
Chinese Almond Cookies (sweet) Rose
Hoisin Chicken Sliders with Asian Slaw (savory) Lynne Chefs To Dine For
Kung Pao Chicken (savory) Kristen The Artful Gourmet
Sichuan Dry Sauteed Green Beans (savory) Jennifer @cucinaprovera
Mango Rice Paper Rolls (sweet) Nneka @Nnekums
Chinese Honey Walnut Shrimp (savory) Maggy Three Many Cooks
Beef Rendang (savory) Pork Adobo (savory) Justin Just Cook NYC
Rice Pudding with Dragon Fruit (sweet) Asli
Korean Duk Gook: Rice Cakes in Beef Broth (savory) Susan
Hoekduk: Sweet Pine Nut Filled Pancakes (sweet) Asil
Korean Acorn Jelly w Kimchi (savory) Connie @theconniechung
Spicy Lacquered Chicken Wings (savory) Helena @helenabk
Kai Yuk: Pork Belly & Taro Root (savory) Steamed Laotian Fish Curry (savory)Stephen
Dorayaki (sweet) Yoko @Y_says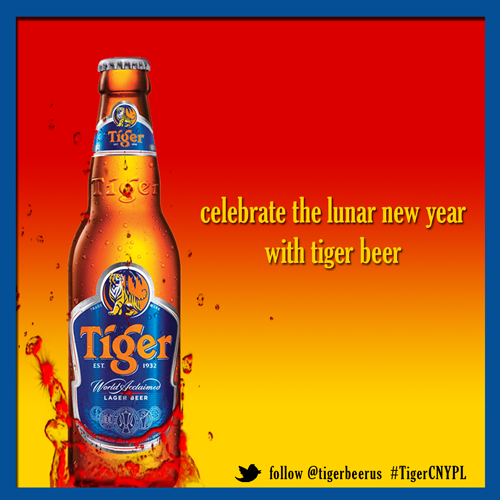 WHAT TO BRING
Every person attending the pot luck MUST bring an Asian dish.
Your Asian dish can be sweet or savory and from anywhere in Asia or just Asian inspired. I will be keeping track of what dishes people plan to bring right here, so we don't get any doubles. It also helps to look at the menu to whet your appetite for the feast that will be a-coming. Plus, the people who can't come LOVE reading about it. Hopefully they're inspired to throw their own potluck or to make a trip to NYC to join us for the next one. Add what you're bringing to the comment section and I will add it to the post with your blog and Twitter handle (if you have one) and tweet about it.
TIGER BEER IS OUR SPONSOR!!!
It would be ideal if your dish goes with Tiger Beer since they're sponsoring our potluck this year. I'm super excited about this because I really like Tiger Beer with Asian food. I think it washes down the spicy foods beautifully!!!
Show Tiger Beer some LOVE by FOLLOWING them on Twitter and LIKING them on Facebook.
You could also make a dish with Tiger Beer, but it still has to be Asian… The first thing that comes to my mind is Tiger Beer battered anything… YUMMY FRIED FOOD! Or maybe a casserole.
THE COST
It's FREE! It's a no holds barred Meet UP Feed UP. We'd love you to show us and Tiger Beer LOVE by spreading the word about what you're cooking and how it was to attend this event. Tweets, FB posts, Google+ posts, blog posts, Pinterest, etc. are all supremely appreciated.
TWITTER
The hash tag is #TigerCNYPL.
WHEN
February 4, 2012 from 1-5pm
WHERE
Chinese New Year Potluck is in the city this year, at Studio 580, 580 8th Avenue, NYC and 38th St (close to Penn Station). We are expecting more people this year, so my house was not an option this time.
TO SIGN UP
The official invite has been sent. If you didn't get an invite—let me know!!! If you did get an invite, respond quickly spaces are limited! if you did not receive an invite you may not be on my Tri-State Food Bloggers mailing list or my Food Biz Peeps Who Can Get To NYC mailing list. You should sign up NOW!
1
.(JavaScript must be enabled to view this email address)
Can't wait! I'll be making the Nian Gao (sweet) I made for last year's pot-luck (as requested by Waisum): http://www.highlowfooddrink.com/2011/02/easy-recipes-chinese-new-year-baked-red.html
Haven't figured out Jeff's dish yet but will let you know!
2
.(JavaScript must be enabled to view this email address)
Great Andrea!!! Waisum is going to be VERY HAPPY!!!! She's making scallion pancakes again—we're twisting her arm!
3
.(JavaScript must be enabled to view this email address)
I will be making a spicy Asian pulled pork dish (savory)
4
.(JavaScript must be enabled to view this email address)
YAY! So excited - I'm bringing dessert, an array of fruit filled wantons.
5
.(JavaScript must be enabled to view this email address)
I like to bring some
Indonesian Chicken Satay with a spicy peanut sauce. @kitchensurfing
6
.(JavaScript must be enabled to view this email address)
I'm so excited about the #CNY pot luck and I'm bringing my husband Michael who is the Asian cooking maven in our house. We will bring Red Cooked Pork (Sichuan style) and probably Dry-Fried Green Beans. Thank you Jackie and Ken!
7
.(JavaScript must be enabled to view this email address)
I would like to make Thai Satay with Satay Sauce (not peanut based) and Cucumber pickles.
http://andbabycakesthree.blogspot.com/
@andbabycakes3
8
.(JavaScript must be enabled to view this email address)
So far I have narrowed it down to either pad thai balls OR matcha shortbread cookies, but who knows what the next week will bring to my brain!
9
.(JavaScript must be enabled to view this email address)
Grace—We are super excited too!!!! Red Cooked Pork is one of my favorites! I can't wait to meet Micheal! What does he know about seasoning a wok? I got a new one that I should bring to this party for reheating and I have to season it.
10
.(JavaScript must be enabled to view this email address)
Georgie Fruit Wontons sounds intriguing. I look forward to tasting them and seeing the recipe.
11
.(JavaScript must be enabled to view this email address)
Bo—Did I meet you at the IACP launch party? I rarely get good sate in NYC. I live in Australia for ten years so I was spoiled for that and a good curry laksa looking forward to trying yours!
12
.(JavaScript must be enabled to view this email address)
Cool Nicole Peanut free satay sounds interesting. I also excited about the pickles! I love Asian pickles. Now I wish someone were bringing oshinko…. Can't wait to meet you!
13
.(JavaScript must be enabled to view this email address)
Eryn - PAD THAI BALLS!!! LOVE IT!!!! Do you want me to add either of those to the menu or should I wait for the next creativity wave?
14
.(JavaScript must be enabled to view this email address)
I'll be bringing Long Life Noodles (Lo Mein) and Kabocha Squash with Ginger (Chao Nan Gua). Can't wait!
15
.(JavaScript must be enabled to view this email address)
Oh Melissa I am a HUGE Lo Mein Fan and your squash dish has me SUPER curious. I grew kabocha squash this past summer! So glad you're coming to the party!
16
.(JavaScript must be enabled to view this email address)
I am seeing a lot of "no-peanut" stuff, would pad thai balls be a bad plan? I would be rolling them in peanuts!
17
.(JavaScript must be enabled to view this email address)
Eryn ABSOLUTELY NOT! I LOVE PEANUTS! We'll have all sorts of people with all kinds of food considerations so we'll have very labeling. You can bring whatever you like. If you were on Twitter you could have seen the "conversation" about your pad thai balls. WE WANT THEM!!!! BRING IT!
18
.(JavaScript must be enabled to view this email address)
Okay, I got the hint (via Twitter). So here's the big decision. I'll be making Tangerine Pie (recipe by my friend and pastry chef extroidinaire, Pichet Ong) and Egg Rolls (Pork).
19
.(JavaScript must be enabled to view this email address)
Hahaha okay then count me in with pad Thai balls, and I promise to give in to the Twitterverse soon!!
20
.(JavaScript must be enabled to view this email address)
THERE WILL BE BALLS!!! YAY! Eryn!
I'll add Pad Thai Balls to the menu right now!
Yes, come play with us on Twitter! All we do is talk about food, food & food—with a sprinkling of sexual innuendo and popular culture—I've met some FAB people—it's actually inadvertently how I met you.
21
.(JavaScript must be enabled to view this email address)
I will be bringing a Napa Cabbage and Red Onion Salad along with Stir-Fried Bok Choy.
22
.(JavaScript must be enabled to view this email address)
Since I may be running late, I'm going to bring dessert. Kumquat curd topped black sesame shortbread bars
23
.(JavaScript must be enabled to view this email address)
I will be bringing Deep Fried Stuffed Chicken Wings (Laotian style).
Can't wait!
24
.(JavaScript must be enabled to view this email address)
Salted Egg Congee
@tastypursuits
25
.(JavaScript must be enabled to view this email address)
Cool Emily!!! Sounds amazing and stunning looking!!!
26
.(JavaScript must be enabled to view this email address)
April: I may have to come by and watch you make them! What are they stuffed with? SO FREAKING EXCITED!!!
What is it about fried food?
27
.(JavaScript must be enabled to view this email address)
Hazel I love congee and I've never made it. Especially interested in the veggie floss.
This party menu is getting me GLEEFUL!!!
We should have karaoke!!!
28
.(JavaScript must be enabled to view this email address)
Having just returned from Bangkok, I'll be making a Thai-inspired cucumber and peanut salad. http://www.glamoroussnacker.com
29
.(JavaScript must be enabled to view this email address)
i'm either bringing very spicy szechuan noodles or a spicy soft tofu dish. both are savory. likely going with noodles but will decide soon!
30
.(JavaScript must be enabled to view this email address)
I'm bringing sticky Thai chicken wings
31
.(JavaScript must be enabled to view this email address)
If the Big Summer Potluck hepapns again, the organizers should hire you as a PR person because now I want to go next time! It sounds like the event really inspired you too. Also, I love the pictures!
32
.(JavaScript must be enabled to view this email address)
Oh yay! I'm glad you got it. When you pestod about baking a cake a while back, I immediately thought about that book and how your kids would LOVE it. LOL Okay, with all of your kind words, who is thinking too highly of whom? After all, it was you that was so caring and thoughtful to me this past year. I really appreciate you remembering me and my boys with your notes and even project ideas to keep them occupied. I am thankful and blessed to be your friend!Love,Marsha
Post a Comment
The commenting period has expired for this post.