Nobody Know The Truffles I've Seen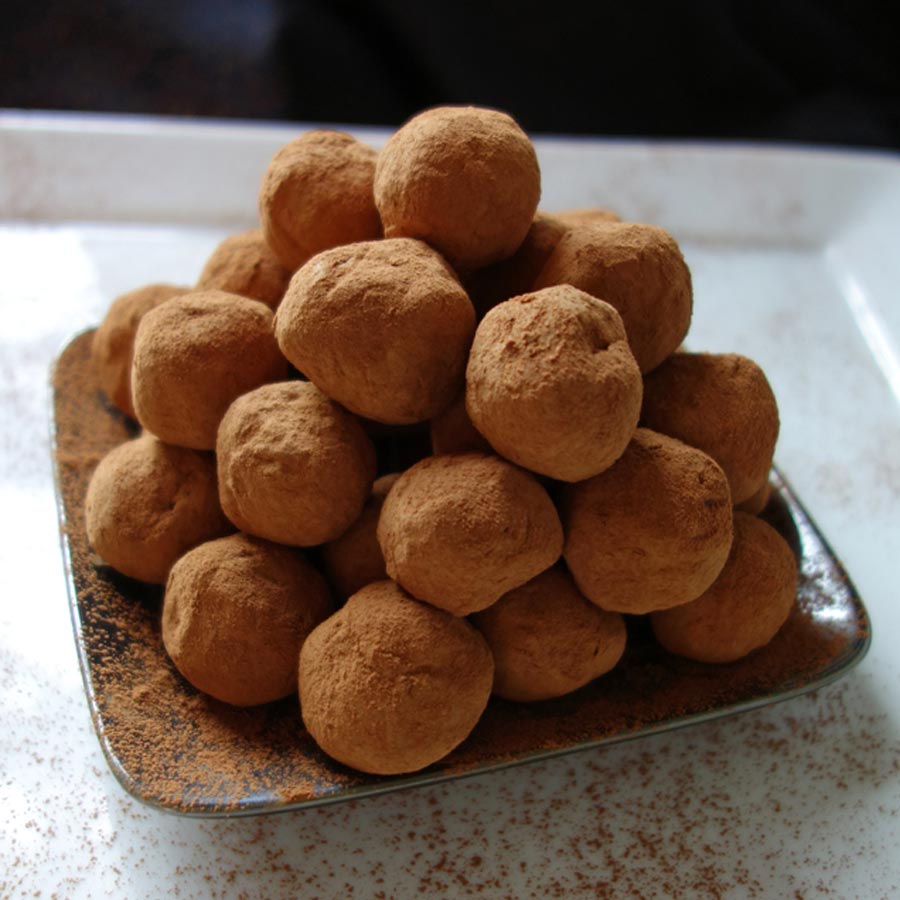 Chocolate Truffles
SHRIEK!!! That was the sound coming out of my mouth along with a lot o' cussing when I realized that the recipe I had PRINTED on my truffle RECI-TEE shirts had a typo in it.
When I decided to create my RECI-TEES I didn't realize how much I SUCKED at managing production of such things. I'm not anal enough or detail oriented enough. I'm creative, not laterally motivated.
I went back and found I had created two versions of the recipe file for the printer, I don't know how or why I did that, but there it was staring back at me. Luckily, I was able to take solace because I have dear friends who have written cookbooks who had similar experiences, so I did not beat myself too long about it. I had to sell the adorable shirts with a note of correction. SIGH…
The most popular treat that I used to bribe my way into New York City nightclubs, for free, as the Magic Cookie Lady, were these truffles. Back in the Stone Age, when I was a club kid, the last thing anyone expected me to pull out of my purse were chocolate truffles.
I remember going to a club that had just opened in a loft in Tribeca. The club was up a zillion stairs. I was wearing stilettos heels which I only wore to walk into the nightclubs because I could barely walk much less dance in them. Once inside I ditched the heels, slapped on my Keds and hit the dance floor!
As I was slowly making my way up the stairs, I heard one of my more suitably shoed cohorts telling the doorman that I was behind them with truffles which we would trade for free entry. He was all " Yea, sure" about it. He was pleasantly surprised and happy to be wrong and he let us all in.
When I lived in Australia and I wanted work doing voice over and session work, I packed my demo tape in a box of truffles. They work very well for bribery and coercion.
I love this recipe because it's easy to whip up with a bit of foresight. You can keep the ganache in the fridge and roll them as you need.
Chocolate Truffles is one of the flavors of my original RECI-TEES.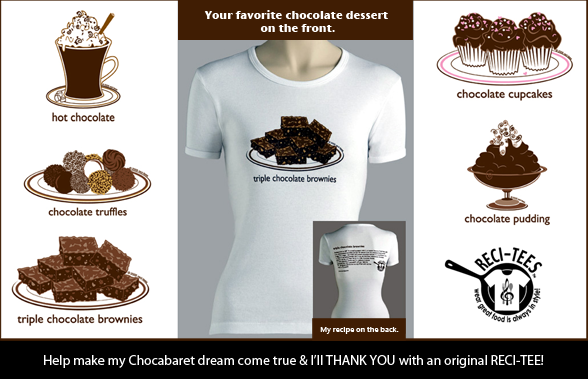 Share This:
Chocolate Truffles
Jackie Gordon
Gluten-Free, Vegetarian & Vegan, Desserts & Chocolate
These chocolate truffles are made from ganache, which sounds "fancy", but is just the French word for an emulsion of cream and chocolate.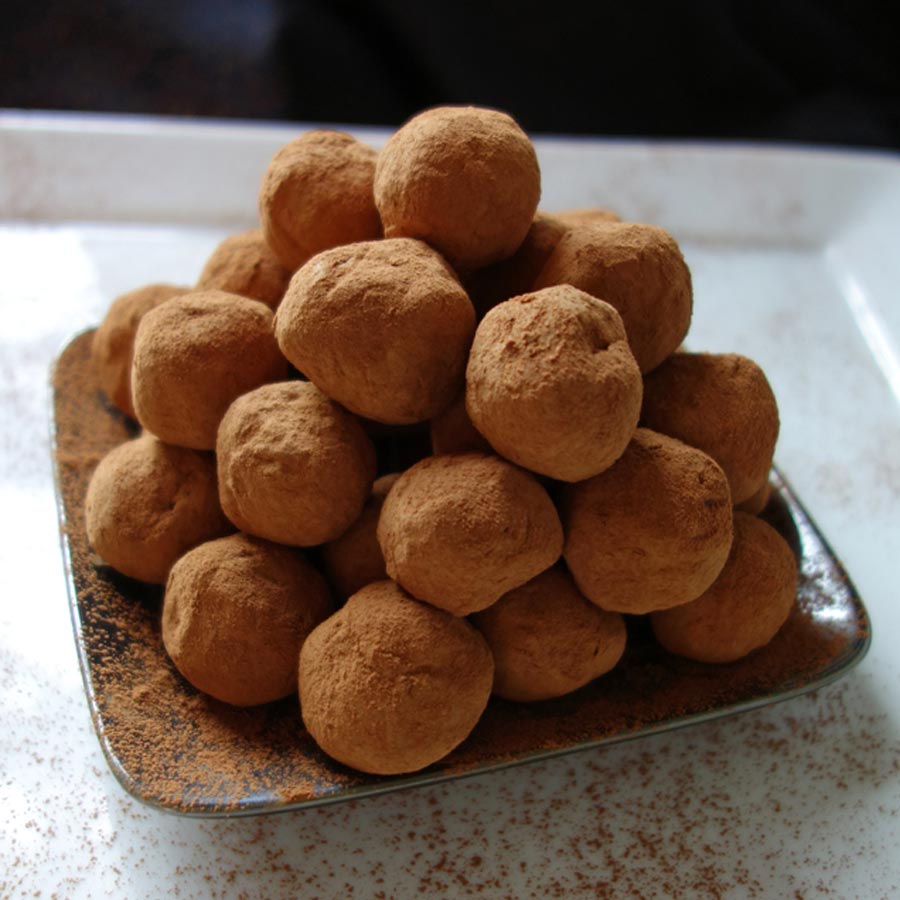 Ingredients
16 ounces semisweet chocolate or bittersweet chocolate
8 ounces heavy cream
cocoa powder
toasted crushed nuts
confectioner's sugar
toasted, fine coconut flakes
Directions
Make Ganache:
chop chocolate in a food processor fitted with the steel blade until fine.
In a small saucepan, over medium heat, bring cream just to the boiling point.
With the food processor running, immediately pour the hot cream into the feed tube and blend with the chocolate. After two minutes stop and scrape the sides and edges of the bowl, then continue to process for another minute or two to make sure all the chocolate is completely melted. Do not stir mixture. Pour into a container, and place plastic wrap directly on top to prevent skin from forming. Cool to room temperature and then refrigerate until firm.
Make Truffles:
Form teaspoons of ganache into balls and roll in your choice of cocoa powder, nuts, sugar, coconut flakes, etc. Until completely coded.
Store in air-tight container in a cool place or refrigerate. Serve truffles at room temperature.
Yield: Makes 24 truffles.
Notes
You can also dip the ganache centers in tempered chocolate. It's a bit more work, but they will last longer. Make sure the centers are not too cold when you dip them or the tempered chocolate will crack.