Pie Party Potluck LIVE! 10/15 12-3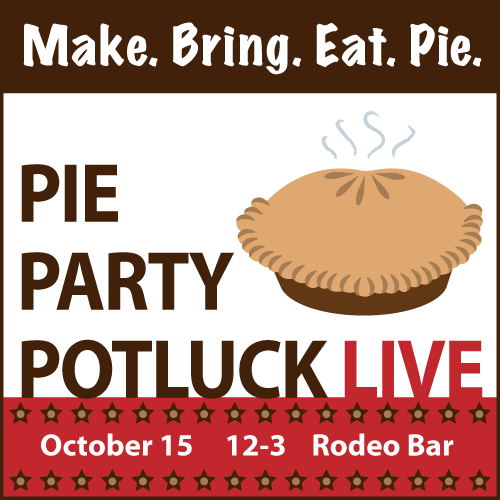 Lemon meringue pie was the first pie I ever made. Edie, my mom's best friend, taught me how to bake during the summers we spent with her in Copake Lake. She gave me my first cookbook, The Joy Of Cooking. I was so lucky to have her in my life, I loved her. She contracted Alzheimer's disease when she was in her late 40's and passed away after a very long time being battled by it.
I've made what seems like a zillions of pies since then, but the first one was the catalyst. Wherever Edie is, I know she's thrilled to bits that those first lessons have led to Pie Party Potluck LIVE!
Join food bloggers, food writers, food entrepreneurs, chefs, bakers, restauranteurs, other food biz peeps and pie enthusiasts on October 15th at the Rodeo Bar eating pie!!!
Ken and I are so excited to get to hang out with old friends (and eat pie!) and to meet a whole bunch of friends from Twitter, FB and more in real life (and eat pie) and to meet a bunch of new people (and eat pie!). Come share the PIE LOVE!
THE PIE PARADE (The pies that will be in attendance):
Jackie: The Diva That Ate New York Cupboard Harvest Pie (sweet) and Jarlsberg, Tomato & Onion Pie gluten free (savory) (lard in the crust!)
Ken: Hungry Rabbit Apple-Onion Tart (savory) and Salted Caramel Chocolate Tart (sweet)
Tara: Chip Chip Hooray!: Smore's Explosion (sweet)
Monique: The Eatinist Bitch Honey Thyme, Fresh Plums and Mike's Hot Honey Ricotta Mini Cup Pies (sweet)
Kate: Food Babbles Apple & Pear Pie with a Gruyere crust (sweet)
Abby: Abby Dodge 5-Spice Brown Butter Pop Tarts with Apple Butter Filling (sweet)
Daniellan: Ivy Bakery Buttermilk Pie (sweet)
Brian: Brian Yarvin Fidget Pie: an old British recipe using bacon & apples (savory)
Pam: Three Many Cooks Butternut Squash & Cabbage Galette (savory)
Maria: Of Pots, Pans and Food Torta di Riso (savory)
Karen: @FoodGirl4 Italian Easter Pie aka Pizza Keen (savory)
Grace: Please Pass The Gravy Tarte à l'oignon Alsacienne (savory) Ham Gruyere & Onion Quiche (savory)
Jennifer: JenniferBaker-Henry Banoffee Pie (sweet)
Dana: Sweet Potato Pie
Debra: EatQuestNYC Fig & Marscapone Pie (sweet)
George: @chocophilenyc Heavenly Pie (meringue crust with lemon filling) (sweet) & Kerelian (Finnish Rice & Jarlsberg Tartlettes ) (savory)
Kelsey: Kaffir Lime Meringue Pie with caramelized ginger graham cracker crust (sweet)
Lillian: Sweets By Sillianah Baked Chilean Beef Empanadas (savory) and Peach & Blueberry Galette (sweet) Apple Cinnamon Galette (sweet)
Jennifer: Martha Stewart Living Salted Caramel Apple Pie (savory)
Louisa: Epicurean Creations Apple Bacon Streusel Tart (sweet) Lemon Blueberry Meringue Pie (sweet)
Carol: Chocolate Haupia Pie (sweet)
Gail: One Tough Cookie Chocolate Ganache Caramel Tart (sweet)
Kamran: The Sophisticated Gourmet Tarte Au Citron (sweet)
Wendy: La Phemme Foodie Pumpkin Pie With A Pecan Streusel Topping (sweet)
Miranda: Morello Bello Pumpkin Pecan Bourbon Pie (sweet)
Rodney Bedsole & Larry Garland: Rodney Bedsole Larry Garland Lemon Icebox Pie (sweet) and Chicken Empanadas (savory)
Veronica: @veronicachan Key Lime Pie (sweet)
Winnie: Healthy Green Kitchen Boozy Black Raspberry- Sour Cherry Jalousie (sweet)
Katy: Chess Pie (sweet)
Lisa: Jersey Girl Cooks Autumn Fruit Hand Pies (sweet) & Itty Bitty Concord Grape Pies (sweet)
Serena: Big Apple Nosh Salted Caramel Pie (sweet) and husband Lemon Zing Pie (sweet)
Emily: @giggles639 Jarlsberg & Beer Chicken Pot Pie (savory)
Angela: Mind Over Batter Sweet Potato Pie or Apple Walnut Turnovers (sweet)
Wendy: From-Scratch Pumpkin Pie with bourbon spiked whipped cream (sweet)
Justin: Just Cook NYC Bacon and Corn Pie with Cornmeal Crust (savory) and Chocolate-Butterscotch Pie (sweet)
Alissa: Glamorous Snacker Lemon, Spinach, Ricotta Pie (savory)
Mariko: Tomato and Corn Pie (savory)
Simon: Holiday Charcuterie Pie (savory)
Sarah: Fritos & Foie Gras Almond Joy Pie (sweet)
Magaret: Savory Sweet Living Coconut Caramel Pulled Pork Empanadas (savory)
Alli: First Prize Pies S'mores Pie (sweet)
Mark: ReMARKable Palate Southwestern Ham, Green Chile & Nopales Quiche (savory) and Cranberry, Pear & Maple Pie (sweet)
Georgie: Georgie Cakes Apple Dulce Du Leche & Apple Caramel Pie (sweet)
Gareth: Dub Pies Thai Chicken Pie, Curry Vegetarian Pie, Steak/Mushroom Pie, NY Shepherds Pie (savory)
Alexandra: Blondie & Brownie Chili Chocolate Pumpkin Doughnut Pie (sweet) & Magic Cookie Bar Pie (sweet)
Andy & Tanya: Italian Savory Pie & Mediterranean Savory Pie
Johanna: Pretty Girls Use Knives Apple Bourbon with A Cheddar Crust (sweet)
Leslie: @tartydiva Chocolate Bourbon Pecan Pie (sweet)
Paul: Rhubarb Pie & Blueberry Pie (sweet)
Jessica: @jessicahartleyApple Pie with a White Cheddar Crust (sweet)
Kathy: Experimental Gourmand Mixed Berry Crostata
Melissa: The Spatula Queen Banoffee Pie (sweet) & Boozy Bourbon Chocolate Pie (sweet)
The Twitter Hash tag is #PiePartyLive
THEY REALLY WANTED TO COME but fate stepped in…
(We really missed their pies…er.. we mean THEM….)
April: Sophisticated Palette Cranberry-Hazelnut Pie (sweet)
Jennifer: Zenfully Delicious Curried Lamb Pie (savory) and Bacon and Leek Quiche (savory)
Elina: The Naked Beet Maybe a Quince Pie (sweet)
Daniel: Daniel Delaney Shepherd's Pie
There will be Pie Party door prizes from our generous supporters including:
BRING:
A savory or sweet pie, preferably home-made. Every attendee MUST bring a pie.
A container to take pie home—just in case—we had no leftovers at the last potluck, but tons of cookies left over at the Cookie Swap—you never know…
Business cards - very helpful when you are trying to network with your mouth full of pie
Your appetite (someone suggested stretchy pants…)
Pie Party Potluck LIVE! is free. You have to bring a pie and register to attend HERE. Tickets are limited.
YOU NEED TO KNOW
EVERY attendee must bring a pie, preferably homemade. If you want to bring your partner, your BFF, your dentist, etc., they must bring a pie.
You can't make a bad homemade pie—anything that you labor to make from scratch will be completely appreciated. However, if you bring a pie that you didn't make, make sure it's a good one because the pie police will be in attendance. Life is too short to eat bad pie.
If you need suggestions of where to buy good pie in NYC email me Jackie at jackiegordon.com or reach out on Twitter.
WHATCHA BRINGING? Please comment on this blog post (I will add your link/pie to the Pie Parade)
Tell us what pie you are bringing in the comment section for two reasons:
Get our mouths watering. Imagine hearing that someone is making a pie that you will never get to eat. My experience is regret… Now imagine hearing that someone is making a pie that you WILL get to eat. YAY! Make us happy.
It's good for your SEO. Please include a link back to your website or your blog or your recipe or your Twitter or FB page. I will add a running list of what everyone is bringing to this post and tweet it. If you have some pie making info that could be useful to our attendees comment about that too.
NO PIE STRESS
Don't worry, if you think you're going to make one pie and you change your mind, just comment again and I'll change it.
SPONSORS
We are looking for sponsors who would like to supply prizes for the pie lovers at Pie Party Potluck LIVE in exchange for being listed and linked and tweeted about, etc. Interested? Email Jackie at jackiegordon.com
Share This: