Sriracha Honey Lime Glazed Chicken Makes The Ice Cream Taste Better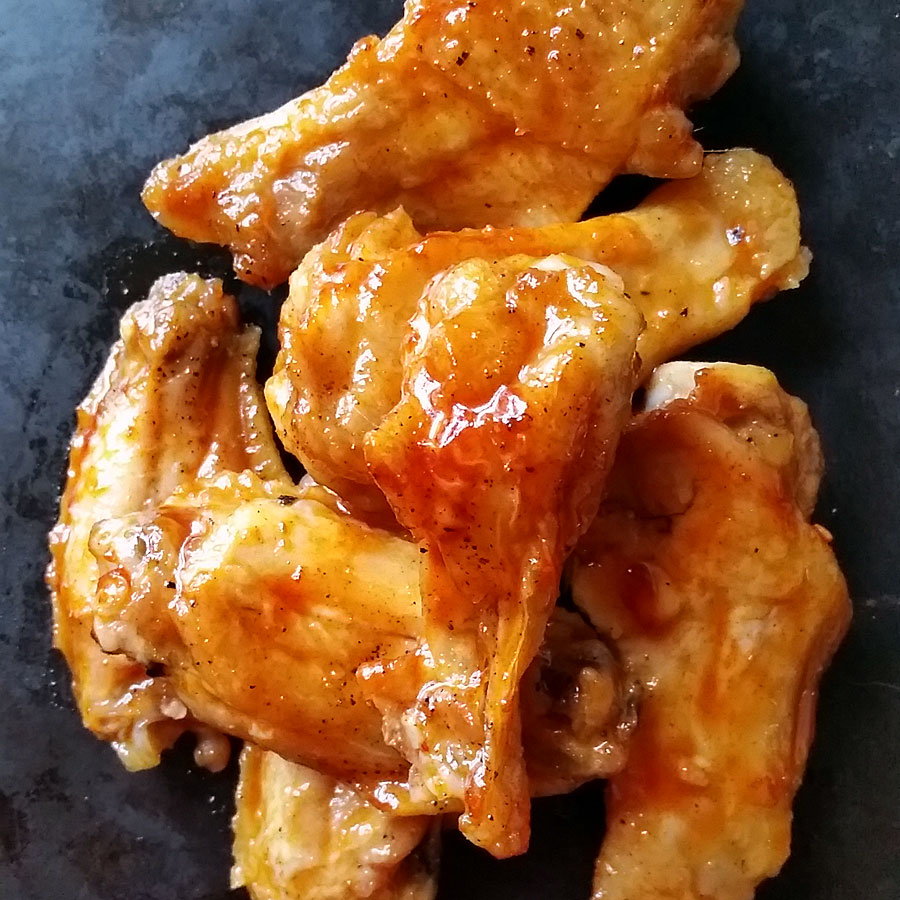 An eyeglass store is not the first place you'd think you'd find cooking inspiration. At the Warby Parker stores, you can buy books from small presses, in addition to eyeglasses, but I didn't notice any cookbooks. This recipe for Sriracha Honey Lime Glaze for my Cooked The Sh*t Wings was inspired by an event at the store on Washington Street. It was for a book that 826NYC and Edible Schoolyard helped produce, filled with stories by New York school kids called "Chicken Makes the Ice Cream Taste Better".
The stories from the book are all about food and a line up of New York City chefs including Ivan Orkin (Ivan Ramen), Alissa Wagner (Dimes) and Brooks Headley (Del Posto) read a selection of them. There's more about the book below.
At the event, they served cold fried chicken, crudités, ice cream sandwiches from Farmacy ( FOOD REGRET: I forget to try these), and beer from Folksbier Brewery (FOOD SCORE: I'm not a real beer drinker, but I liked their Pilsner-esque beer). The cold breaded chicken - I was not in love with this appetizer concept, seemed like leftovers—was served with condiments, like mustard, but what stood out was the honey sriracha sauce. So simple, just mix sriracha and honey. It was tasty too. I had to go and make some. Mine is slightly little less simple, but pretty easy.
From "Chicken Makes the Ice Cream Taste Better":
"This book you are about to read is a great book written by 6th and 7th graders at P.S. 7 SAMUEL STERN in East Harlem. Drawing on inspirations and lessons learned from EDIBLE SCHOOLYARD NYC – a nonprofit organization that builds gardens and kitchen classrooms within public schools – students here explore their own personal narratives surrounding food and community. For six weeks, these students worked with 826NYC volunteers to craft original stories about birthday cakes gone wrong, endless buffets, family reunions, cafeteria disasters, favorite dishes, and much more.
"I put everything I could think of in the bowl and then I put it in the freezer. The chicken will make the ice cream taste better, I said to myself." – Tommy Garcia, age 12"
ABOUT 826NYC
826NYC is a nonprofit organization dedicated to supporting students ages 6-18 with their creative and expository writing skills, and to helping teachers inspire their students to write. Our services are structured around our belief that great leaps in learning can happen with one-on-one attention and that strong writing skills are fundamental to future success.
Share This:
Cooked The Sh*t Wings
Jackie Gordon
Appetizers & Snacks, Mains, Gluten-Free, Parties & Potlucks
There are no proportions for the ingredients in this recipe, only the technique. I figure on six to ten wings per person. I always make extra since we can usually eat a ton of these and even if we can't finish them, we are very happy to eat them the next day. Make a sticky sauce and consider giving them a wee sprinkle of a little something crunchy when they come out of the oven like garlic chips, sesame seeds, bacon bits, and so forth (more ideas below).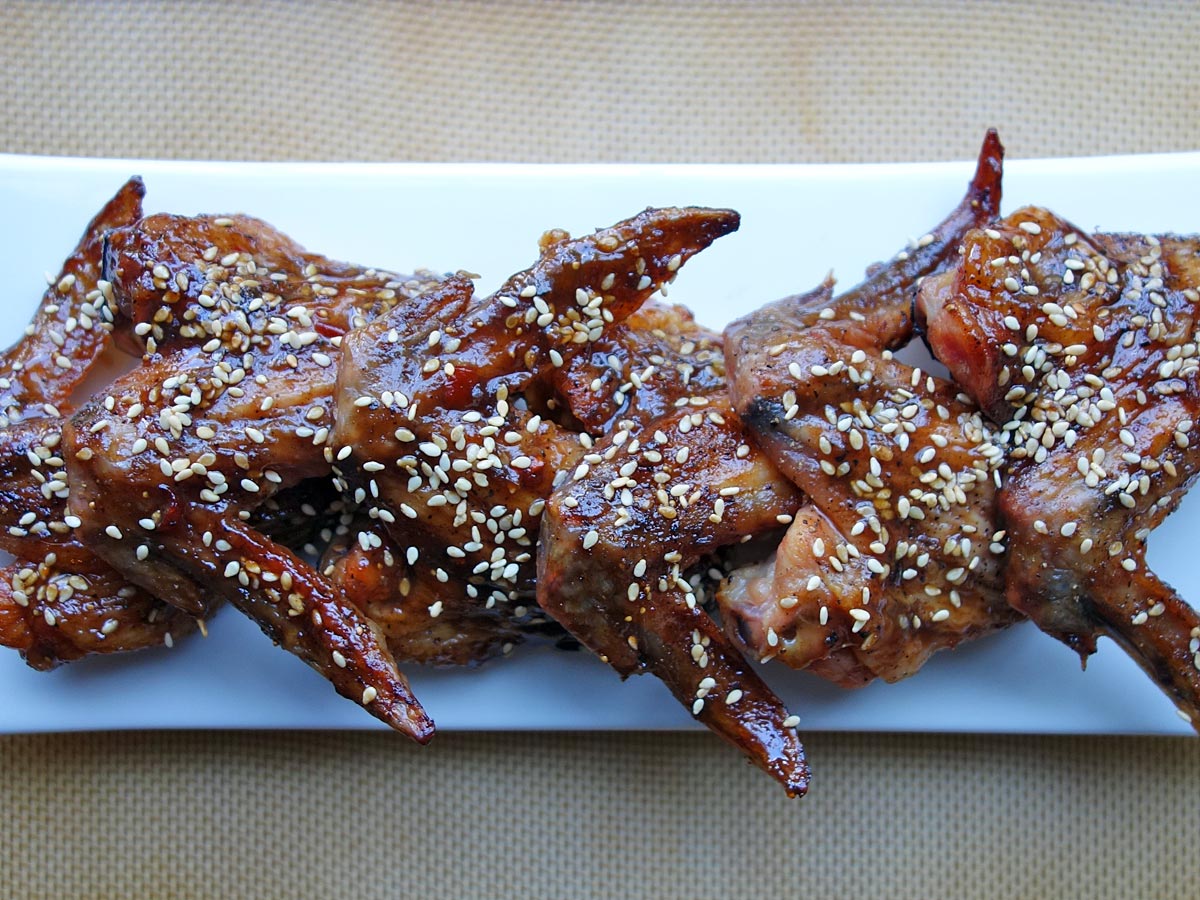 Ingredients
Chicken wings
Kosher salt
Freshly ground black pepper
Directions
Preheat oven to 425°.
Line a sheet pan with a Silpat, an equivalent silicone mat or well greased parchment paper.
Do not wash the wings, but dry the wings with paper towels to remove excess moisture. You can leave wings out, uncovered, in the fridge overnight to dry out the skin to make them even more crispy.
Place the wings on the sheet pan with outer part of the wing facing down so you can salt the underside of the wings first. Salt the under side of the wings evenly and turn them over. Salt and pepper the outer wing evenly.
Cook for one hour or so, until the wings are browned and crispy. You can drain off any excess fat that accumulates as they cook. Flip each wings and brush the underside with the sticky sauce of your choosing, turn them over brush the outer side with sauce. Return them to the oven for 5-7 minutes. Remove from oven, check the sauce coverage and add more, if needed. Sprinkle with crunchy component, if desired. Eat.
Total time:
Yield: As many wings as you make, provided you don't sneakily eat them when no one is looking because then there will be less.
Notes
Sticky Sauce Ideas
Mix approximately 3 parts sticky/sweet with 1 part acid with 1/2 part spicy in a pot, over low heat and reduce until it's the consistency of BBQ sauce.
Brown sugar, ginger & soy
Balsamic & orange marmalade
Maple & Dijon
Gochujang, rice vinegar & palm sugar
Hot sauce & honey
Crunchy Component Ideas
Garlic dust
Crushed popcorn
Popped amaranth
Dukkah
Tortilla dust
Crushed chicharrones
Caramelized crisp rice
Toasted sesame seeds
Toasted shaved almonds
Toasted pine nuts
Bacon bits
Duck cracklings
Sriracha Honey Lime Glaze
Jackie Gordon
Appetizers & Snacks, Gluten-Free, Condiments & Canning
Three Ingredients give you sweet, heat and acid in this glaze for my Cooked The Sh*t Wings or a whole chicken or a pork loin, corn on the cob, etc.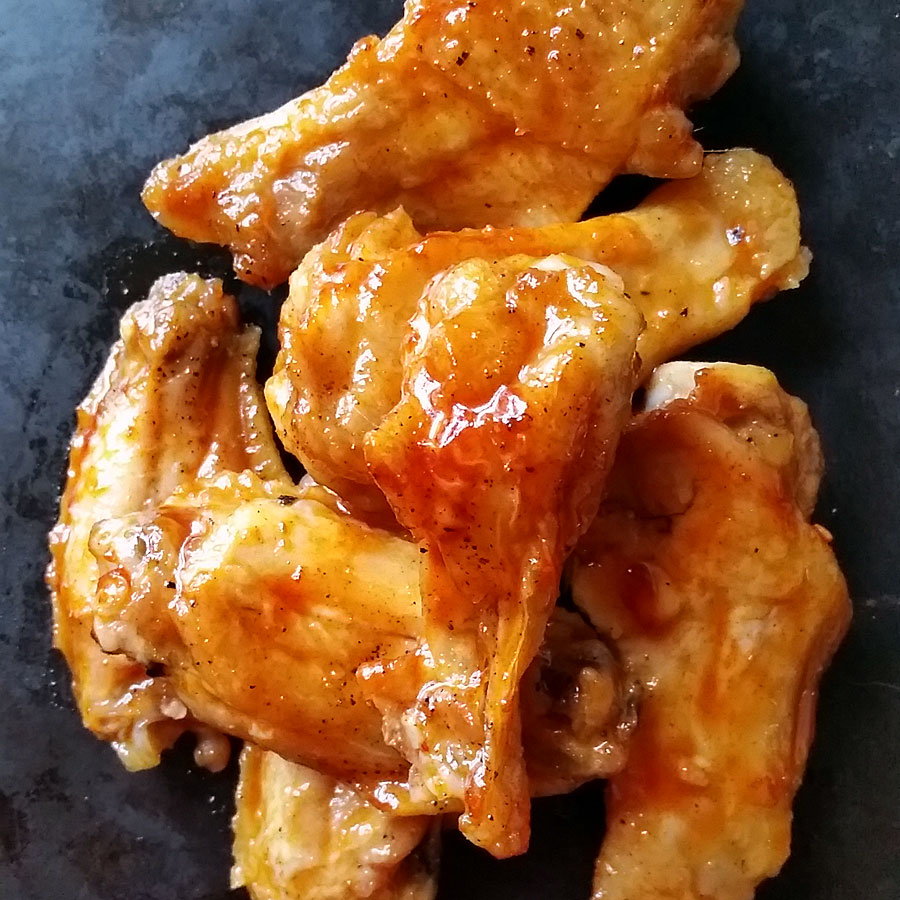 Ingredients
4 tablespoons sriracha
4 tablespoons honey
2 teaspoon lime juice
1 tablespoon lime zest
Directions
In a small bowl, mix ingredients. If you like it hotter add more sriracha or even habanero hot sauce. If you like it sweeter add more honey.
Total time:
Yield: 1/2 cup of glaze for one pound of wings
Notes
I used this recipe to glaze my Cooked To Sh*t Wings, but you could use it on other cuts of chicken, pork, duck or grilled or roasted vegetables like carrots, sweet potatoes, corn on the cob, zucchini, eggplant, etc.