The Diva That Made Jarlsberg Crunch Tomato & Onion Pie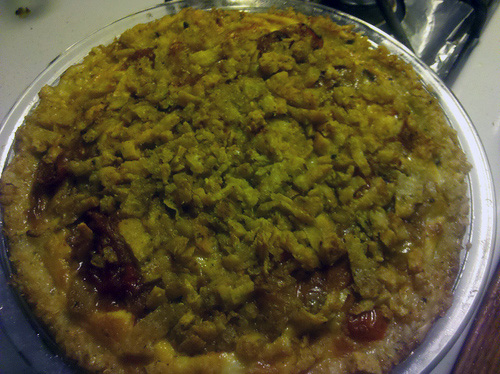 I love cooking with Jarlsberg. I think it's because the holes in the cheese always freaked me out as a kid. I'm not gluten intolerant, but I love making food for my friends who have food allergies. My aim was to make a gluten free pie for PIe Party Potluck LIVE! so the people who were coming and couldn't eat gluten would have another option. As it turned out, no one at the party was gluten free, but the gluten eaters happily scarfed down this pie too.
I felt a little like I cheated because I wanted to make a gluten free flour based crust using chick pea flour, but my test crust went from OK to awful. I decided to stick to making something that was delicious and gluten free without having to reinvent the wheel.
Jarlsberg Crunch Tomato Onion Pie
(Gluten Free)
Crunchy Fricos Topping:
1.5 c cooked quinoa
1.5 grated Jarlsberg cheese
1/2 tsp salt
Freshly ground black pepper
Pinch of cayenne (optional)
Cooking spray
Preheat oven to 350 degrees
Mix together all the ingredients except the cooking spray. Heat a large, heavy frying pan on medium flame, lightly spray it with cooking spray. Drop small handfuls of cheese mixture into the pan and cook gently until the cheese releases it's fat and becomes golden brown on both sides. Cool on paper towels. Chop into a rough crumble and recook in the frying pan to further crisp, being careful not to burn them—this could also be done in the oven. Cool on paper towels again.
3 Grain Crust:
2 cups of a mixed gluten free grains (I used of equal parts of cooked sushi rice, brown rice and quinoa)
1/2 c of grated Jarlsberg cheese
1/4 cup chopped Italian parsley
1 egg white
1/2 tsp salt
Freshly ground black pepper.
Press mixture into a 9" pie pan using wet fingers to shape it evenly into the pan. Blind bake for 10 minutes and set aside.
Filling:
1.5 lbs Vidalia onions, sliced
4 cloves of garlic, minced
1/4 c of olive oil, plus some more for the tomatoes
1.5 lb of roma or grape tomatoes
1 tsp of dried oregano
1 Tbsp of pesto or freshly chopped basil
2 eggs
1/3 c cream (or milk)
Salt & Freshly ground black pepper
Saute onions and garlic with salt and pepper until slightly caramelized. Set aside.
Slice tomatoes in half, lightly salt and set on paper towels for 20 minutes to degorge excess liquid. In the meantime, saute onions with garlic. Season with salt and pepper to taste. Heat a thin layer of olive oil in a heavy frying pan on a medium flame. Pat tomatoes with paper towels and place, skin side down, in the pan and cook them until browned. Remove from heat. Cool and sprinkle with oregano and basil and freshly ground pepper.
To assemble: Beat eggs and cream with salt and pepper. Put the onions in pie shell, then the tomatoes and top with the egg wash. Bake until almost set about, 15 minutes. Remove from the oven and sprinkle with Crunchy Fricos Topping. Bake until set, approximately 15 more minutes.
Share This: