The Diva That Made Pine Nut Cookies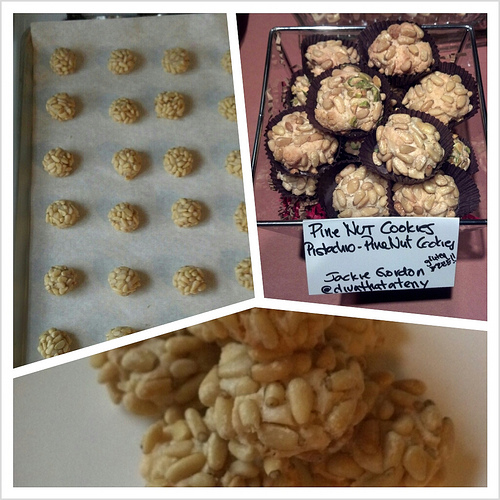 Memories… light the corners of my mouth…
This is a treat directly from my New York City childhood. Back in the stone age, the West Village was dotted with Italian bakeries (there were a ton of them, but most are gone now). All of them sold Pine Nut Cookies aka Pignoli Nut Cookies (and rainbow cookies, also almond based—I think I've always been an almond paste freak!) and I LOVED THEM!
As the years rolled by, there seemed to be less and less pine nuts in these cookies as the price of pine nuts went up and up. But I recently got a "deal" on them.
Pine nut cookies are fairly expensive to make well. I did see some sad old cookies online with a wee sprinkle on pine nuts on top. At $25.00 a pound I can certainly understand why.
"Luckily?" I had a pine nut windfall because my boyfriend can't control himself at Costco. He bought me a big ol' bag. Yes, they are the ones from China (which probably come with all kinds of toxins…la la la la la la la… I'm not thinking about that la la la la la la la la ... as I eat them la la la la la la la la… because I do believe that we need to consume a few toxins here and there to just survive living on this planet.), but I was not about to poo-poo one and half pound of pine nuts because I immediately decided to make these for the annual NYC Holiday Cookie Swap.
This was our third annual holiday cookie swap produced by Bloggers Without Borders. We raised money and awareness for WhyHunger which is a charity aiming to end hunger and poverty by connecting people to affordable food and to grass root solutions that empower communities to be self reliant.

Cookie Swap was generously hosted by Hill Country BBQ. Elizabeth and her lovely team whipped on a delicious barbecue lunch—you really must try the brisket and the corn pudding!—as well as table of baked delights and the margaritas and nice 'n' spicy Bloody Marys were a-flowing.
The concept of the swap is each food blogger brings at least one dozen cookies and leaves with at least five times that amount. I don't understand how the math works, but this is how it seems to work out for me. Since we always have cookies leftover I know I have not taken more than my share. I also brought some nougat to share with crowd.
Making these extravagant cookies for my favorite food friends made me happy! I encrusted them with pine nuts! This batch will be called Paul's Impulse Pine Nut Cookies in honor of his shopping
Paul's Impulse Pine Nut Cookies
I looked at a few recipes even the one on the can of almond paste, but I cut down on the sugar because I think we eat too much of it. I also left out the flour I found in some recipes because I wanted them to be gluten free. A number of the recipes used no flour, but they seemed to put in more sugar. Potato starch seemed to do the trick.

Ingredients:
10 oz can of almond paste*
2 T potato starch
1/2 c sugar
1/2 c powdered sugar
1/4 teaspoon salt
2- 3 egg whites (keep them separate—I wound up using only two large eggs.)
10 oz cup p pignoli nuts
Instructions: Preheat the oven to 300 degrees. Line a baking sheets with parchment paper or use a Silpat cooking sheet.
Run the almond paste through the food processor fitted with the steel knife, to break it up, then add potato starch, sugar and salt. Process to blend. Beat in egg whites one at a time. You want a smooth dough, but not too soft. Drop small teaspoons full of dough into the pine nuts and roll all the way around the cookie into a ball. If you don't have a lot of pine nuts you can form a ball and coat one side of the cookie with the nuts. Then drop un-coated side down onto the baking sheet. This will be a bit more challenging. You can dust your fingers with powdered sugar or potato starch to make this a bit easier.
Bake for about 20 minutes. You want to brown the pine nuts and the cookie, but you want to be careful NOT to burn the nuts (especially if you put nuts on the bottom).
I cooled the cookies for about 10 minutes, then carefully peeled them off the parchment paper and cooked second batch of cookies. You could do two trays simultaneously, but I was being stingy with the parchment paper. I made them small and very nutty and got about 40 cookies. Store in a covered container.
IDEAS:
You can also use slivered almonds, pistachios, hazelnuts, etc instead or in addition to the pine nuts. I added chopped pistachios in with the pine nuts and they were very pretty. I could see just making pistachio and cranberry cookies for the holidays—they'd be very festive looking.
*If you can get to Sahadi's in Brooklyn the Love N Bake brand almond paste is about $6.00 per can as opposed to the manufacturer's website where it's almost $9.00 per can not including shipping (WTH?!).
Suggestion: if you love pine nuts check out my Pine Nut-Cherry-Apricot, Browned Butter Frangipane Tart that I made for my Thanksgivings this year.
Share This: