The Diva That Made Samosas or Any Kind of Savory Hand Pie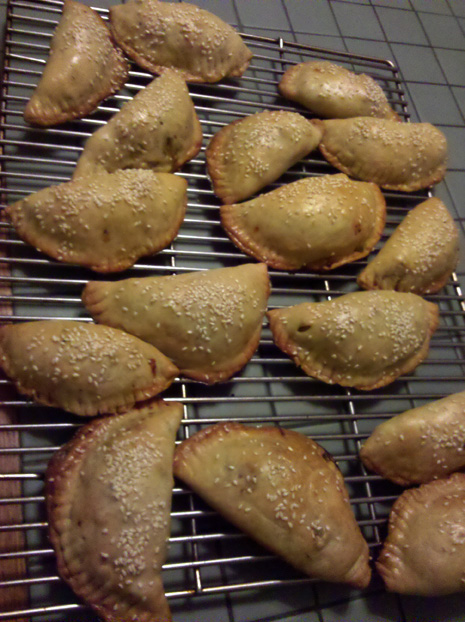 My favorite kind of recipe? One that's dead easy and makes me look like a genius! Claudia Roden's Basic Pie Dough 1 from The Book Of Jewish Food, is one such recipe. I used it to make samosas for my niece's birthday party five months ago—I made heaps so I could freeze 'em. Isn't the freezer magical—it may be my favorite major appliance. I finished the last two samosas this morning when I cleaned out the freezer. I threw them in the toaster oven frozen and they were still delish and the pastry crisped up beautifully. You can also use this dough to make empanadas, pasties or any kind of savory hand held pie.
This dough is easy to make and requires no resting so it's FAST—another thing I love in a recipe! I love working with this dough because it's oily and doesn't stick to your hands and is well behaved when you roll it. When baked, the texture is a little flaky, yet it's strong enough to hold a heavy filling.
You can fill it with any pre-cooked savory filling. I filled half of them with a mixture of spicy ground beef, potatoes and corn and the other half with a traditional cauliflower, pea and potato filling. 

My instruction filling wise is to whip about a 1/2 pound of a well seasoned filling that is not too dry, not too wet and completely cooled in the fridge. You need some fat or moisture in the filling so it doesn't dry out during the baking. To make sure it's not too wet hand test the cold filling by making sure it will start to hold together when pressed in my hand. Runny filling is too wet and will be hard to deal with when shaping the pies. REMEMBER: Only fill the dough with cold filling.
Basic Pie Dough 1
Ingredients
4 oz of sunflower oil (I used olive oil)
4 oz of warm water
1/2 tsp salt
about 12 oz flour (350g)
Directions;
In a large bowl, mix the oil, water and salt beating with a fork. Gradually work in enough flour to make a soft malleable dough—stirring it in with the fork to begin with, then working it with your hands, You can roll out this dough right away. If you want to set it aside for an hour, cover it with cling wrap at room temperature, not in the fridge.
To shape the pies roll the dough into a cylinder and cut it into even sized pieces. Roll pieces about the size of a small egg. If you want smaller pies, then use less dough. Flatten each ball into a circle. I did not need a floured ball, I rolled them on a cutting board. If your dough is too sticky lightly flour the surface. 

Pile filling on one side of the circle, not to the edges and fold over the dough. Pinch the edges together and then crimp the edge with the tines of a fork. 

Brush the dough with a beaten egg yolk or egg white and sprinkle it with sesame seeds, but you can use poppy seeds or crushed almonds whatever you like.
Bake at 350 degrees for 30-40 minutes or until golden.
Yield: About 20 4" pies
Share This: