The Merveilleux Are "Wonderfuls"!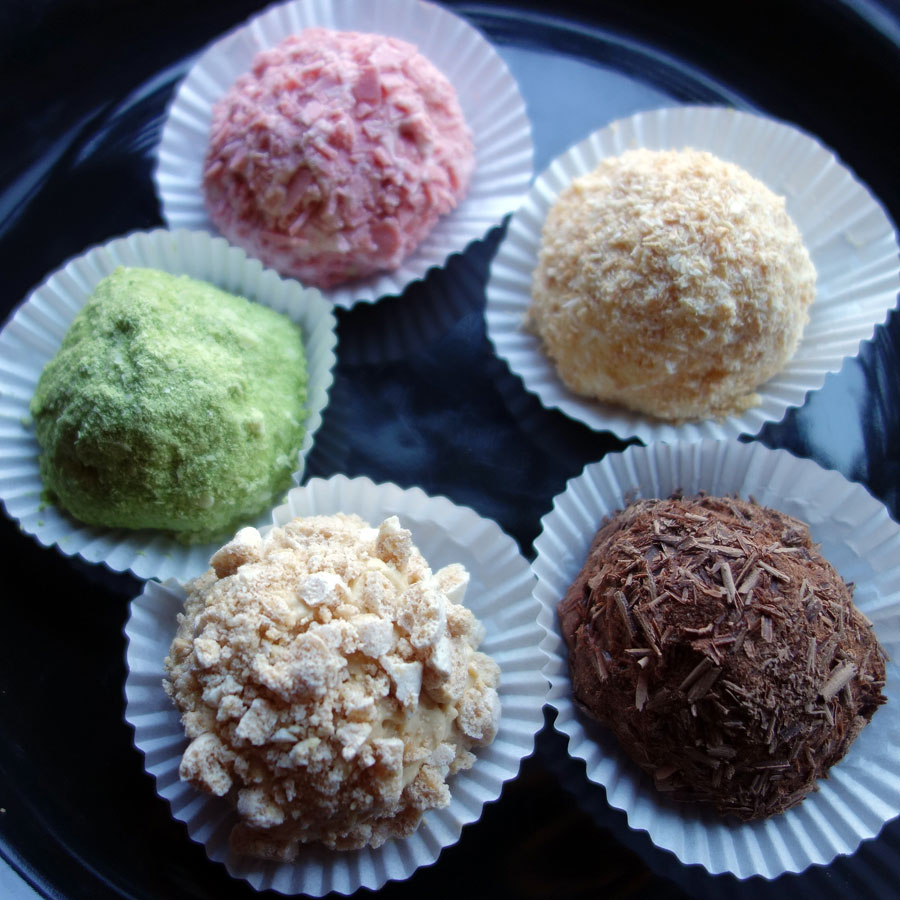 Do you remember the time I got a little over-excited about a dessert for Easter after seeing and tasting the Merveilleux at the Aux Merveilleux de Fred shop on 8th Avenue? Yes, that was just this past weekend. Let us not count the hours it took me to come up with and make an assortment of five completely different flavors of Merveilleux. Suffice it to say it was a lot and it is out of my system… for now.
Merveilleux are light, gluten free pastries made of meringue discs sandwiched and smothered with Bavarian cream and rolled in a coating of chocolate, meringue, nuts, etc. Apparently, according to one my less-than-mature male friends, mine looked like boobies. Boobie cakes. I think that may give them even more appeal. Merveilleux translates from French into Marvelous or Wonderful. I call them "Wonderfuls" because they are.
I was going to keep Easter dessert simple and make a strawberry rhubarb pavlova—that's simple for me. But, I just happened to walk by the Aux Merveilleux de Fred bakery and I was transfixed by the woman in the window who was making them. I think she put a spell on me and I ditched the pavlova.
Fred's Merveilleux resembled Easter eggs, so I decided to make them. I took a video of the enchantress in the window. I grabbed a mini "Amarena" Merveilleux, that's a fancy name for cherry. Truthfully, I thought it was just OK. The cherry flavor was too subtle for me. As much as I adore French pastries, I think, at times, the flavorings can be a little too tame. I like flavors to be bold. I want the flavor to be sassy. I want the flavor to walk right up and kiss me on the mouth!
For my first attempt, I believe "kissability" was reached. I made five flavors: chocolate filling rolled in chocolate shavings; caramel filling rolled in cinnamon almond dacquoise crumbs; matcha filling rolled in grated matcha white chocolate; raspberry filling rolled in raspberry white chocolate shards and lemon filling rolled with toasted coconut. I used the same meringue for all the discs because making varying flavors of meringue would have been NUTS!
I'd like to encourage you not to be like me (whispers: I may be a wee bit overzealous). Pick a flavor or two and make them. You can use flavors I made below or make up your own. You can also make just one big Merveilleux to share. Basically, you need a recipe of the meringue, pastry cream, stabilized whipped cream and stuff to flavor the filling like ganache, lemon curd, caramel sauce, raspberry sauce and more stuff to put on the outside of the Merveilleux. This is the technique I used to make them. I've included the recipes for some the components. You can also use store-bought items like caramel sauce, raspberry sauce, lemon curd, etc. to make making them easier.
Chocolate Merveilleux: I made the chocolate filling by combining 2 parts chocolate ganache with one part pastry cream. If you want the filling to be dense and chocolatey just use that. If you want it lighter, add some stabilized whipped cream until you get the texture and flavor you like. I rolled them in grated dark chocolate.
Caramel Merveilleux: I made the caramel filling by mixing caramel sauce with pastry cream and stabilized whipped cream. I rolled them in cinnamon dacquoise. To make the dacquoise, I held back 1/4 of the meringue from the meringue recipe and mixed it with 2 ounces of pulverized, toasted almonds, and a teaspoon of cinnamon. I put piped that mixture on a parchment lined sheet pan and baked it for one hour at 200F °, then left it in the oven to cool. Then, I chopped it up. It will also work to smear the meringue on the parchment paper with an offset spatula, in an even layer, and bake it for one hour at 200F °, then leave it in the oven to cool. You can chop it up or crush it.
Matcha Merveilleux: (matcha is green tea powder) I made the matcha filling by mixing 1 teaspoon of matcha powder with 1/2 cup of pastry cream and 1-1/2 cups of stabilized whipped cream. I grated 8 ounces of white chocolate and mixed in 1 teaspoon of matcha powder to make the coating The brand I used is called Maeda-En - Shiki Matcha. You can find matcha at Japanese food stores or Whole Foods.
Raspberry Merveilleux: I made the raspberry filling by mixing 1/4 cup of raspberry sauce with 1/2 cup pastry cream and 1-1/2 cups of stabilized whipped cream. To make the raspberry chocolate, I pulverized 1/2 ounce of freeze-dried raspberries and ran them through a fine strainer to remove the seeds (save seeds for sprinkling on oatmeal), I mixed the raspberry powder into 8onuces of melted white chocolate and then tempered that with more white chocolate. I smeared it thinly on parchment lined sheet pans and cooled it. Then, I chopped it into fine shards. You could also grate the white chocolate and mix it together with the powdered raspberries. I'm not sure it would get that lovely shade of pink, but it would be easier.
Lemon Merveilleux: I made the lemon filling by mixing equals parts of lemon curd and stabilized whipped cream. I like it tangy, but you can add more cream if you want to tone it down. I toasted unsweetened coconut in the toaster oven until it was golden and cooled it before coating the lemon Merveilleux. You could also use white chocolate shavings.
To assemble, have your filling in a bowl and your coating in a wide pan or bowl with at least a 1/2" edge. Using a small offset spatula, cover the top of one meringue disc with the filling and then top that with the second disc of meringue. Completely cover everything, but the bottom of the Merveilleux with more filling. Carefully roll the Merveilleux in the coating, using a spoon to distribute the coating evenly. You can also use the spoon to smooth out the shape of the Merveilleux. You can watch the video. I found you have to wash your hands a lot making these. Merveilleux = Messy.
Share This:
Meringue for Merveilleux aka Wonderfuls
Jackie Gordon
Desserts & Chocolate
I found about Merveilleux after the bakery Aux Merveilleux de Fred opened in New York City. I checked them out, tasted one, decided they could be better and made them for Easter dessert.
Ingredients
8 ounces of egg whites
8 ounces of granulated sugar
1/3 teaspoon cream of tartar
2 teaspoons vanilla extract
Pinch of salt
Directions
Preheat oven to 200 °.
Line sheet pans with parchment paper. Draw whatever sized circles you want on a separate piece of parchment. You need two discs for each Merveilleux. They can the same size if you're making straight sided Merveilleux or you can make a smaller dome for the top if you want a rounder shape. I made 2" round discs and 1" round domes so mine were rounded.
In a medium mixing bowl, beat egg whites until foamy. Add the vanilla and cream of tartar and beat on high speed until soft peaks form. Lower to a medium speed and slowly beat in the sugar. Raise back to high speed and beat the whites until stiff and glossy, but not dry.
Put meringue in a pastry bag, fitted with a large piping tube or no tube.
Place the paper with the drawn circles underneath the parchment paper on the sheet pan and pipe discs of meringue that are about 1/4 to 3/8" high. Once you've piped them all you can carefully remove the parchment with the drawing on it.
Bake the meringues for 1 hour. Turn off the oven and let them sit in the oven until they are cool.
Once the meringues are completely cool, store them in an air-tight container until you are ready to make the Merveilleux.
Yield: 40 2-3" Merveilleux
Notes
The yield will depend on the size of the Merveilleux.
Stabilized Whipped Cream
Jackie Gordon
Desserts & Chocolate
I used stabilized whipped cream and opposed to unstable whipped cream in any recipe where I need the whipped cream to be molded or piped, hold it's shape, not to weep or to stabilize another ingredient like lemon curd, as in my Heavenly Pie.
Ingredients
2 teaspoons of unflavored gelatin
1/4 cup of cold water
2 cups of heavy cream
1 teaspoon vanilla
1/3 cup granulated sugar
Directions
Mix gelatin and cold water until the gelatin absorbs the water. Heat to melt gelatin to melt it (in a microwave for 3 minutes, stirring every minute or in a small sauce pan on the stove on low flame, stirring constantly, until melted). Cool for about 10 minutes. Gelatin must be cool before you beat it into the cream.
In a chilled bowl with chilled beaters, whip cream, sugar and vanilla until mixture just starts to hold a shape (you can just begin to see marks in the cream when you stop beating and lift the beaters), then beat in the cooled gelatin in a steady stream until stiff peaks form. Be careful not to over beat.
Total time:
Yield: 4 cups approximately
Pastry Cream
Jackie Gordon
Desserts & Chocolate
A classic vanilla custard that's used as a filling for éclairs, doughnuts, pies, cakes, parfaits, etc. I also mix it with stabilized whipped cream for desserts like Merveilleux, Heavenly Pie and my Crêpe Terrine Cake.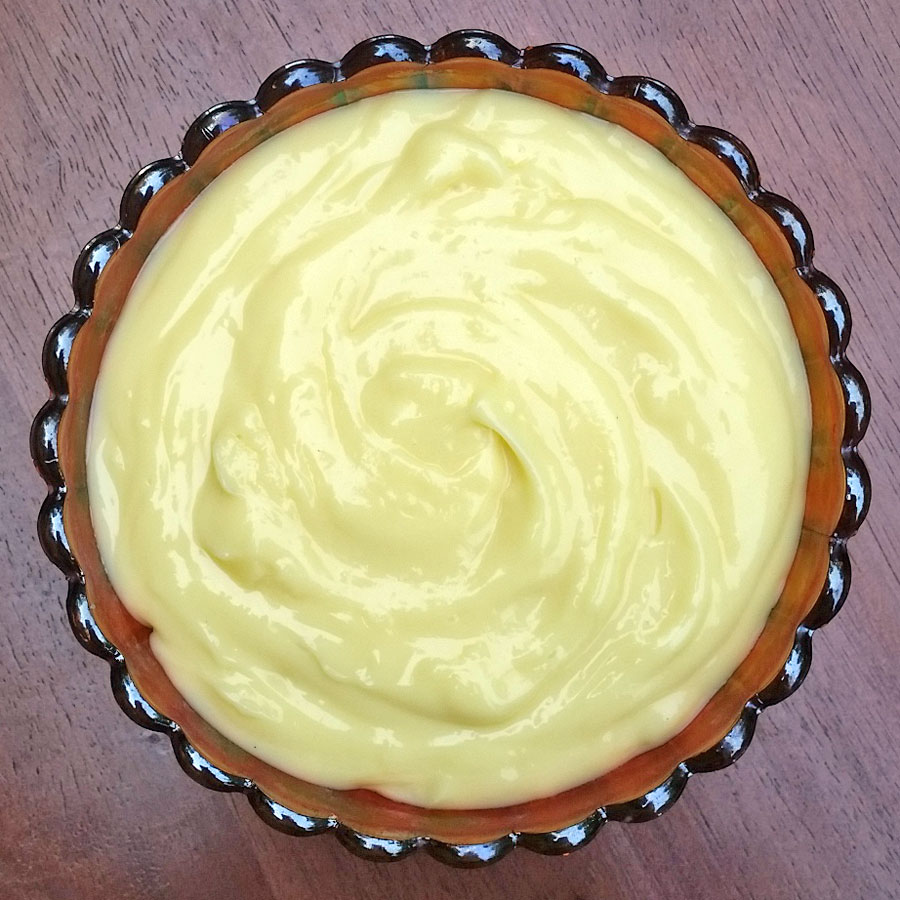 Ingredients
2 cups whole milk
4 egg yolks
1/2 cup sugar
2 tablespoons cornstarch
1 tsp vanilla extract
pinch of salt
Directions
In a heavy, one quart saucepan, mix 1 cup of milk and 1/4 cup of sugar and heat until mixture just comes to a simmer, do not boil.
In a small bowl, whisk together the sugar and cornstarch to break up any lumps, then add 1 cup of milk, the egg yolks, vanilla, and salt.
Slowly beat the warm milk into the yolk mixture in the bowl.
Pour the mixture, through a fine strainer, back into the saucepan. Place the saucepan over medium heat, whisking constantly until it's thickened enough to coat a spoon. Strain the mixture back into a shallow container and cover with plastic wrap to prevent a skin from forming. Cool in the refrigerator for several hours.
Total time:
Yield: 3 cups of pastry cream
Lemon Curd
Jackie Gordon
Gluten-Free, Vegetarian & Vegan, Desserts & Chocolate, Breakfast & Brunch
My lemon curd goes POW! It's a delicious balance of sweet and tart for making tarts, filling cookies and cakes and crêpes, adding to parfaits and more. Or you could just eat it on toast!
Ingredients
2 eggs
6 egg yolks
1 - 1/3 cups granulated sugar
3 lemons, juice and grated rind
6 tablespoons unsalted butter (sometimes I leave this out)
Directions
Mix ingredients together in a double boiler over simmering water. Water should not touch the bottom of the top layer of the double boiler.
Cook the curd until thick and creamy, stirring frequently, about 15 minutes.
Total time:
Yield: 3 cups
Notes
You can substitute oranges or limes.