"For the Little Miss Muffet in All of Us"—West Side Spirit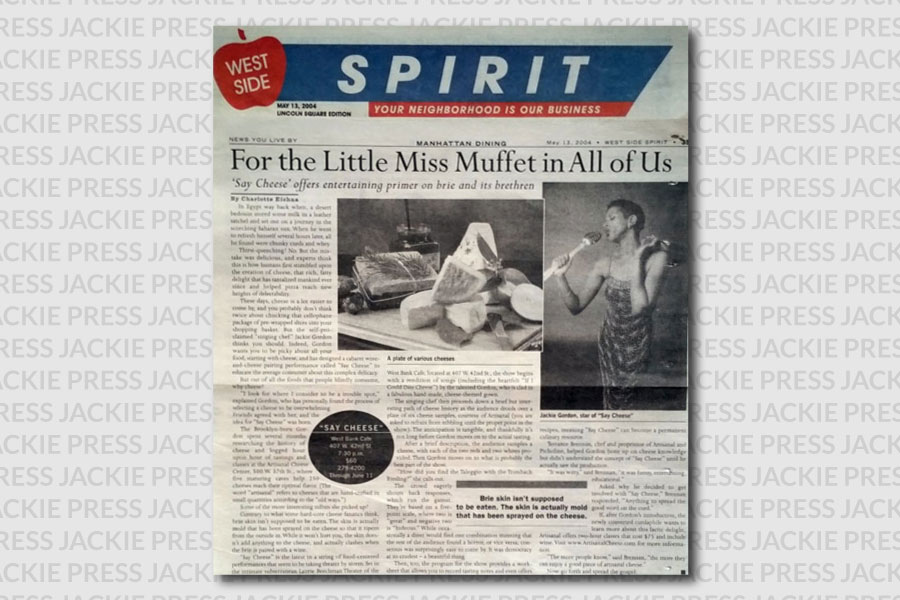 "Say Cheese" offers entertaining primer on brie and its brethren
By Charlotte Eichna (published 05-13-2004)
In Egypt way back when, a desert bedouin stored some milk in a leather satchel and set out on a journey in the scorching Saharan sun. When he went to refresh himself several hours later, all he found were chunky curds and whey.
Thirst-quenching? No. But the mistake was delicious, and experts think that this is how humans first stumbled upon the creation of cheese, that rich, fatty delight that has tantalized mankind ever since and helped pizza reach new heights of delectability.
These days, cheese is a lot easier to come by, and you probably don't think twice about chucking that cellophane package of pre-wrapped slices into your shopping basket. But the self-proclaimed "singing chef" Jackie Gordon thinks you should.
Indeed, Gordon wants you to be picky about all your food starting with cheese, and has designed a cabaret wine-and-cheese pairing performance called "Say Cheese" to educate the average consumer about this complex delicacy.
But of all the foods that people blindly consume, why cheese?
"I look for where I consider a trouble spot," explained Gordon, who personally found the process of selecting a cheese to be overwhelming. Friends agreed with her, and the idea for "Say Cheese" was born.
The Brooklyn-born Gordon spent several months researching the history of cheese and logged hour upon hour of tastings and classes at the Artisanal Cheese Center, 500 W. 37th St., where five maturing caves help 250 cheeses reach their optimal flavor.(The word "artisanal" refers to cheeses that are hand-crafted in small quantities, according to the "old ways.")
Some of the more interesting tidbits she picked up?
Contrary to what some hard-core cheese fanatics think, brie skin isn't supposed to be eaten. The skin is actually mold that has been sprayed on the cheese so that it ripens from the outside in. While it won't hurt you, the skin doesn't add anything to the cheese, and actually clashes when the brie is paired with a wine.
Say Cheese is the latest in a string of food-centered performances that seem to be taking theater by storm. Set in the intimate subterranean Laurie Beechman Theater of the West Bank Cafe, located at 407 W. 42nd St., the show begins with a rendition of songs (including the heartfelt "If I Could Date Cheese") by the talented Gordon, who is clad in a fabulous hand-made, cheese themed gown.
The singing chef then proceeds down a brief but interesting path of cheese history as the drools over a plate of six cheese samples, courtesy of Artisanal (you are asked to refrain from nibbling to the proper point in the show). The anticipation is tangible, and thankfully not long before Gordon moves on to the actual tasting.
After a brief description, the audience samples a cheese with each of the two reds and two whites provided. The Gordon moves on to what is probably the best part of the show.
"How did you find the Taleggio with the Trimbach Riesling?" she calls out. The crowd eagerly shouts out responses which run the gamut. They're based on a five-point scale, where two is "great" and negative two is "hideous." While occasionally a diner would find one combination stunning that the rest of the audience found a horror, or vice versa, consensus was surprisingly easy to come by. It was democracy at its crudest—a beautiful thing.
Then, too the program for the show provides a worksheet that allows you to record tasting notes and even offers, meaning "Say Cheese" can become a permanent culinary resource.
Terrance Brennan, chef and proprietor of Artisanal and Picholine, helped Gordon bone up on cheese knowledge but didn't understand the concept of "Say Cheese" until he saw the production.

"It was witty," said Brennan, "it was funny, entertaining, educational."
Asked why he decided to get involved in "Say Cheese," Brennan responded, "Anything to spread the word on the curd."
If, after Gordon's introduction, the newly converted curdaphile wants to learn more about this lactic delight, Artisanal offer two-hour classes that cost $75 and include wine. Visit www.ArtisanalCheese.com for more information.
"The more people know," said Brennan, "the more they can enjoy a good piece of artisanal cheese."
Now go forth and spread the gospel.