Bringing Delight: Why I'm Passionate About Combining Food, Music & Humor

The official About Jackie Gordon Singing Chef bio, a couple of lists for you skimmers, and a hypothetical question are below.
What I'm Passionate About
There's that moment when a person hears me singing the opening of my song The Fried Chicken Blues.
I sing:
"Don't cry to me about your heartache, how your baby's up and gone."
"Don't cry to me about your heartache, how your baby's up and gone."
"Cause I've got troubles of my own now, I'm staring at an empty bone."
And they giggle.
I sing:
"I've got the somebody ate my last piece of fried chicken blues."
"I've got the somebody ate my last piece of fried chicken blues."
"These eyes have seen some ugly things, but I never thought a man could be so cruel."
And they crack up.
That's DELIGHT! That's what drives me.
de·light
noun \di-ˈlīt, dē-\
: a strong feeling of happiness : great pleasure or satisfaction
: something that makes you very happy : something that gives you great pleasure or satisfaction
The cooking. The singing. The making people laugh. The creating "eatertainment" shows. The songwriting. The caricature of me standing on a feast of soul food singing into a fried chicken drumstick. The gown swirled with chunks of cheese. The chocolate bonbon necklace that you might be tempted to grab and run off with. I do it all to delight you. The recipes. Who doesn't want a Shrimp Tree or a giant Deviled Egg or a Cream Puff Bar at their next party? Delight! Delight! Delight!
You know that moment when delight strikes and your face crinkles into a smile? I LOVE THAT! Or you put food in your mouth and your taste buds start doing the happy dance, your eyes close and the "Mmm" look spreads from cheek-to-cheek… I LOVE THAT! Even when I wrap up the dry stuff — the facts about how to taste chocolate or the history of cheese ( all the potentially boring stuff)—with humor and music so you get it and I see your eyes spark up. I LOVE THAT TOO! It's like a little light goes on in your head. It's de-light!
When I can make you laugh, smile, or get excited about food, we connect with one another. When I feed you food that I cooked or food that someone else made that I'm jazzed about and it makes you happy, I get notched in your memory as the deliverer of pleasure. Your pleasure becomes my pleasure. Even when I share of photo of food that you may never get a chance to eat or pass on something I saw online that I hope makes you chuckle, I get to bring delight to you.
That's what I'm about. That creates delight in me. That's why I am a singing chef.
Listen to The Fried Chicken Blues.
Official Bio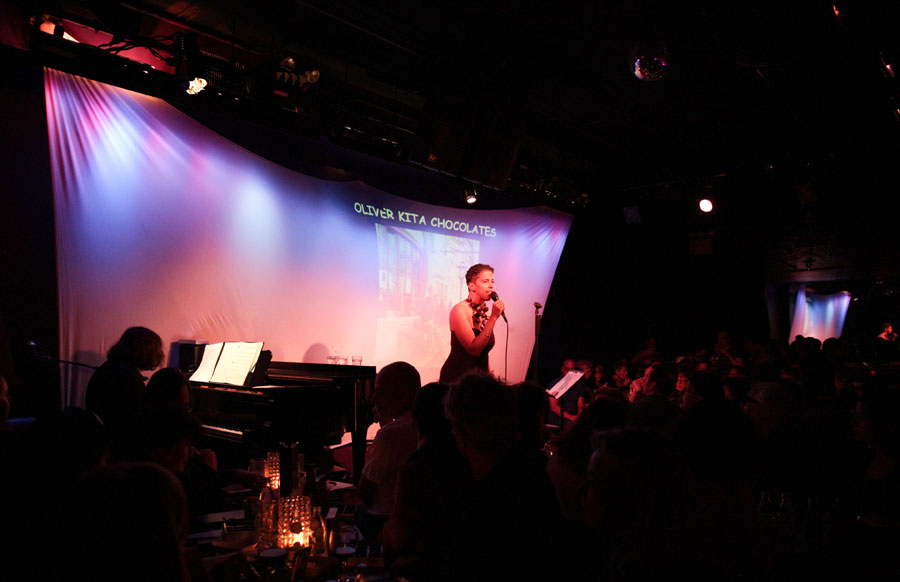 Jackie Gordon is an award-winning, innovative singing chef, event producer, and professional speaker. As a singing chef, she produces "eatertainment" shows where the audience tastes, laughs and learns as she cooks and showcases food paired with songs, humorous storytelling woven with facts.
Working with partners, sponsors and the support of her culinary community, Jackie produced: Chocabaret: a tasting of NY artisan chocolates matched to songs ; The Fried Chicken Theory According to Jackie Gordon: an evening of sultry soul food and sweet soul music and Say Cheese: a tongue-titillating tasting of artisan cheeses, wines and the songs they inspire. The latter was nominated for a New York Nightlife award. Her latest project is Jackie Gordon Singing Chef Presents The Greatest Food Love Songs Of All Time, which is a flexible performance that can suit a tasting, cocktail event or dinner show.
Jackie has been performing since 1993. Her first one-woman show, Black Pearls & Strange Fruit: the history of Black American women singers and their struggle for racial dignity, was awarded best show at the Melbourne Fringe Festival out of 500 shows and later went on to sold-out performances in the Melbourne International Festival of the Arts and the Adelaide Fringe Festival.
Jackie performs and creates customized entertainment for private and public events as well.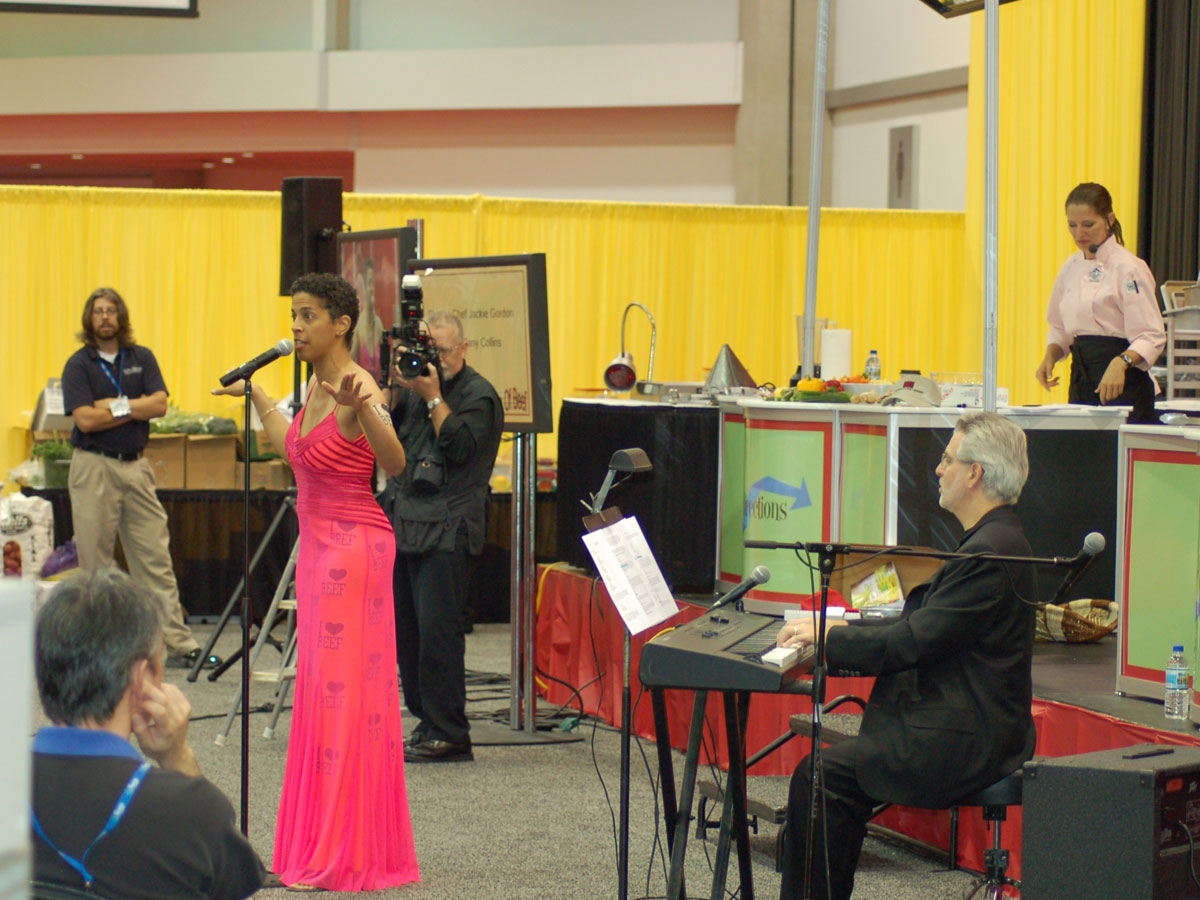 Jackie in Texas performing Seasons Of Beef
Jackie produces events for her tri-state community of food bloggers and works with brands who want to reach her food blogger community. Her most popular food blogger driven event is Pie Party Potluck LIVE! an afternoon of pie gluttony that is in it's fifth year. Others include Brooklyn Wing Crawl, NYC Dessert Crawl. Chinese New Year Potluck, Holiday Cookie Swap, and more.
She has spoken, performed and created workshops for food conferences throughout the United States including New York Women's Culinary Alliance, The International Association of Culinary Professionals (IACP), American Personal Chef's Association, Eat Right Retreat, The Big Summer Potluck, Techmunch, The Kosher Food Bloggers, and more. Jackie is a trained business coach and an active member of Toastmaster International. You can catch Jackie in storytelling shows around New York telling stories about… wait for it… food.
Jackie enjoys cooking, eating out and long, romantic walks to the refrigerator. She eats out… a lot to the tune of over 230 food places in 2014 and just under 350 in 2015. She shares her IMHO one word reviews on her blog, writes online reviews sharing what she likes with the public and what she doesn't like with her private mailing list. She writes delightful and delicious recipes and shares them on her blog, The Diva That Ate New York. See her cooking and singing about food on her YouTube channel: Jackie Gordon Singing Chef.
Jackie owns Divalicious Chocolate Events in New York.
A Couple Of Lists & A Question
Say Cheese: Singing On A Cheese Platter
QUICK JAX FOOD FACTS
My first cookbook was The Joy Of Cooking.
As a kid, we had gourmet summers in upstate New York where we planned every meal from cookbooks and grew our own veggies. Our most exotic dish: Rijstaffel [Childhood reaction: "SPINACH with Peanut Butter? YUCK!!!"] Now, I'm all over that.
My paternal great grandmother was Jamaican. She fed the men who built the Panama Canal and cooked her way to America.
My maternal grandmother was Italian, but had to pretend to be Jewish — long story—possibly a book. She was an incredible cook who made three different meals, one for each member of the family almost every night.
My Jamaican grandparents were amazing cooks. My brothers and I fought with knives over my Grandfather's rice pudding. My grandmother threw enormous meals where once you sat at the table you couldn't move because you were too stuffed. I never saw her sit down and eat unless it was in a restaurant.
My father is almost as obsessed with food as I am.
My mom is not. Cooking lost its luster for her when it meant having to come home to cook for a family of five on a shoestring budget. The only time she truly enjoyed cooking was for parties and holidays. Now she's into health food and could live happily on eggs, pasta and veggie juice IV.
I have two brothers, one who likes to cook with his kids and one who has a personal chef. I recently found out I have a sister, we didn't know we had. She is a professional cooking teacher and private chef.
I'm mad about gardening. My style is wild English. I grow a wide variety of flowers as well as fruits and veggies which I can and preserve.
I recorded my first CD, Black Pearls and Strange Fruit: The history of Black American women and their struggle for racial dignity, in 2000.
I'm a Nudie Foodie, meaning I was in a blogger cookbook where we posed nude for charity with a recipe. My recipe was for Bedazzled Turkey Legs.
I designed a line of tee-shirts called RECI-TEES based on the idea that people should be able to wear tee shirts of their favorite foods like others wear tee shirts of their favorite bands. They feature my illustrations of desserts on the front and my recipes on the back.
I once threw a dinner party, Chinese New Years Meets The President's Birthdays, where I made 30 different dishes from all over Asia almost by myself. My friend Barb came to help me at one point cutting up mung bean thread until her fingers bled. I had so much food I forgot to serve some of it because I stored it on the fire escape—the New York City winter walk in.
I like making dishes most people have not thought of before like my Macaroni and Cheese Birthday Cake and my Deviled Egg Egg which is a giant deviled egg.
I've done shows about chicken, cheese, and chocolate… I'm sensing a theme. What's next? Chopped liver?
I throw food blogger community events that I wish I'd been invited to: Pie Party Potluck Live, Chinese New Year Potluck, Holiday Cookie Swap. I still want to Tea Party - Dance Party and Pizza Party, etc.
I have a very fat cat named Leo who's a surprisingly picky eater.
MY FOOD BIZ EXPERIENCE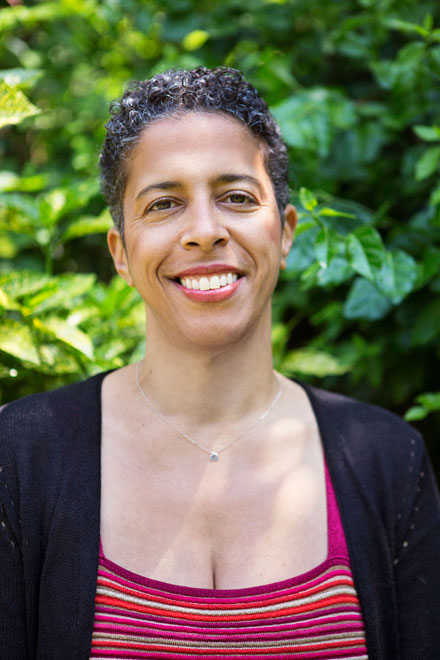 In my over 20 (cough, cough) years of experience in the food business and I have done a lot. My Native American name would be "She Who Wears Many Hats".
food business coach
singing chef
social media consultant
networking trainer
chocolate event company owner
marketing consultant
cafe owner in NYC and Australia
barista
event planner-producer-consultant
food website designer (brochure, e-commerce)
food song writer
speaker
food business workshop trainer
cooking teacher
media spokesperson
matire'd
catering chef
steward
cater waiter
restaurant waiter
dishwasher
floor manager
hostess
cashier
back of the house manager
short order cook
line cook
janitor
For some reason, I've never bartended.
HYPOTHETICAL QUESTION
If you had to choose to give up 2 out of 4 of these carbohydrate groups: Pasta, Bread, Rice, or Potatoes, for the rest of time, which ones could you kick to the curb forever? My answer is always bread and pasta. Not that I don't like them. I do. But the other two, I LOVE!!! Gimme rice and potatoes or give me death! But luckily, we don't have to make that decision.