How To Host A BBQ in Brooklyn Bridge Park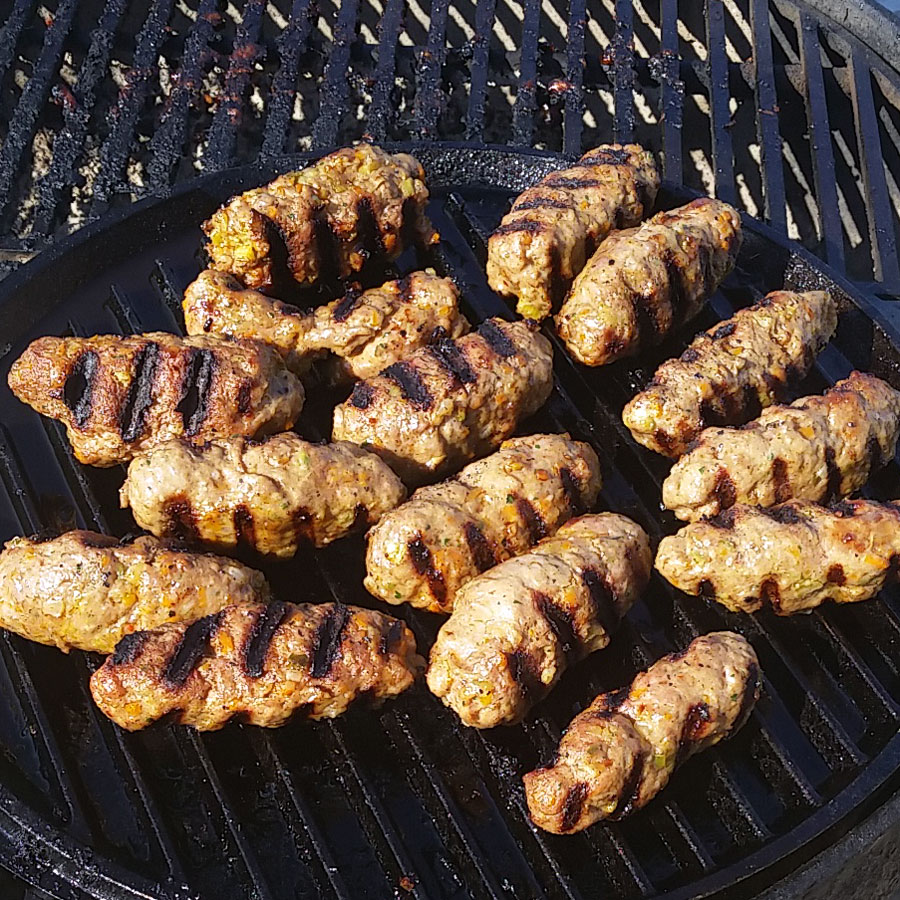 Best View For A 'Cue in New York City
If you haven't been to Brooklyn Bridge Park, what are you waiting for? I've been watching the park evolve from nothing over the past five years and now it's glorious. I'd been wanting to have a barbecue in the park ever since they popped the grills on the foreshore making it the Best View For A 'Cue in New York City. I admit, whenever I'm strolling in the park I slow to a turtle pace as I pass folks who are barbecuing. I take my time to drool or be horrified over what they're cooking, mostly the former.

We finally had a BBQ in the park at the Picnic Peninsula, last fall, but I didn't write about it then because it was going to get cold and that would just be a big tease. Now it's BBQ season again and the park is jumping. If you decide to host a barbecue, you have to be prepared so here's some tips and a checklist for organizing one, that I gathered from our experience.
The good news is you don't have to reserve a space for your barbecue. The bad news is you can't reserve a spot for your barbecue. They are available on a first-come, first-served basis. Be aware of the official park rules before you start planning since there are limits to the size of your group, how long you can use the grills and more.
I whipped up some meatloaf sausages based on ćevapčići, a skinless sausage that originated in the Balkans, for the barbecue.
BBQ RULES from the Brooklyn Bridge Park website
Grills are available on a first-come, first-serve basis.
Barbecuing is allowed in designated areas ONLY.
Additional grills are prohibited. Cooking is only allowed on the grills provided.
Please mind children under the age of 15.
Children under 18 years old are prohibited from operating a grill unattended.
Alcohol is prohibited.
All dogs must be on a leash.
No amplified sound.
Do not place trash in the grills.
Please do not attempt to extinguish or remove used coals.
Each party is allowed to use one grill top.
There is a one hour limit per grill when others are waiting.
No groups larger than 20 will be allowed at the Pier 5 Picnic Peninsula.
No grilling after 10pm.
Here is a list of the official Brooklyn Bridge Park rules.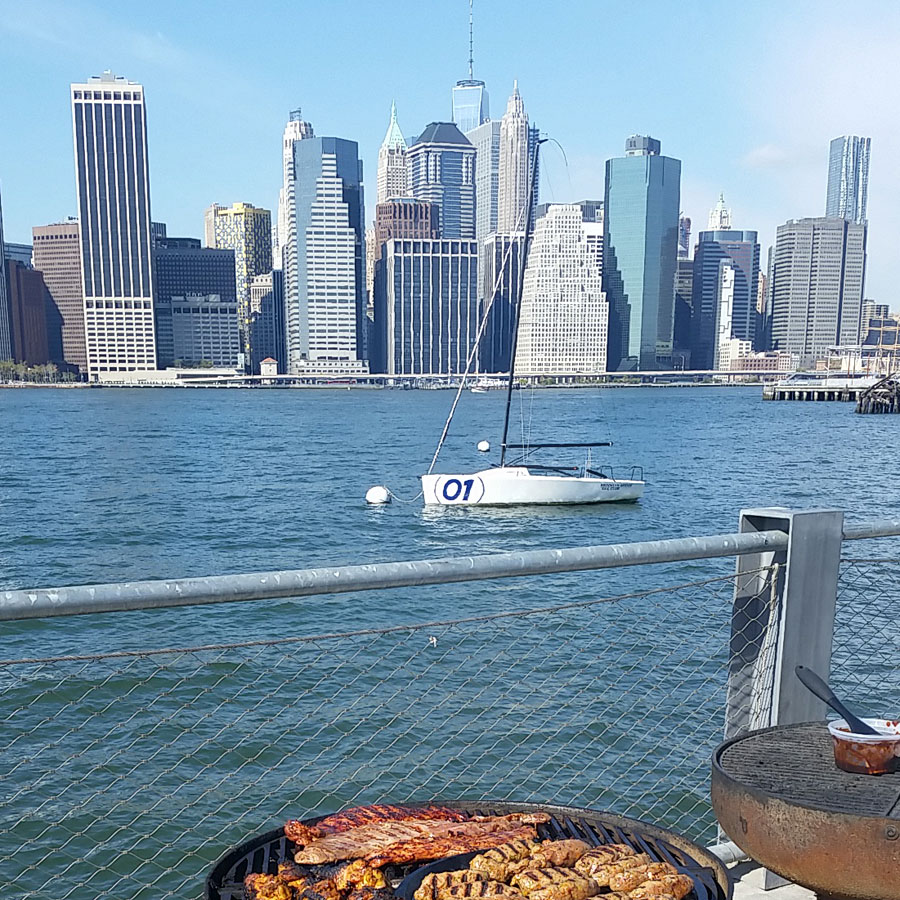 Best View For A 'Cue in New York City
PRE 'CUE
Timing and Weather
Pick a date and cross your fingers. The weather may screw with your plans. If it's too cold or too hot, it can ruin your event. In the spring, there's more competition for spots because everyone wants to be out after the city thaws from winter. In summer, people are out there to escape the heat. When it's really hot, the late afternoon may be more bearable once the sun starts to wane. The grills can be used until 10pm. In the fall, when we had our BBQ, the weather was PERFECT. Only a handful of other groups were using the grills so we had three to ourselves. I do like the idea of a having a breakfast BBQ in the park which opens at 6am. It would be cool to be whipping up sausages and eggs on the grill as the sun rises.
Inviting Guests
I always invite extra guests because there will be folks who flake. Bear in mind, there's 20 person limit.
Make sure your friends are aware of the park rules, the Protection and Comfort in this post, on the invite, so they aren't whining and cursing about the sun, bugs, etc. the whole time.
There's a science to inviting people to events. Only ask them to do one thing each email and include all the details (date, time, location, directions, etc.) on every email.
My emailing method:
Send "Who wants to come to the BBQ?" email. If I don't get a core group, I change the date.
Send "Official invite" email to the people who RSVPed that they are coming. If it's a potluck I ask them what they are bringing at the top of the email and include details at the end. I remove the folks who say there ae not coming because it's annoying to get an email about an event you're not going to. NEWSFLASH: People are busy and many will not commit to what they are bringing. I send emails to the individuals asking them to make a decision, rather than to the group so it's less annoying.
Send "What we're eating" email the week before including the list of guests and what they are bringing as part of the details.
Send "See you tomorrow" email the day before.
You may be more casual about communication than I am, but I throw a lot of gatherings. When I hear people complain that there were lots of no-shows, it was either a sucky event or they didn't communicate effectively with their guests. Personally, I don't like to be disappointed by people not showing up or having crappy food. The more communication on your part, the less flakiness and the less margin for error.
Protection & Comfort
The park and picnic area is a bit of a schlepp from public transportation. If you're walking, wear comfortable shoes. Make sure you and your guests are protected from the elements. Advise them to wear hats and bring sunscreen because there is little protection from the sun anywhere in the park. The yellow jacket wasps were in full force when we were there and I'm sure the mosquitoes come out once night falls. I always advise folks to go to the bathroom prior to coming to the park. The park restrooms are located at Pier 1, Pier 2, Pier 6, Squibb Park and Empire-Fulton Ferry. Remember that it's New York City and there are people who will steal your stuff, so leave your valuables at home or don't take your eyes off them in the park.
Food
You can bring all the food yourself or collaborate on the menu with your guests which is so much easier on you. You know your friends in terms of quantities. My friends are gourmets and gluttons aka "gourmands". We completely over-cater because we have no self-control.
Have one person (it's usually me as the host and the control freak), be in charge of keeping track of who is bringing what. You don't want to wind up with all desserts or ten potato salads. Play to your friends strengths. If you like their cooking, have them prepare food. If they use their oven to store books, suggest what they can buy and where. (I'm a total food snob so I'm not above being extremely specific with photos, and Google Map directions.)
Nibbles & Snacks: Getting to the park builds up an appetite and you may have to wait for a table or a grill. Bring foods for snacking so you and your BBQ mates don't get "HANGRY".
"BBQ-ables": You can barbecue pretty much anything from veggies to slabs of bacon if you have the right tools. One of our guests barbecued rice that had been formed into cakes. That's how they roll in Japan! If a person decides to barbecue something unusual, like asparagus, make sure they bring the grilling gadget that will keep them from falling into the grill.
Condiments: Unseasoned food is not worth eating. Make sure you bring salt, pepper and any spices you may need. Always pack your favorite condiments like hot sauce, ketchup, mustard, relish, chutney, sriracha, etc.
Side Dishes & Garnishes: Salad, slaws and other side dishes are often my favorite part of the barbecue spread. Make sure you have garnishes for burgers and the like: tomatoes, onions, cheese, etc.
Desserts: Pick sweets that are easy to serve like cookies, brownies, fruit salad, s'mores, etc. Don't pick items that will melt, spoil easily or make you work so you can't relax and enjoy yourself. Save the fussy desserts for dinner parties at home. You can get ice cream from Ample Hills Creamery in the park near the Picnic Penninsula—there is usually a line.
Drinks: Freeze bottled water and store other beverages in a cooler with them. In the fall or early spring, you may want to bring a thermos of coffee or tea. We wished we had.
BARBECUE DAY
Make sure you have a way to communicate with all your guests in a way they pay attention to. If it's via text make sure you have their cell phone numbers.
Be on time or have someone else be on time to grab a spot or wait for a spot.
Be sure a responsible person, who will show up on time, brings the charcoal and other essentials for actual cooking. The closest hardware store is Bruno's Hardware on Court Street if you forget any grilling equipment. There is also Variety Mart on Montague Street that may stock them too.
I like to have a designated grill person to make sure my food is not burned beyond recognition. You may want to set up the coals so you have direct and indirect heat. Here are some tips from the Barbecue Bible on the how-tos of grilling. It's a very thorough website.
Be aware and courteous with the people around you since it's a shared space. I always advise not to get into arguments with strangers in New York. The park is usually peaceful, but some nutjob shot a gun off there recently, so watch your back. Who knows you might even make some new friends.
POST CUE
Make sure you're not THOSE KIND OF NEW YORKERS. Clean up behind yourselves and leave the grills the way you'd like to find it when you come to have your next 'Cue With A View.
Host A BBQ in Brooklyn Bridge Park Checklist


This is what we bought or wish we'd bought with us. Remember to ask your guests to bring things too.
FOOD & BEVERAGES
Nibbles & Snacks
BBQ-ables
TOOLS & SUPPLIES
Shopping cart or wheeled carrier
Cooler
Ice
Charcoal
Lighter fluid
Matches
Two pairs of pliers: Once the grill is hot, it's a challenge to open the grill plates to adjust the coals.
Tongs at least two pairs one short, one long.
Spatula
Grill scraper: The park grills are used a lot and surprisingly New Yorkers leave them crusty and dirty.
Meat Thermometer: If you're having meat that you that requires a specific internal temperature.
Oil for cooking
Sharp knife
Aluminum foil
Cutting board
Pot holders or side towels
Bottled water for rinsing hands and tools
Containers for leftovers
Optional Flat griddle, cast iron skillet or grill plate for cooking things that might fall through the grill and for creating a cooler spot to grill your delicate items.
PAPER GOODS
Paper towels
Napkins
Wipes
SERVING & EATING
Platters
Plates
Cups
Glasses
Tablecloths
Cutlery
Serving utensils
MISCELLANEOUS
Sun Hats
Sunscreen
Bug Repellant
Did I miss anything? Let me know in the comments.
Meatloaf Sausages Or Ćevapčići
Jackie Gordon
Appetizers & Snacks, Gluten-Free, Parties & Potlucks
Inspired by cevapcici, a skinless, grilled sausage that originated in the Balkan states. I first had them in Australia and have never seen them in New York. Perhaps I will start a trend?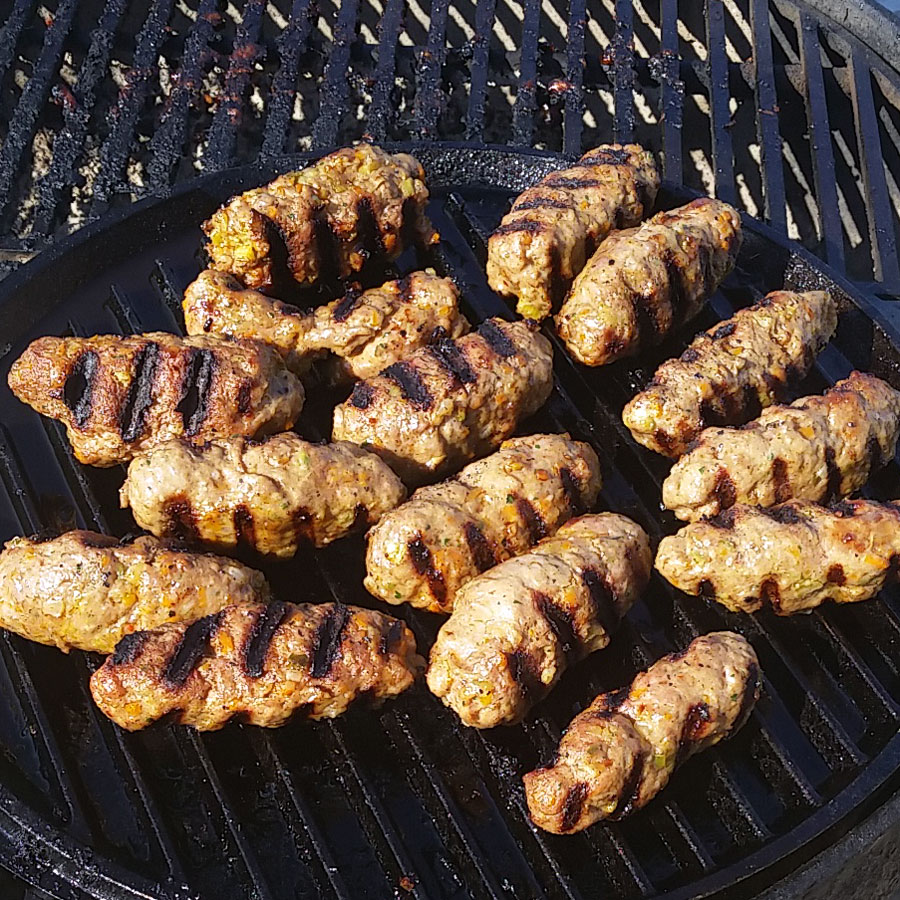 Ingredients
3 ounces bacon fat, chopped fine
4 ounces yellow onion, diced
4 cloves garlic, minced
1/4 teaspoon of fresh chillies, minced (optional)
1 teaspoon salt
1 teaspoon freshly ground black pepper
2 teaspoons paprika
1 tablespoon chopped parsley
1 teaspoon baking soda
1 pound of ground pork
1 pound of ground beef
Oil for frying
Directions
Heat bacon fat in a medium skillet, over medium heat. Add onions and cook for 3 minutes, then add garlic, salt, pepper, and cook until the onions are translucent. If adding chilies, do so and cook for one minute longer. Remove from heat.
Put the onion mixture, paprika and parsley in a medium-sized bowl. Mix in the baking soda and then the pork and beef thoroughly.
Shape a small flat patty out of a tablespoon of the mixture. Reheat the skillet over medium heat, add a small amount of oil or fat and cook the patty. Cool and taste. If it needs more seasoning, add some as needed.
Shape remaining meat mixture into little loaves approximately 4" by 1-1/2".
At a BBQ: Cook meatloaf sausages on a grill or flat top barbecue.
At home: Preheat oven to 350 F °. Reheat the skillet over medium heat. Coat the bottom with oil and fat and fry the meatloaf sausages to brown them. Place the sausages on a sheet pan and finish cooking them in the oven for 10 - 15 minutes until cooked through.
Total time:
Yield: About 20-25 meatloaf sausages
Notes
Traditionally, ćevapčići are served with chopped onions mixed with sour cream, yogurt or mustard. Since mine are "meatloaf" sausages, a more appropriate and American condiment could be gravy or ketchup. I say have them as you like with your favorite condiment.
Red, White & Blue Watermelon Salad
Jackie Gordon
Soups & Salads, Gluten-Free, Vegetarian & Vegan, Parties & Potlucks
I whipped up this red white and blue salad featuring watermelon, jicama, and blueberries for a friends Fourth of July party. If you use a different cookie-cutter for the watermelon and jicama you can pretty much change the theme to create a patriotic salad for any summer occasion. I can see baby shapes for a baby shower salad, cars and trucks for a boy's birthday, flower shapes for a garden party, etc. It could be fun to cut out initials.
Ingredients
1 pound watermelon, peeled
1/2 pound jicama, peeled
1 pint blueberries, washed and well drained
1/2 pound feta cheese, cut into cubes
Red onions
1/2 cup mint or basil leaves, chopped
1/2 lemon, juiced
1/4 cup extra-virgin olive oil
1/2 cup pumpkin seeds, shelled, roasted and salted
Sea salt
Freshly ground black pepper
Directions
Cut watermelon and jicama into 1/4" slices and cut into stars or use your favorite cookie cutters. Set them aside.
Cut the scraps of watermelon left over from the cookie cutting into small chunks. Slice the jicama scraps into strands.
Mix the scraps of watermelon, jicama and half the blueberries with the red onions and mint or basil.
Put mixture in a bowl, making sure to pile it high in the center for dramatic effect.
Mix the lemon juice, olive oil, toss in the salad with half the pumpkin seeds. Add salt and pepper to taste.
Sprinkle the salad with the pumpkin seeds.
Starting at the bottom and arranging in contrasting colors, place the watermelon and jicama shapes on top of the salad. Sprinkle with remaining blueberries.
Total time:
Notes
Assemble this salad close to serving time because the salt will cause the watermelon to release it's juices and water down the dressing.
Sichuan Smashed Cucumber Salad
Jackie Gordon
Appetizers & Snacks, Soups & Salads, Sides, Gluten-Free, Vegetarian & Vegan
A spicy Sichuan peppercorn flavored cucumber salad where you smash the cucumber so it absorbs more of the dressing.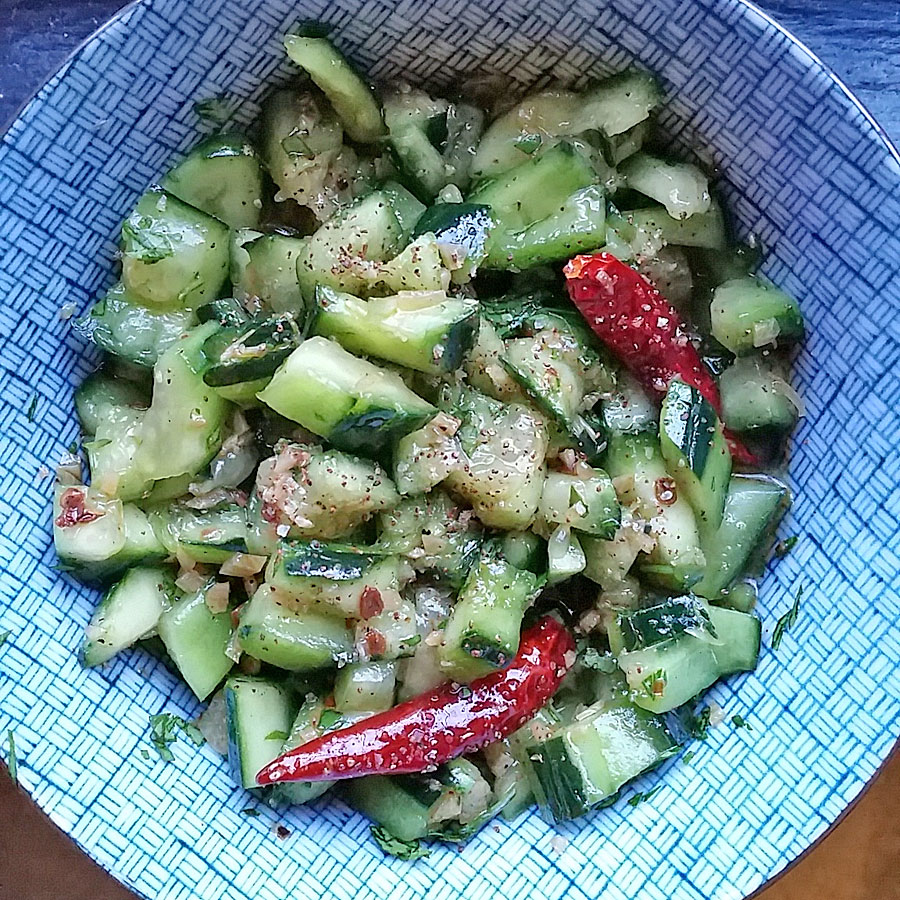 Ingredients
1.5 pounds of cucumber, (English seedless or Persian cucumbers work best)
3 cloves garlic, minced
1 teaspoon kosher salt
4 dried red chilies
1 tablespoon peanut oil
3 teaspoons sesame oil
2 tablespoons rice wine vinegar
1 tablespoon white sugar
1.5 teaspoons Sichuan peppercorn salt
2 tablespoons cilantro leaves, chopped
2 tablespoons peanuts, roasted and chopped (optional)
1 tsp Chinese ground chilies in oil (optional)
Directions
Smash the cucumber by laying it on a cutting board and trimming off the ends. Take a chef's knife or a cleaver and smash it on the cucumber sideways so the cucumber cracks. Do this for the entire length of the cucumber, then slice it into 1/2" chunks.
Salt the garlic by mixing it with 1/2 teaspoon salt and sitting it on a piece of paper towel to drain off excess liquid for 10 minutes.
In a small skillet, heat the peanut oil and sauté the garlic and chilies, stirring constantly until garlic turns gold, about 1 minute. Remove from heat, add sesame oil and cool.
In a medium bowl, mix the rice wine vinegar with the sugar until the sugar is dissolved, then add the cooled garlic mixture, the cucumbers and the remaining ingredients.
Total time:
Yield: 6 servings
Notes
Feel free to add more Sichuan peppercorn salt to the cucumber salad if you'd like more of the numbing flavor. I added peanuts because I love them.
Jackie's Sassy BBQ Sauce
Jackie Gordon
Mains, Vegetarian & Vegan, Condiments & Canning
Back in the Stone Age, I found the base recipe for Jackie's Sassy BBQ Sauce in a compilation cookbook that was from a neighborhood association or the Rotary Club, which I've long since lost. I tweaked it and changed it and made it my own, so I renamed it. I've made it all over the world. In the 90's, I had to bring my own Mexican chili powder to Australia to make it because they didn't sell it there. In my family, it's evolved to a comfort food and my little brother likes it every Christmas Eve as part of his birthday dinner along with my Confetti Potato Salad and Pot Licker Greens. No, we don't live or celebrate his birthday in a warm climate. I oven-barbecue it every year.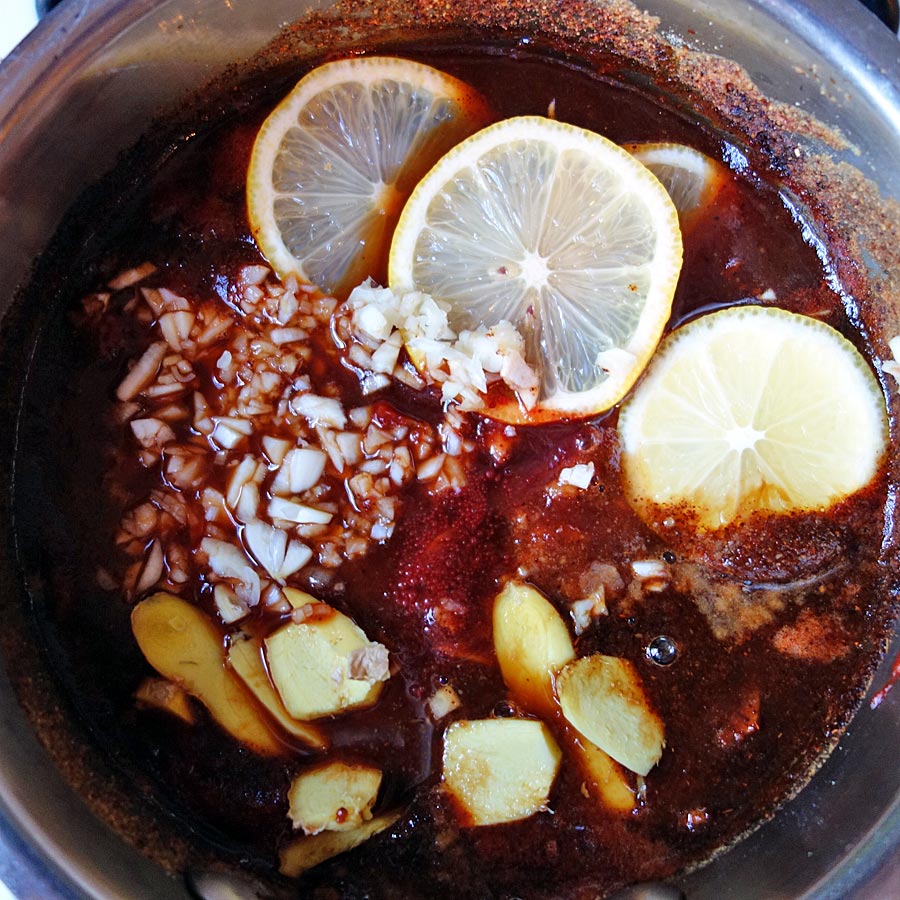 Ingredients
1 cup ketchup
1/2 cup white vinegar
1/4 cup Worcestershire sauce
2 tablespoons dry mustard
1 tablespoon Mexican chili powder (mild)
1 cup brown sugar
1 large knob of sliced ginger
6 cloves of crushed garlic
4 slices of lemon
Directions
Combine all ingredients in a saucepan and stir till smooth.
Bring to a boil, turn down heat and simmer for fifteen minutes.
Remove lemon slices, squeeze them into the sauce and discard the skin.
Pour in a sterilized pint jar. Keeps indefinitely refrigerated.
Total time:
Yield: 1 pint
Notes
You can make it spicy by adding some cayenne pepper, sliced fresh chilies or your favorite hot sauce to the sauce.
NYC Style Smoked Paprika Hot Dog Onions
Jackie Gordon
Gluten-Free, Vegetarian & Vegan, Condiments & Canning
To this native New Yorker, it's not a hot dog without onions, sauerkraut and mustard. These are better than the onions I grew up with.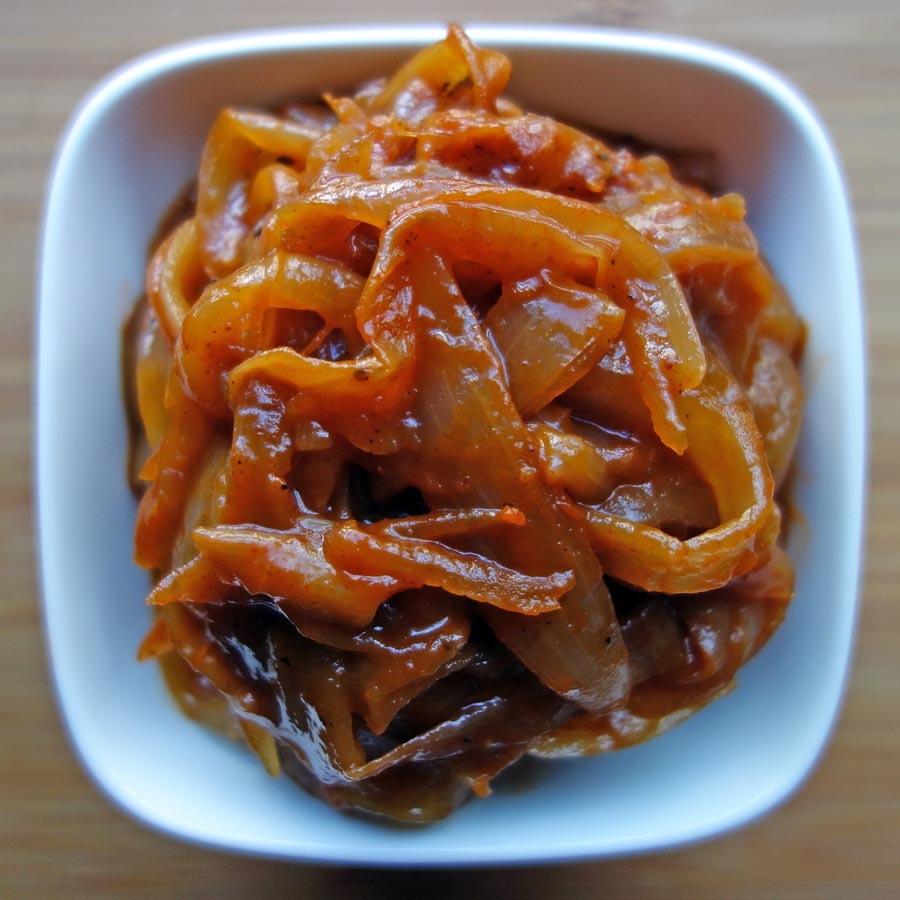 Ingredients
1/4 cup olive oil
2 pounds of yellow onions, halved and sliced
2 teaspoons kosher salt
1/2 cup ketchup
1/2 cup brown sugar
3/4 cup apple cider vinegar
2 tablespoons Worcestershire sauce
1 tablespoon smoked paprika
freshly ground black pepper, to taste
1/2 - 1 cup of water
Directions
In a large skillet, over medium heat, heat the oil and add the onions. Cook until the onions are golden, stirring occasionally.
Add the remaining ingredients. Lower flame and simmer for 15 minutes, stirring occasionally.
Adjust seasoning. Serve warm.
Total time:
Yield: 1 quart
Notes
These are not limited to being used on hot dogs. You could put on a burger or grilled cheese sandwich. They'd be great with sausages. The possibilities are kind of endless.
Twice Tomato, Triple Onion, Four Herb Salad
Jackie Gordon
Soups & Salads, Sides, Gluten-Free, Vegetarian & Vegan, Parties & Potlucks
Inspired by my garden, I created a salad where green, unripened tomatoes contrast three ways with their vine ripened counterparts: color, flavor and texture. It's a great way to use up extra homegrown herbs as well.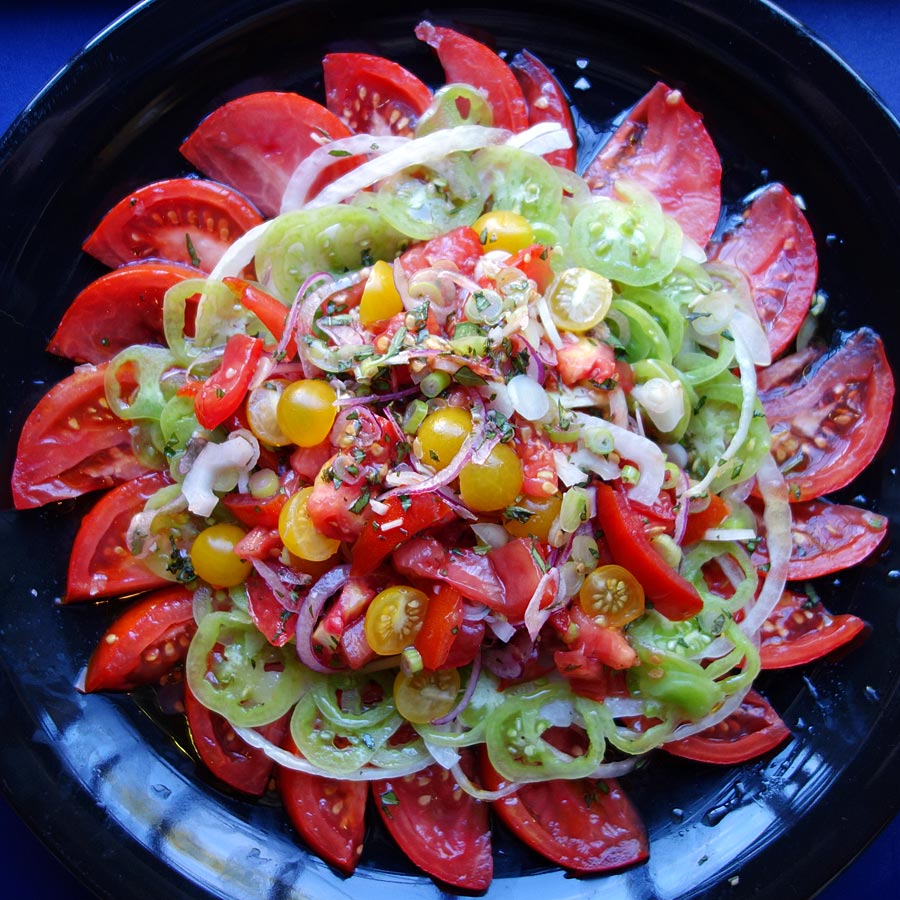 Ingredients
1 pound ripe tomatoes (use varying colors and types if you have them)
1/3 pound green tomatoes (unripened), sliced in rounds
1 small red onion or Vidalia onion
4 scallions, ends trimmed, sliced thinly in rounds
2 tablespoons chopped chives
kosher salt
freshly ground black pepper
1/4 cup of your choice of four fresh herbs, chopped:
Basil
Parsley
Rosemary
Thyme
Mint
Sage
Tarragon
Vietnamese Mint
Thai Basil
Marjoram
2 tablespoons chive flower vinegar or balsamic vinegar
1/4 cup extra-virgin olive oil
Directions
Line a plate with paper towel and lightly sprinkle it with salt. Slice the green tomatoes thinly and arrange them on the paper towel and sprinkle the tops of the tomatoes lightly with salt. Set aside for 10-15 minutes.
Slice the ripe tomatoes appropriately for their size and shape. I like to cut the large ones into thin wedges. I cut the cherry and grape tomatoes in half and the Roma tomatoes into fourths or rounds. If you only have large tomatoes, cut half of them into thin wedges and the remainder into chunks.
Slice half the red onion thinly in rings and the remainder thinly into half rounds.
Arrange the red tomato wedges in a circle on a large plate or platter. Top with a smaller circle of red onion rings and a slightly smaller circle of green tomatoes. Season with salt and freshly ground black pepper.
Mix the smaller tomatoes or chunks with remaining onion, scallions, 2/3 of the chives and herbs. Add vinegar and extra-virgin olive oil and season with salt and freshly ground black pepper to taste. Mound mixture on the center of the plate so you can still see the green tomato circle. Garnish with remaining chives. Serve immediately.
Total time:
Yield: Serves four
Notes
I use a serrated knife to cut my tomatoes. My favorite is a serrated paring knife Wüsthof gave me at an event I attended last year.
Endive Salad with Apples, Blue Cheese and Candied Hazelnuts
Jackie Gordon
Appetizers & Snacks, Soups & Salads, Gluten-Free, Vegetarian & Vegan, Parties & Potlucks
This is a lovely salad that I originally had in Montreal, at the Dominion Square Tavern, in the dead of winter in 2012. It's a long way from New York so I had to make my own version.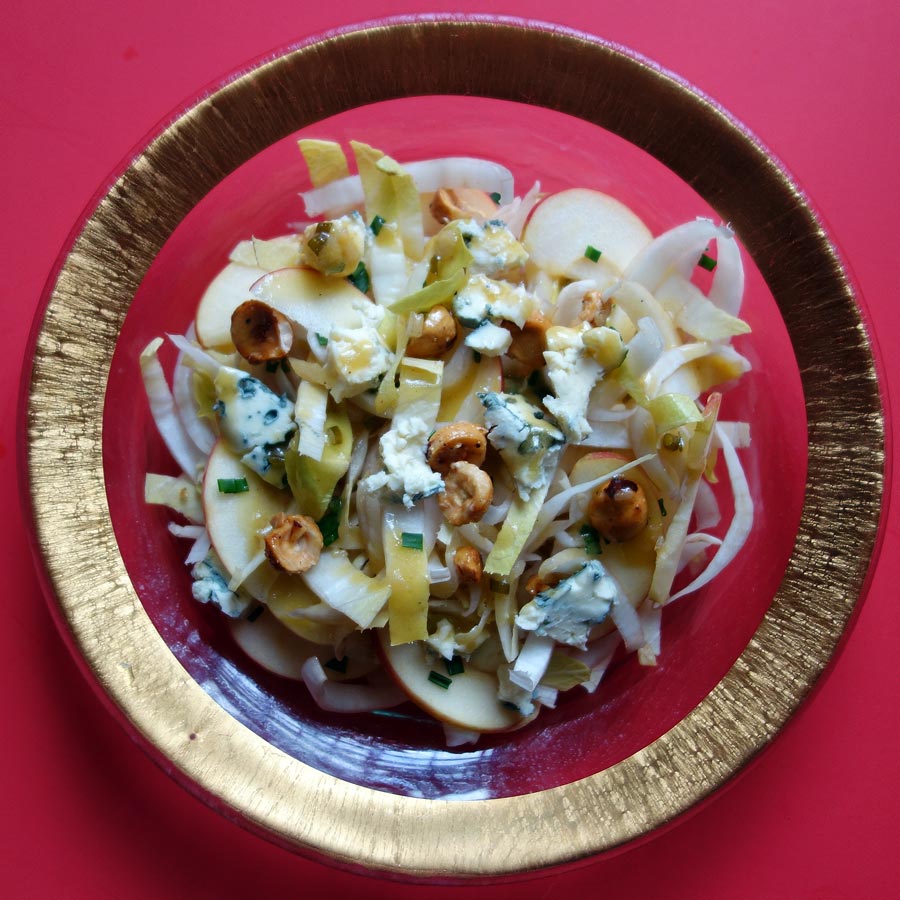 Ingredients
3 endives, sliced into rounds
1 apple, sliced into thin wedges (I used a Honeycrisp)
1 tablespoons of chopped chives
3 ounces hazelnut halves, candied or toasted
1/4 pound of blue cheese, crumbled
Recipe for Maple Vinaigrette
Recipe for Fast Candied Nuts
Directions
In a medium bowl, toss together endives, apples, chives with 1/4 cup of Maple Vinaigrette or more to taste, sea salt and freshly ground black pepper.
Top with blue cheese and nuts.
Total time:
Yield: 4 servings
Notes
You can substitute different nuts. I think the original version had pecans on it and walnuts would be wonderful too.
No comments have been posted.
Post a Comment
The commenting period has expired for this post.