Sexy + Hummus: Who'd Have Thunk It?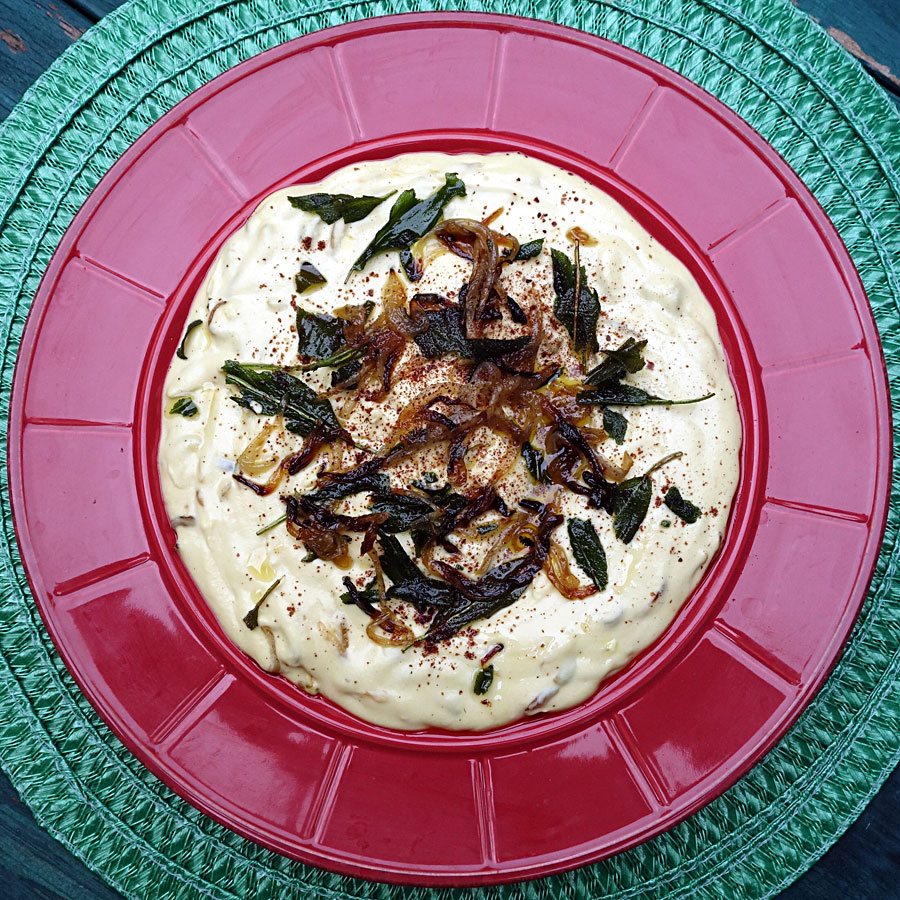 Is it lazier to use dried split chickpeas to make hummus so you don't have to slip the skins off each whole chickpea? Or is having to soak and boil the split chickpeas considered more work? What if you have a pressure cooker?
Whatever method you use to get skinned chickpeas, do it. Your hummus becomes downright sexy when you do.
Lora Wiley inspired this recipe when we had caramelized onion hummus at her place. Here is her recipe. Paul fell in love. She uses butter to caramelize the onions, he said it tasted like meat. Meat dip is dude heaven.
I made mine with crisped onions instead so it's a little less rich, but quite tasty and vegan. I added fried sage on top and some sumac powder to add color and a citrusy zing!
The word on the street is you must skin the chickpeas to make a silky hummus. I can be lazy at times so this did not appeal to me. However, I had a glut of spilt chickpeas leftover from my Indian feast a couple of months ago to use up, so I decided to use the channa dal aka split chickpeas to make this hummus. I was back at Lora's so I used her Nutribullet to process the hummus. WOW, it turned out super smooth and sexy.
My experience is "sexy" and "hummus" are not words that normally go together. But ask Paul about that and he'll tell you this hummus is an aphrodisiac.
Caramelized Onion Hummus with Fried Sage & Sumac
Jackie Gordon
Appetizers & Snacks, Gluten-Free, Vegetarian & Vegan, Parties & Potlucks
Remember when you simply threw the canned chickpeas in the food processor to make hummus. Those were the good, easy days. Now you must slip the skins off each chickpea or die of hummus shame because it's not smooth enough. This is my work around and you can totally grab a can of chickpeas and slip off the skins, one at a time…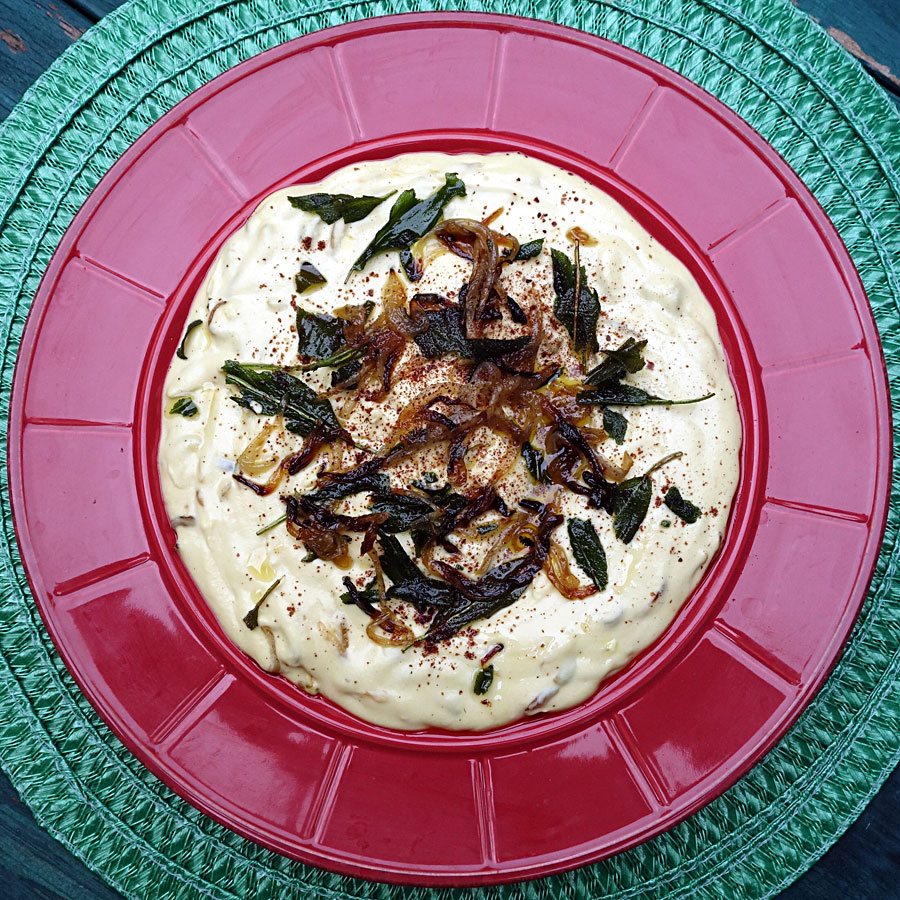 Ingredients
1 cup dry split chickpeas (2.5 cups soaked, cooked or canned chickpeas, skinned)
12 oz Vidalia onions or yellow onions, sliced thin
1/2 teaspoon kosher salt
1/2 cup extra-virgin olive oil (approximately)
1/4 cup lemon juice
3 tablespoons tahini
2 cloves garlic, peeled
2 tablespoons chickpea cooking liquid
kosher salt
freshly ground black pepper
10 sage leaves, washed and dried
2 teaspoon sumac
Directions
Cook split chickpeas in a pressure cooker according to the instructions or soak the chickpeas for at least six hours or overnight in a quart of cold water. Drain the soaking water, cover with new water and cook over medium heat until they are tender, about 30 minutes. Drain reserving the cooking liquid. Cool.
Mix onions with 1/2 teaspoon salt on a paper towel lined sheet pan or plate and let sit for 20 minutes. Squeeze out the onions in the paper towel, then mix with the olive oil and roast at 350 F° on a sheet pan until they are browned and crispy, stirring occasionally, about 20-30 minutes. Cool.
Heat 2 tablespoons of olive oil in a small skillet over medium heat. Drop the sage leaves into the oil. Fry one side of the leaf for 15 seconds and turn over with tongs to fry the other side. Remove and drain on paper towels. Cool. Reserve the oil.
Mix the cooked chickpeas, lemon juice, tahini, garlic, chickpea liquid and 2 tablespoons of olive oil (use the sage frying oil and top off with more olive oil to make 2 tablespoons) in a food processor or blender. If the hummus is not creamy enough, add more of the cooking liquid from the chickpeas, a tablespoon at a time, until you get the desired consistency. Taste and season with salt and freshly ground black pepper as desired.
Mix half the onions through the hummus. Smear the hummus on a platter or plate and swirl it so it's a flat-ish shape with edges so it will contain the drizzle of olive oil. Drizzle the hummus with olive oil. Sprinkle the remaining onions on top of the oil. Roughly crumble the sage leaves on top of the onions and dust the hummus with the sumac powder.
Total time:
Yield: 3 cups hummus approximately
Notes
The overall cooking time will vary depending on what kind of chickpeas you use.
Tahini is not a consistent product across brands. Be sure to stir it before using. Feel free adjust it to your own taste. My boyfriend would quadruple the amount because he is a tahini FREAK!. Be aware of pre-salted tahini. The last time I made this recipe I didn't have to add any salt to the hummus.
You could drizzle the hummus with a higher quality finishing olive oil to give it more flavor.
If you can't find sumac powder, you can use paprika or even smoked paprika instead.
No comments have been posted.
Post a Comment