Delight Your Vegan, Gluten Free Food Loving Friends With Cecina: Chick Pea Crêpes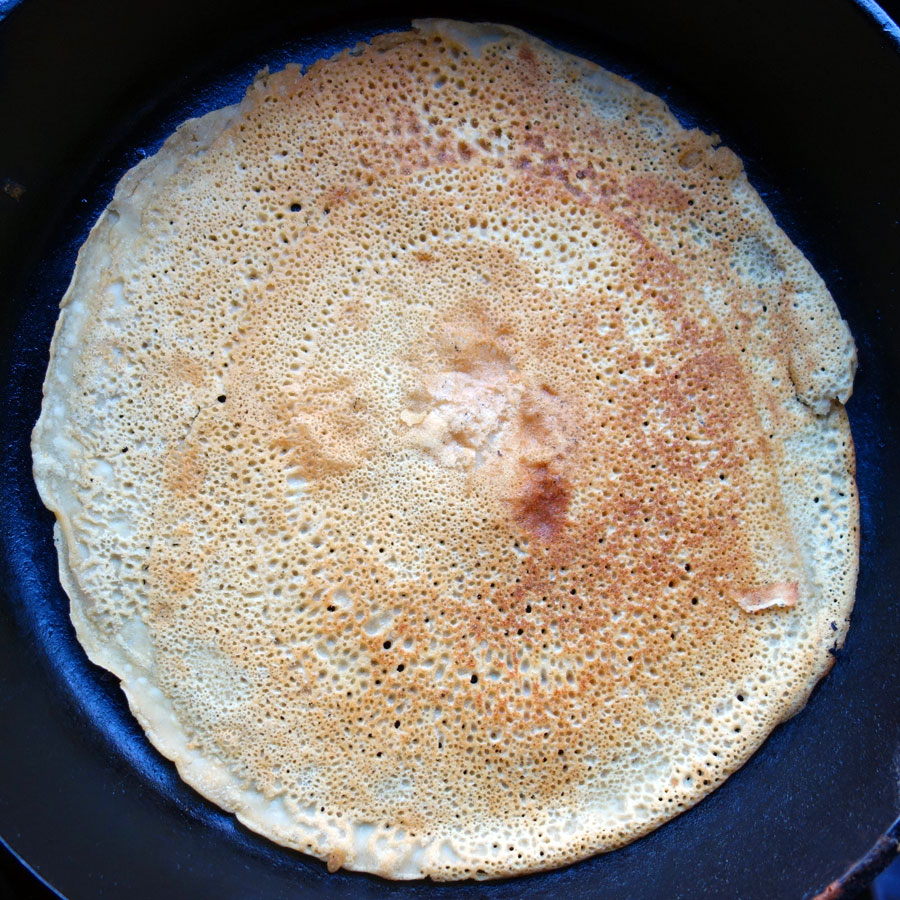 Monday, I was back at Santina, a restaurant in the meat packing district that I'd been to this past February. I've been obsessed with one of their dishes, the cecina, since my first visit. It's rare that I visit the same restaurant twice in a short time since I have restaurant ADHD. I want to eat at pretty, shiny new restaurants all the time. But I've my cecina obsession trumps my ADHD and I had a good blogger friend in from DC who wanted to try it. It hits many marks. It's unusual. It's easy to make. It's gluten free. It's vegan. It's cheap to make. It's fun to eat. It can be eaten alone or with a myriad of toppings or even a salad on top.
Cecina is a chickpea flour bread, that's made in Italy and in the south of France where it's called socca. At Santina, they make it in the form of a crepe or pancake instead of the traditional baked flatbread that I saw recipes for online.
I made it as a crepe because it's more fun and dramatic. It's super simple, made from chickpea flour, water, olive oil, salt and pepper, but you need to make the batter ahead of time so it can rest for about four hours before you make them.
At Santina, it's served with a number of different toppings, a side of salsa verde and a tomato condiment that as best described as a tomato confit. I like their Calabrian tuna tartare to the point of dreaming about it. I've made the cecina twice. I served it with a spicy calamari salad and a cooked salsa of mushrooms, zucchini and fennel.
Back in winter, it was like going on a wee escape from frigid NYC. When you walk into Santina you feel like you walked into a beach resort in a coastal town in the Mediterranean. On my second visit, it was as if the coastal town was overrun with tourists, a circus and I was being waited on by zombies and robots, but the cecina was still their most popular dish and still delish.
Share This:
Cecina: Chick Pea Crêpe
Jackie Gordon
Appetizers & Snacks, Vegetarian & Vegan
A recipe for a simple savory crêpe made from chickpea flour, water, olive oil, salt and pepper. You can serve it with any kind of dip, tartare, salsa, curry, salad, etc or just nibble it on it's own.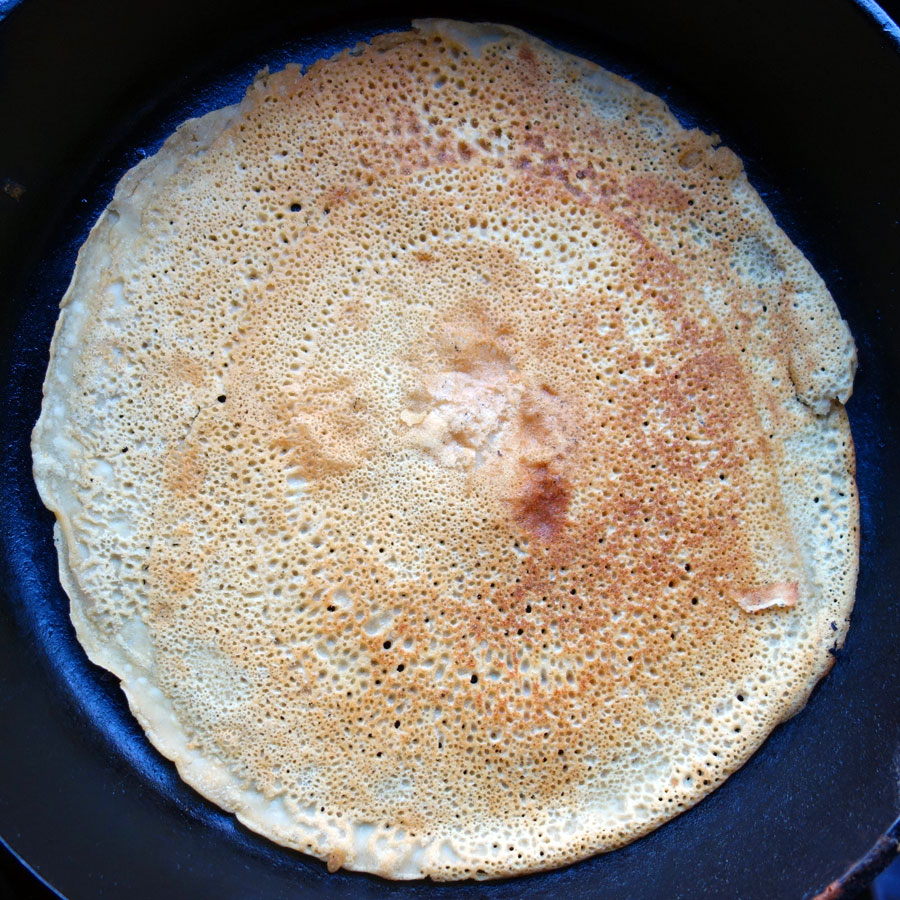 Ingredients
2 cups chickpea flour
2 3/4 cups water
2 tablespoons olive oil
1 teaspoon kosher salt
1/2 teaspoon freshly ground black pepper
Canola, coconut, peanut oil
Directions
Whisk all the ingredients together in a 1-quart bowl or measuring cup with a spout until it's completely smooth. Cover with plastic wrap and allow to sit for four hours or overnight in the fridge.
Heat a cast iron skillet or crêpe pan over medium heat. Spray or brush pan with a thin sheet of oil. Pour a layer of cecina mixture, swirling it, so it just covers the pan. Fry for about a 1-2 minutes, until bubbles form and edges brown lightly. Flip it over and just cook the other side. Serve immediately or stack on a sheet pan, in a warm oven, until all the crêpes are finished,
Total time:
Yield: 4-6 cecina depending on the size of your skillet
Notes
You can make a flatbread from this recipe by using 2 cups of chickpea flour and 2 cups of water with the olive oil, salt and pepper. Allow it to rest for four hours or overnight. Preheat oven to 400F. Pour 1/4 cup of olive oil in a small sheet pan or 9" x 13" x 2" baking pan. Pour batter in the pan tilting to spread it. The olive oil will float to the top of batter. Bake for 30 minutes until golden. Drizzle with olive oil and eat. You can dust it with parmesan or pecorino cheese and flash it under the broiler for a minutes to brown it.
Mushroom, Zucchini and Fennel Salsa or Bruschetta
Jackie Gordon
Appetizers & Snacks, Gluten-Free, Vegetarian & Vegan
Talk about flexible! This mushroom, zucchini and fennel dish can be served as a salsa, bruschetta or cecina topping, quesadilla filling or a side dish.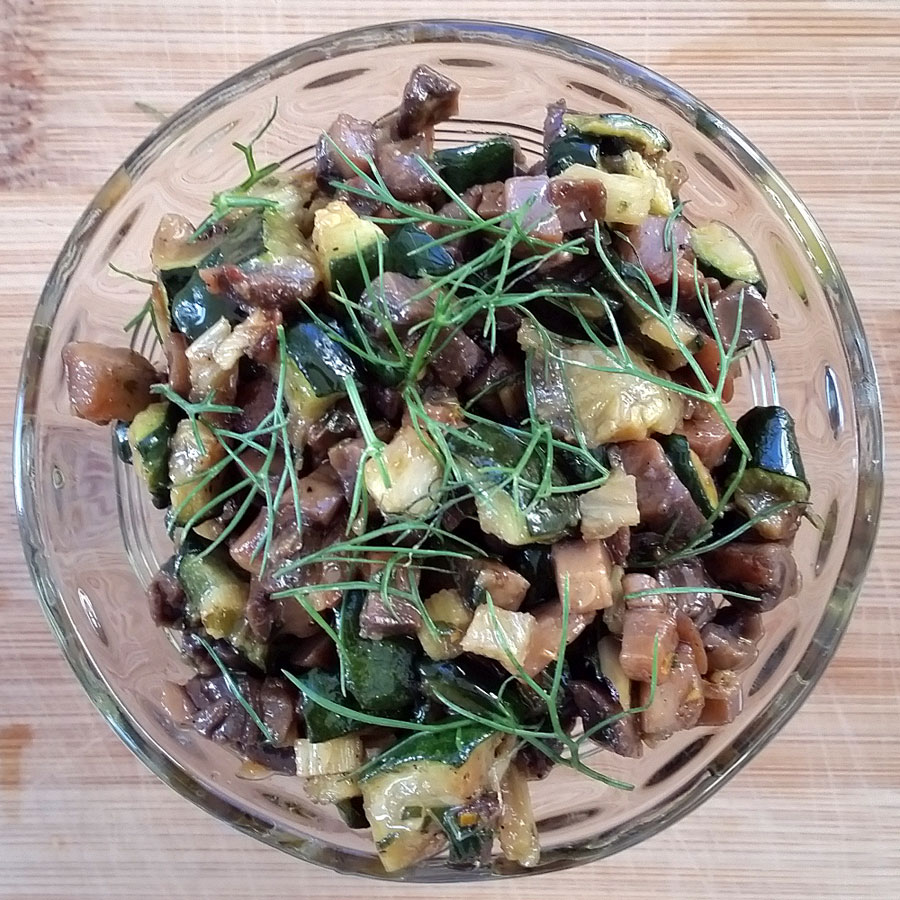 Ingredients
2 cloves garlic, sliced very thin
kosher salt
1/4 cup extra-virgin olive oil
3 ounces fennel, diced
10 oz button mushrooms, diced
1/2 pound zucchini, diced
2 tablespoons balsamic vinegar
1 tablespoon pesto
3 scallions, sliced in round
Fennel fronds (optional)
Directions
Sprinkle garlic lightly with salt and allow to sit for ten minutes. Dab it lightly with a paper towel to remove some of the moisture.
Heat olive oil in a medium skillet, over medium heat. Fry garlic for 1 minutes and remove it with a slotted spoon.
Add fennel, mushrooms and zucchini to the pan and season with salt and freshly ground black pepper and cook until the vegetables are cooked about 5-7 minutes.
Add the garlic and balsamic vinegar and continue to cook until it's absorbed.
Remove heat and add the pesto and scallions. Season to taste and garnish with fennel fronds.
Total time:
Yield: One pint of salsa
Long Hot Peppered Calamari Salad
Jackie Gordon
Appetizers & Snacks, Soups & Salads
Sautéed hot and roasted peppers add zing to this warm calamari salad topped with fried capers.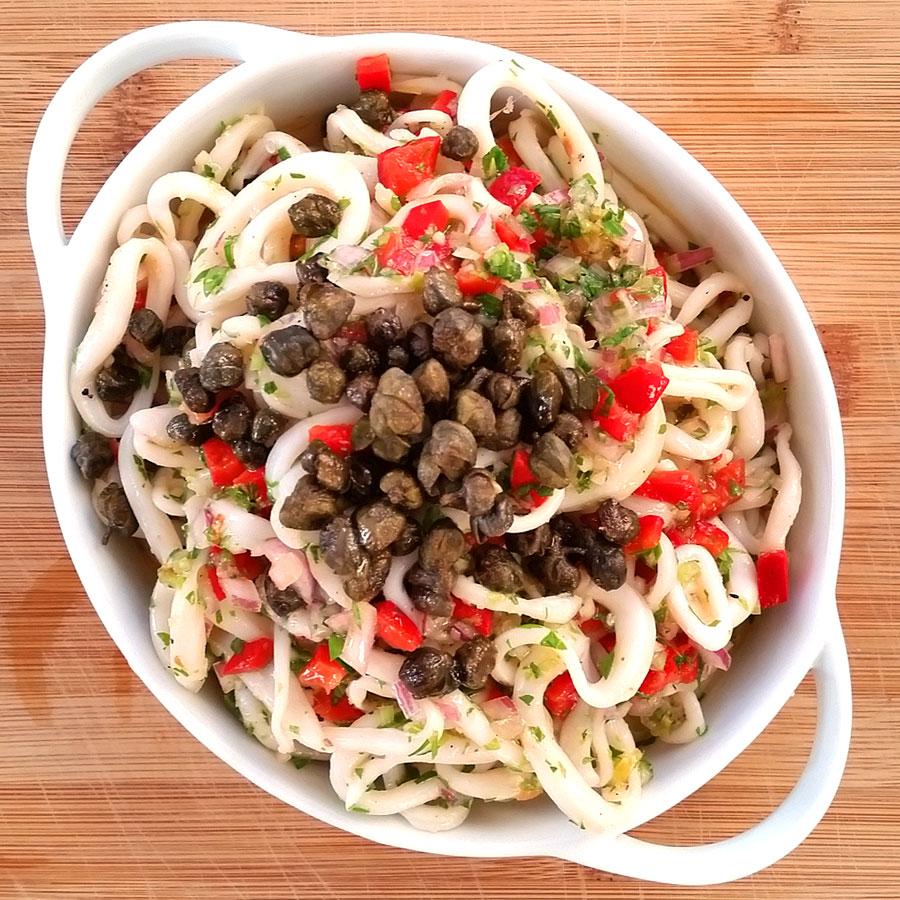 Ingredients
1 pound squid bodies, sliced thinly into rounds
3 cloves garlic
1- 2 tablespoon capers
3 anchovies, mashed with a fork
1 celery stalk with leaves, stalk sliced, leaves minced
2 ounces red onion, sliced
1-2 Italian long hot peppers, seeded and sliced
3 ounces roasted peppers, diced
1/4 cup lemon juice
1/2 teaspoon lemon zest, grated
1 tablespoon flat leaf parsley, chopped
kosher salt
freshly ground black pepper
extra-virgin olive oil
1/4 teaspoon red pepper flakes
Lettuce leaves (optional)
Directions
In a medium saucepan, bring 1 quart of water and 1 tablespoon of kosher salt to a boil. Have ready a quart sized bowl of cold water with ice cubes floating in it.
Boil squid for 30-45 seconds until it just turns solid white, strain in a colander and immediately plunge the squid into ice water to stop it cooking. Once it's cool, strain it well and set it aside in a medium bowl.
Peel and slice the garlic and set on a piece of paper towel for 10 minutes to drain.
Place the capers on a piece of paper towel, roll it up and squeeze tightly to remove the excess brine from the capers
Heat 2 tablespoons of olive oil in a small skillet over medium heat. Fry garlic until golden, about 1-2 minutes and remove from the pan and drain on paper towel.
Add the capers and another tablespoon of oil to the pan and fry them until they are crisp about 2-3 minutes. Remove them from the oil and drain them on paper towel. Set aside.
Add 1 tablespoon of oil and sauté the anchovies, celery (stalks and leaves), red onion and long peppers seasoned with salt and pepper until they are wilted, about 5 minutes.
Mix squid, roasted peppers, sautéed vegetables, garlic, lemon juice, lemon zest and parsley. Season with salt and freshly ground black pepper to taste. Add more olive oil if necessary. Add some crushed red pepper flakes if you like it spicier.
Arrange lettuce leaves on a plate, place squid salad on top and sprinkle with the fried capers.
Total time:
Yield: 4 - 6 servings
Notes
Serve this salad with crusty bread to sop up the dressing.