Don't Throw Roses, Throw Endive!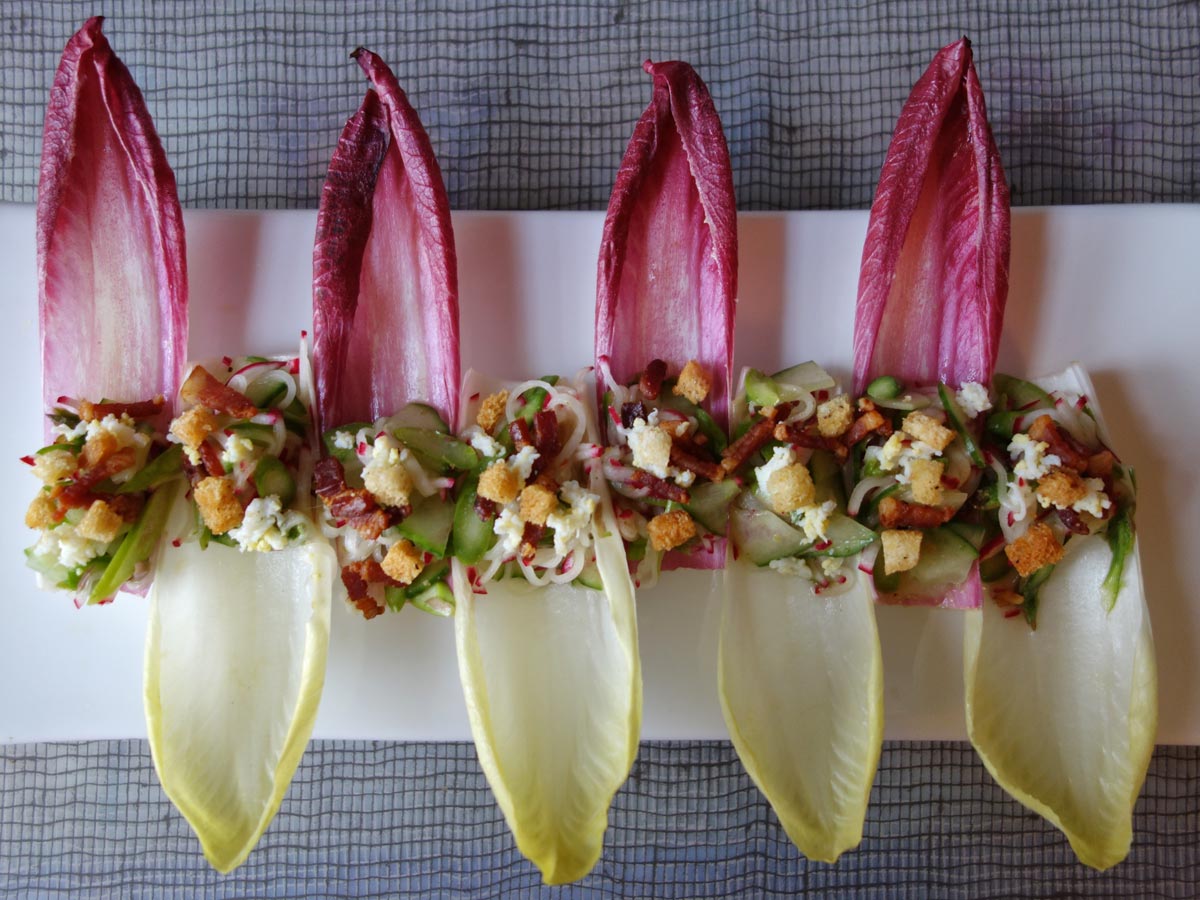 Many years ago my doorbell buzzed. SURPRISE!!! It was a delivery from the California Endive Farms that totally charmed me—a bouquet of purple endives (a perk of being a member of the International Association of Culinary Professionals). Everyone loves getting a surprise bouquet, but this one was edible, which in my book is even better. Flowers are gorgeous, but they die! A bouquet of endives has longevity, so much so that the memory of this delivery inspired the dish I made for the New York Women's Culinary Alliance spring potluck—endive stuffed with an asparagus, radish and cucumber salad and topped with bacon lardons, egg, "crouton-ettes" and a mustard-tarragon vinaigrette.
The theme for the potluck was "Springtime in Paris," and I tried to come up with a dish that hit three marks:
Fit the theme by being French-ish and using spring ingredients
Easily served at room temperature
Looked attractive.
I decided to make a version of the classic French bistro dish, a frisée salad with bacon lardons, but in something that was easy to eat, an endive. A Belgian endive is not French, although endive is very popular in France. But Belgian endive and frisée are both from the chicory family. Not sure why it's called Belgian endive, but perhaps the Belgians discovered or came up with the CRAZY way it's grown. Belgian endive is grown from a chicory plant that grows for five months outdoors. It's leaves are mowed down and the root is dug up and put in a dark, moist, cellar-like environment so the bud grows again into a single endive in about four weeks. I called my colleague, Richard Collins, at California Endive Farms, and he was kind enough to send me a bouquet of endive, some endives for my dish and more endive for the members of the New York Women's Culinary Alliance to sample. You can see pictures and get some more delicious recipes at www.endive.com.
The dish resembles the classic salad, but I definitely went off on a tangent. A totally tasty tangent. I think my favorite part of devising this dish was
My rediscovery of tarragon which I used in the mustard vinaigrette. Très français, très delicieux!
How gorgeous it looked when I served it— the gals at New York Women's Culinary Alliance loved it!
Showing off the bouquet and raffling it off at the potluck—congrats, Susan!
Making the adorable croutons—I totally "manifested" the bread—right out of The Secret!
How easily it becomes a vegetarian (remove bacon) or vegan dish (remove bacon and egg).
OK, I have a lot of favorite faves. Your guests will love this dish!
Share This:
Asparagus, Cucumber & Radish Salad in Endive with Mustard Tarragon Vinagrette
Jackie Gordon
Appetizers & Snacks, Soups & Salads, Gluten-Free, Parties & Potlucks
This dish looks great on a plate, especially if you can get the red and white endive for contrast.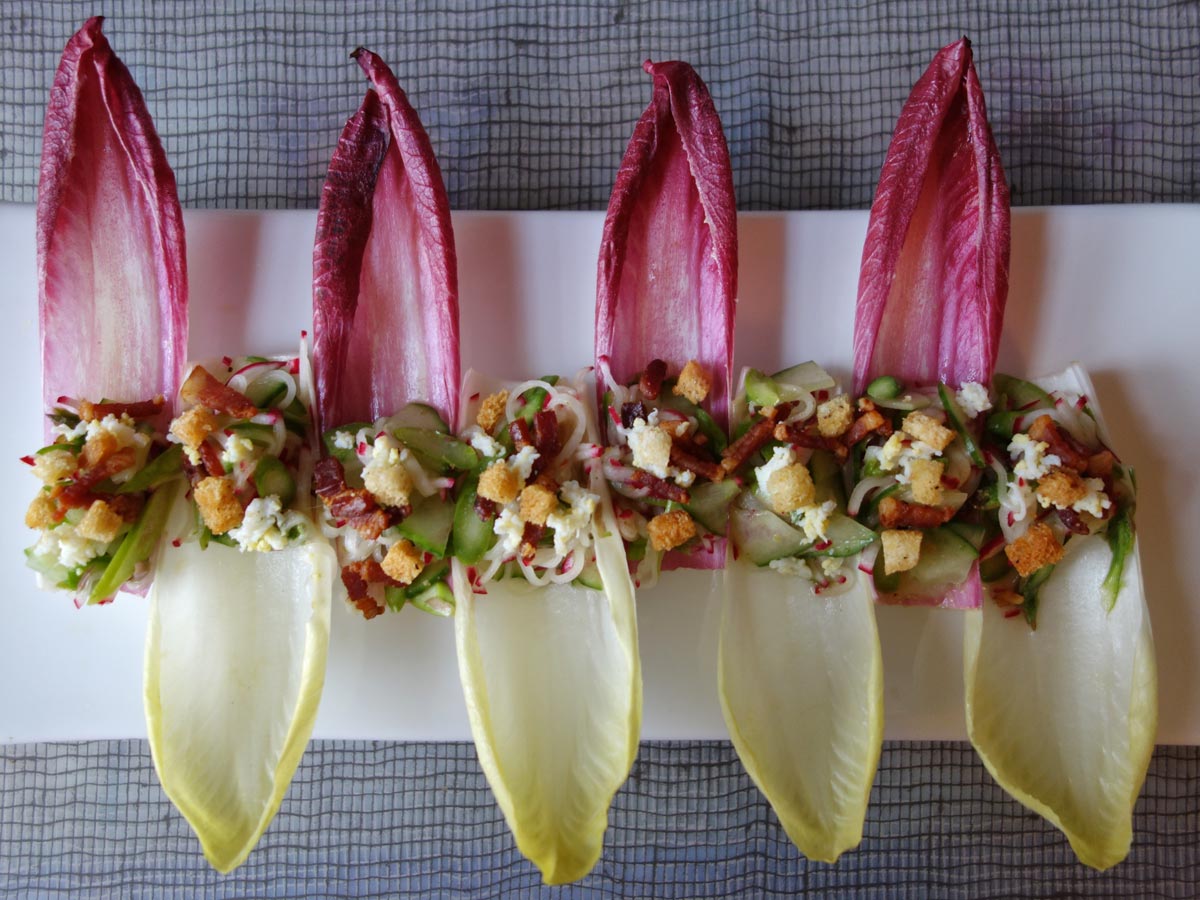 Ingredients
1/2 pound asparagus
1 medium cucumber,
3 red radishes, sliced thin
kosher salt
freshly ground black pepper
extra-virgin olive oil
6-8 endives, bottoms trimmed
2 hard boiled eggs
3 strips of bacon, crisped and chopped into bits
mustard tarragon vinaigrette (recipe follows)
"croutonettes" (recipe follows)
Directions
Bring water to boil in a medium saucepan. Have ready a medium bowl of iced water and a colander.
Slice asparagus stalks into thin rounds, saving the tips for another use.
Blanch the asparagus rounds by plunging them into the boiling water, bringing the water back to a boil and then draining it in the colander and plunging it into the iced water to cool. Drain again. Place asparagus on her towels or a clean kitchen towel to remove excess water.
Peel, seed and halve the cucumber and slice it very thinly with a knife or a mandoline.
Slice radishes very thinly with a knife or a mandoline.
Separate egg yolks from the egg whites and press them both through a semi-fine strainer and mix them together.
In a medium bowl, mix asparagus, cucumber and radishes with salt, pepper and a drizzle of extra-virgin olive oil.
Place endive on a plate or sheet pan and carefully fill with asparagus salad.
Top the salad with a sprinkle of egg, then bacon. Drizzle with Mustard Tarragon Vinaigrette and top with "Croutonettes".
Total time:
Yield: Serves 8-10 as an appetizer. Serves more as part of a potluck spread.
Notes
Vegetarian version: leave off the bacon.
Vegan version: leave off the bacon and egg.
Mustard Tarragon Vinaigrette
Jackie Gordon
Vegetarian & Vegan, Condiments & Canning
Ingredients
Dijon mustard
1/4 cup white wine vinegar
1 tablespoon fresh tarragon, chopped fine
3/4 cup extra-virgin olive oil
1/2 teaspoons kosher salt
Freshly ground black pepper
Directions
In a small bowl, mix mustard, vinegar and tarragon. Slowly whisk in the olive oil until it's emulsified. Add salt and freshly ground pepper to taste.
Total time:
Yield: 1 cup
Toast Points, Baguette Rounds, Croutons & Croutonettes
Jackie Gordon
Appetizers & Snacks
I like lots of crunch and I cannot LIE! There's something completely adorable about tiny croutons—they're like kittens.
Ingredients
Stale bread
Extra-virgin olive oil
Kosher salt
Freshly ground black pepper
Directions
Preheat oven to 350°.
Slice stale bread into whatever shape you like. Crust on or off is up to you.
For "croutonettes" I start with stale white bread and I slice it into strips that are half the height of the bread slice, then slice the strips in half and into tiny squares.
Oil a sheet pan, season it with salt and pepper, then toss the bread pieces on it with spatula so they're mostly coated (For baguette rounds, lie them flat and brush the top side with additional oil, salt and pepper). Don't over oil them or they will be too greasy. I find that as they cook and I stir them, the oil will cover them completely. If it doesn't I add a little more oil.
Bake for 10-20 minutes (the size of bread will dictate how long this takes), watching them carefully and stirring every few minutes, until they are golden brown.
Total time:
Yield: Depends how many you make
Notes
Use any type of bread you like. I find that white bread is easiest to work with for "croutonettes" because the grain is fine.