How To Make A Make Your Own Profiterole Bar
The words "empty cream puff shells" almost sound sad and lonely, but not when they're the centerpiece of a Make Your Own Profiterole Bar! They become catalysts for excitement and "profiterole-abilities" when paired with ice cream and whipped cream for filling and chocolate sauce, raspberry sauce, and caramel sauce for drizzling and all sorts of sprinkles, nuts, candies, etc. for dazzling.
On Memorial Day, we put up a Make Your Own Profiterole Bar for dessert and the guests at Lora's BBQ were pretty damned excited.
I was excited because I was in the house of the Disco Dust Queen, Lora Wiley, who writes the dessert blog Diary Of A Mad Hausfrau and is famous for not only making endless combos of macarons (be sure to check out her Macaron Monday posts), but making fun, shiny, colorful desserts, pastries and cookies.
You must exercise caution when opening her "toppings" cupboard. You could be temporarily blinded by the glints and sparkles from her arsenal of sanding sugars, dragees, sugar pearls, luster dusts, edible glitters, pearlescent sprinkles and more. She likes pretty, shiny things and she also collects lots of props so I was thrilled we could have fun gussying up and styling the Make Your Own Profiterole Bar too.
We managed to control ourselves by only putting out five kinds of sprinklings for the Make Your Own Profiterole Bar along with:
Cream Puffs
Ice Cream
Whipped Cream
Chocolate Sauce
Caramel Sauce
Raspberry Sauce
Toasted Almonds
We exercised restraint since we only had about 12 guests. If we'd gone absolutely nuts, we could have easily put out five different toppings for each guest.
The last time I made the Make Your Own Profiterole Bar was for the Men With Balls brunch I threw for Obama's inauguration. I had all of the above, except for the assortment of sprinklings, as well as pastry cream and chocolate mousse for filling the puffs, several kinds of nuts, meringue sprinkles, mini marshmallows, caramelized rice crisps, and fresh berries. I'm the queen of overkill, but you can make your Make Your Own Profiterole Bar as simple or as over-the-top as you like. Make everything from scratch or buy it all. You may even be able to buy the cream puff shells from your local bakery or online. I used to buy them in when I have them on the menu at my Divalicious Chocolate Cafe.
Make Your Own Profiterole Bar Equipment Setup:
Platter for the cream puffs — last time I used a clear glass vase
Ramekins or small dishes for the toppings
Small pitchers
Ice cream scoops
Small spoons
Bowls and spoons for guests
Napkins
How It Works: Guests grab their cream puffs and fill and top them as they like. I made small puffs about 2" in diameter so I allowed three per person.
Share This:
Stabilized Whipped Cream
Jackie Gordon
Desserts & Chocolate
I used stabilized whipped cream and opposed to unstable whipped cream in any recipe where I need the whipped cream to be molded or piped, hold it's shape, not to weep or to stabilize another ingredient like lemon curd, as in my Heavenly Pie.
Ingredients
2 teaspoons of unflavored gelatin
1/4 cup of cold water
2 cups of heavy cream
1 teaspoon vanilla
1/3 cup granulated sugar
Directions
Mix gelatin and cold water until the gelatin absorbs the water. Heat to melt gelatin to melt it (in a microwave for 3 minutes, stirring every minute or in a small sauce pan on the stove on low flame, stirring constantly, until melted). Cool for about 10 minutes. Gelatin must be cool before you beat it into the cream.
In a chilled bowl with chilled beaters, whip cream, sugar and vanilla until mixture just starts to hold a shape (you can just begin to see marks in the cream when you stop beating and lift the beaters), then beat in the cooled gelatin in a steady stream until stiff peaks form. Be careful not to over beat.
Total time:
Yield: 4 cups approximately
Profiteroles Cream Puff
Jackie Gordon
Vegetarian & Vegan, Desserts & Chocolate
Choux pastry is used for making cream puffs, éclairs, and other hollow pastries that are filled with various savory and sweet fillings.
Ingredients
1 cup water
3/4 cup sweet butter
1 tablespoon granulated sugar
1/2 teaspoon salt
6 ounces all-purpose flour
1 cup whole eggs, unbeaten
Directions
Preheat oven to 425 °.
Line two half-sheet pans with parchment paper or silicone baking sheet liners.
Have ready, a stand mixer with the paddle beater attached or a bowl and an electric hand beater with the eggs nearby.
In a small saucepan, combine the water, butter, sugar, and salt and bring to a boil.
Add the flour all at once, turn heat to low and vigorously stir the mixture with a wooden spoon until it's smooth and forms one ball leaving no residue in the pan.
Remove the pan from the heat, pour the mixture into the mixer and beat at medium speed to cool it for one minute.
Beat in eggs, one at a time, at medium speed, until they are fully incorporated.
Place mixture in a piping bag and pipe 1-inch rounds that are about 1 inch high on the sheet pan, leaving about 1 1/2 inches between them, since they will expand.
Bake for ten minutes, then lower the heat to 350 ° and cook them until they are light golden brown. Remove the pan from the oven and poke a hole in the side of each puff and return them to the oven for another five minutes to dry the insides.
Cool on a rack. Fill as desired.
Total time:
Yield: about 30 2" diameter round puffs
Raspberry Sauce
Jackie Gordon
Condiments & Canning
Ingredients
12 ounces of raspberries
1/4 cup sugar
1/4 cup water
1 teaspoon vanilla
Directions
In a small saucepan, over low heat, combine all the ingredients and simmer, stirring occasionally, until the raspberries begin to fall apart.
Remove from heat and cool. Puree in a blender.
Pass mixture through a fine strainer, a chinois or a cheesecloth-lined strainer or colander to strain seeds.
If the sauce is too thin, you can reduce it by further cooking over low heat until it reaches the desired consistency.
Total time:
Yield: 2 cups
Pastry Cream
Jackie Gordon
Desserts & Chocolate
A classic vanilla custard that's used as a filling for éclairs, doughnuts, pies, cakes, parfaits, etc. I also mix it with stabilized whipped cream for desserts like Merveilleux, Heavenly Pie and my Crêpe Terrine Cake.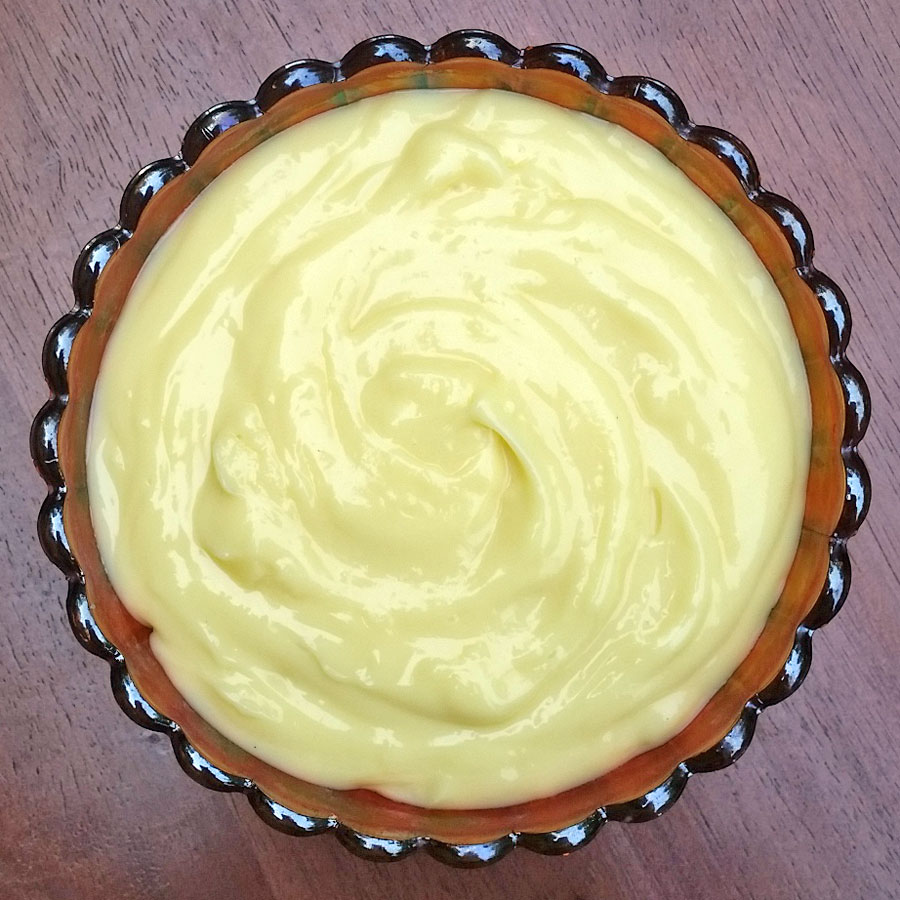 Ingredients
2 cups whole milk
4 egg yolks
1/2 cup sugar
2 tablespoons cornstarch
1 tsp vanilla extract
pinch of salt
Directions
In a heavy, one quart saucepan, mix 1 cup of milk and 1/4 cup of sugar and heat until mixture just comes to a simmer, do not boil.
In a small bowl, whisk together the sugar and cornstarch to break up any lumps, then add 1 cup of milk, the egg yolks, vanilla, and salt.
Slowly beat the warm milk into the yolk mixture in the bowl.
Pour the mixture, through a fine strainer, back into the saucepan. Place the saucepan over medium heat, whisking constantly until it's thickened enough to coat a spoon. Strain the mixture back into a shallow container and cover with plastic wrap to prevent a skin from forming. Cool in the refrigerator for several hours.
Total time:
Yield: 3 cups of pastry cream
Caramelized Millet Puffs
Jackie Gordon
Gluten-Free, Desserts & Chocolate
Caramelized Millet Puffs make a fast, crunchy garnish for any desserts or to add to cereal, trail mix and more. They taste very reminiscent of the breakfast cereal Suga Pops.
Ingredients
1 cup of puffed millet
3 tablespoons raw or granulated sugar
1/8 teaspoon kosher salt
2 tablespoons raw sesame seeds (optional)
Directions
Have ready a plate or sheet pan lined with waxed paper or a silicone baking sheet.
Heat a dry cast iron frying pan on medium heat. Add the millet, sugar and salt, stirring constantly with a silicone spatula until the sugar melts and starts to coat the millet puffs about two minutes. Add the sesame seeds and continue to stir until the sugar is completely melted and mixture is golden. Immediately, pour the mixture on the waxed paper, pressing it out, with the silicone spatula so it's flat. Cool completely.
Total time:
Yield: 1 cup
Notes
Use Caramel Sesame Millet Puffs on ice cream, sundaes, parfaits, panna cotta, pavlova, puddings, etc.