I Dream Of Toffee With The Light Salty Air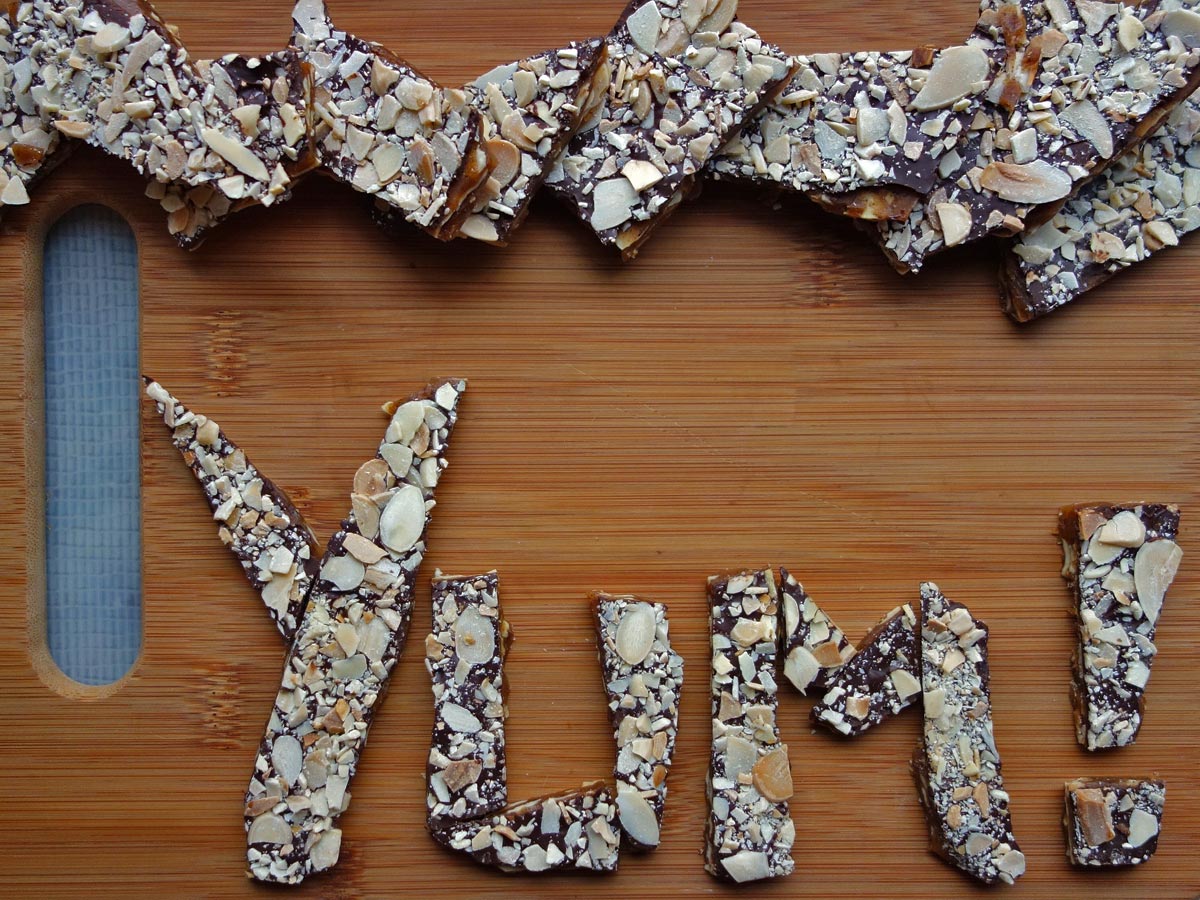 There's something about a toffee. I think it's the dame of the candy world. Sexy, snappy and buttery with a nice, little bite. I could see a gorgeous gal named Toffee rushing into a third rate detective's office in a 1950's B movie, breathless and scared saying, "You gotta help me." He melts at the sight of her and does her bidding.
When you make Salted Chocolate Cappuccino Buttercrunch Toffee you will not need help eating it. People will offer and if you're nice you may give them a little. I hide mine.
The original version of this recipe was given to me by my dear friend Kathy Blake, a professional cook and food writer, who blogs at The Experimental Gourmet, when another recipe I was using for toffee failed twice. This is her mom's recipe. Mine is a little different, but they are both delish.
Share This:
Salted Chocolate Cappuccino Buttercrunch Toffee
Jackie Gordon
Gluten-Free, Vegetarian & Vegan, Desserts & Chocolate
If you want a fast, only slightly tricky, candy recipe that will guarantee yours and the people you may or may not share it with's GLEE, this Salted Chocolate Cappuccino Buttercrunch Toffee is it!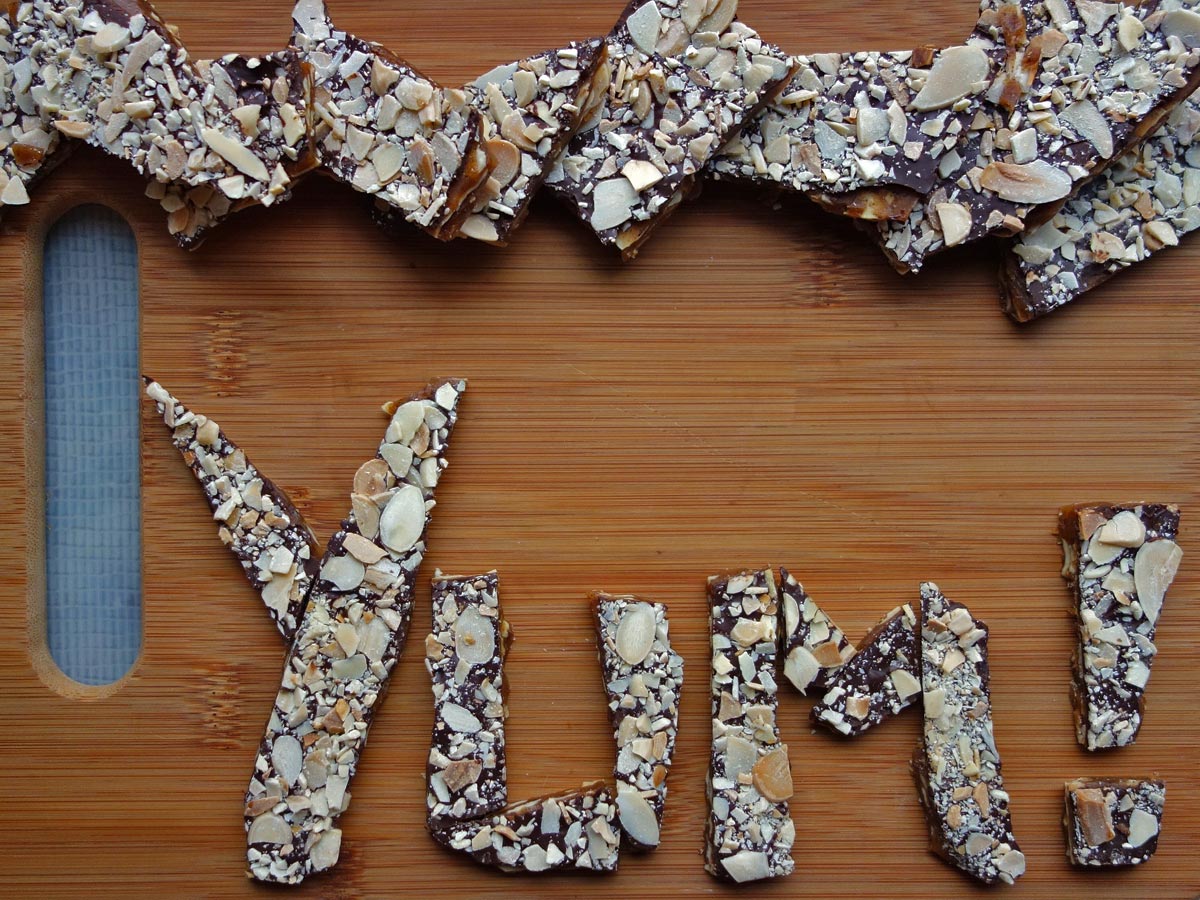 Ingredients
8 ounces unsalted butter
1 1/3 cup white granulated sugar
1 tablespoon corn syrup
3 tablespoons water
1/2 teaspoon kosher salt
1 tablespoon cinnamon
2 teaspoons instant espresso powder
8 ounces sliced almonds (skins or no skins), toasted
8 ounces chocolate buttons, bars, chips or pieces (milk, semi-sweet, bittersweet as you prefer)
Directions
Prepare a sheet pan (18" x 13") by lining with a silicone sheet and greasing the edges or well greased parchment paper.
In a small bowl, mix together the sugar, corn syrup, salt and water. In another small bowl, mix together the espresso powder, cinnamon and 4 ounces of the almonds.
In a 3 quart heavy saucepan, fitted with a candy thermometer if you have an immersion style (or have ready a Thermapen or digital-laser thermometer), melt butter on low heat. Add sugar mixture. Stir once or twice to make sure the sugar is all melted.
Raise temperature to medium heat to bring up to a boil and watch carefully as it changes color. Do not walk away from the stove, as the candy will go from golden brown to burnt in a matter of mere minutes. When the mixture reaches the hard crack stage (300-310 degrees Fahrenheit), remove the pan from heat and add the almond mixture. Carefully stir once or twice to mix the almonds into the candy and quickly pour it onto the sheet pan, tilting the pan to distribute the candy evenly. You can use an offset spatula to spread the candy. I like to spread it to the edges of the silpat or silicone sheet.
Allow the candy to harden and cool for a five minutes so the candy is about 140 °, then sprinkle the chocolate evenly on top. The heat from the candy will begin to melt the chocolate. Spread the chocolate evenly with a offset spatula, mixing the unmelted pieces until they are all melted. This process will temper the chocolate. Sprinkle the remaining almonds over the chocolate and sprinkle with sea salt. Allow the candy to completely cool and break up the candy into pieces for serving or devouring.
Total time:
Yield: About 2 pounds