Make Those Wings You Make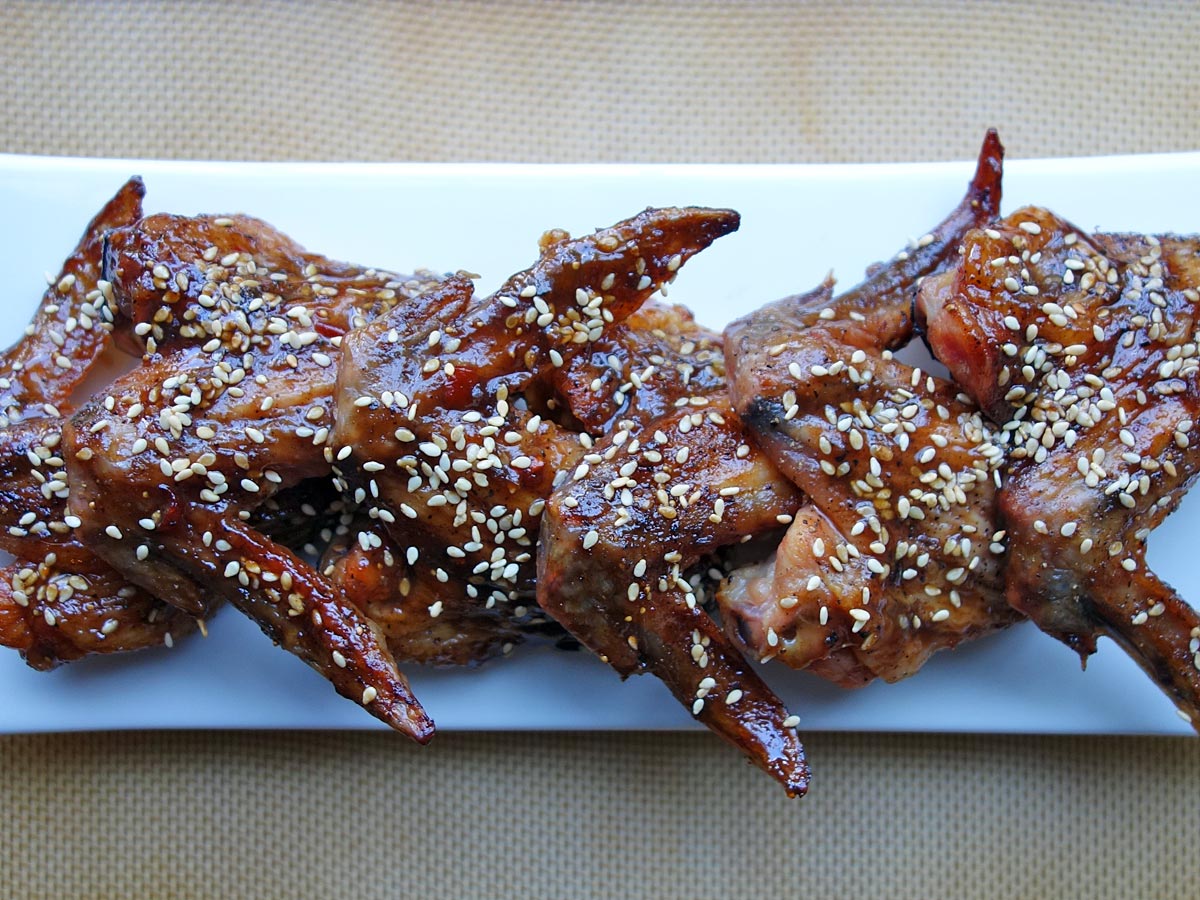 Them:
"Hey, can you make those wings you make?"
"If you're gonna make those wings you make, I'll be there."
"Can you come over… and bring those wings you make?"
Me: Which wings?
"The crunchy ones with the sticky sauce."
Me: The cooked the sh*t ones?
Them: "YES!!!"
This is the recipe for my Cooked the Sh*t Wings, famous amongst my friends and family, that I sort of learned from my father, whom I've hardly seen my whole life—long story.
He's a wonderful cook and loves food (it's hereditary). I watched him make chicken when I visited him in San Francisco in the mid 80's. He sprinkled it with salt and just cooked it and cooked it. The chicken skin came out really crunchy. I don't recall if they were wings because I'm old, but it must have been some small-type pieces of chicken. No matter, because that moment from long ago inspired my Cooked the Sh*t Wings. I simply salt and pepper the wings and cook the crap out of them, then put some sort of sticky sauce on them and possibly something crunchy as well.

Wings have a lot of fat, from the skin, so they can take a long roasting. I say it makes them lighter because a lot of the fat cooks off. I don't know if that makes them healthier, but they're damned good.
You don't have to sauce them, but I always do. I find some sticky stuff in the refrigerator and turn it into a sauce and baste them at the last minute, then throw them back in the oven for a minute. You can also buy a sauce. I made these with my friend Erika Kerekes, who has just launched a new line of fruit-based ketchups called Not Ketchup. I made a glaze based on the Spicy Fig one. I use 1/2 cup of Spicy Fig Not Ketchup, 1/4 cup of apple cider vinegar, 2 tablespoons of sweet chili sauce and some sesame seeds because sometimes I put an additional layer of crunch on top of the sticky glaze, because I can and I love another layer of flavor and MORE CRUNCH! (Queen of OVERKILL)
Share This:
Cooked The Sh*t Wings
Jackie Gordon
Appetizers & Snacks, Mains, Gluten-Free, Parties & Potlucks
There are no proportions for the ingredients in this recipe, only the technique. I figure on six to ten wings per person. I always make extra since we can usually eat a ton of these and even if we can't finish them, we are very happy to eat them the next day. Make a sticky sauce and consider giving them a wee sprinkle of a little something crunchy when they come out of the oven like garlic chips, sesame seeds, bacon bits, and so forth (more ideas below).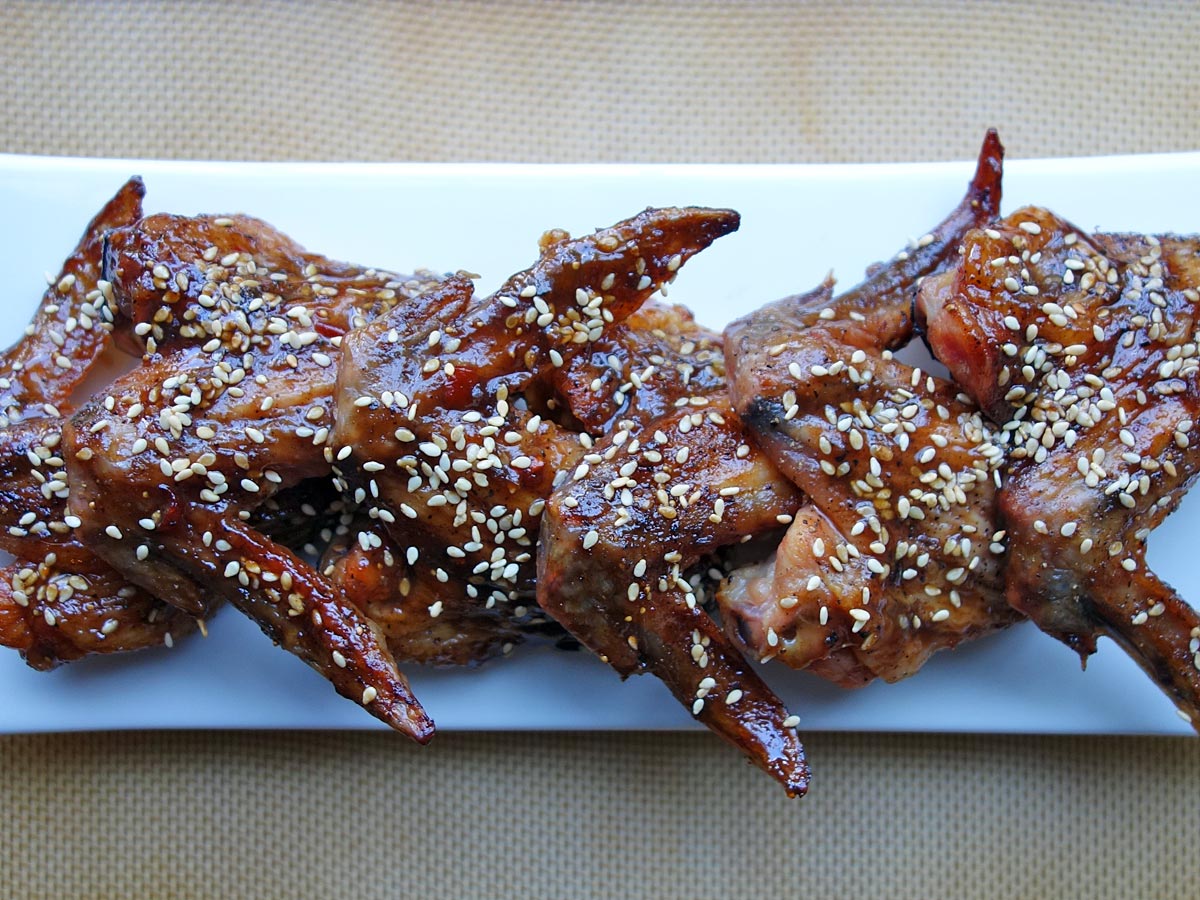 Ingredients
Chicken wings
Kosher salt
Freshly ground black pepper
Directions
Preheat oven to 425°.
Line a sheet pan with a Silpat, an equivalent silicone mat or well greased parchment paper.
Do not wash the wings, but dry the wings with paper towels to remove excess moisture. You can leave wings out, uncovered, in the fridge overnight to dry out the skin to make them even more crispy.
Place the wings on the sheet pan with outer part of the wing facing down so you can salt the underside of the wings first. Salt the under side of the wings evenly and turn them over. Salt and pepper the outer wing evenly.
Cook for one hour or so, until the wings are browned and crispy. You can drain off any excess fat that accumulates as they cook. Flip each wings and brush the underside with the sticky sauce of your choosing, turn them over brush the outer side with sauce. Return them to the oven for 5-7 minutes. Remove from oven, check the sauce coverage and add more, if needed. Sprinkle with crunchy component, if desired. Eat.
Total time:
Yield: As many wings as you make, provided you don't sneakily eat them when no one is looking because then there will be less.
Notes
Sticky Sauce Ideas
Mix approximately 3 parts sticky/sweet with 1 part acid with 1/2 part spicy in a pot, over low heat and reduce until it's the consistency of BBQ sauce.
Brown sugar, ginger & soy
Balsamic & orange marmalade
Maple & Dijon
Gochujang, rice vinegar & palm sugar
Hot sauce & honey
Crunchy Component Ideas
Garlic dust
Crushed popcorn
Popped amaranth
Dukkah
Tortilla dust
Crushed chicharrones
Caramelized crisp rice
Toasted sesame seeds
Toasted shaved almonds
Toasted pine nuts
Bacon bits
Duck cracklings