Mama Madras Have You Any Chicken Curry?
My mama learned this chicken curry recipe from Christine and Fernando, our Portuguese-Indian neighbors, on the Lower East Side, in the 60's. When she first tasted it, she had no palette for spicy food and sweated her way through the meal. Once she got used to it, she loved this dish and we loved it too.
She used to swear by the A&P's curry powder to make it. The Portguese neighbors put the entire container in the curry,When they A&P closed, I thought we'd never see the curry again. Over time we discovered great Madras curry powders from the Indian shops in Curry Hill along Lexington Avenue and on the Lower East Side that are perfect in this dish. You'll find it's dead easy to whip up and a real crowd pleaser.
I recently found the original recipe, that had fallen out of a recipe notebook many years ago. It calls for cooking this chicken curry in a pressure cooker. I have a very distinct not-so-fond memory of the pressure cooker exploding in our Brooklyn kitchen when I was eight years old. I think it was a pot of black beans and they were all over the ceiling—no one was injured. I developed a healthy fear of pressure cookers after that. I've recently come around and requested and received a 23 quart pressure canner-cooker for my birthday. I can't wait to try this recipe in it.
You can flesh the dish out by adding potatoes, carrots or other veggies. I like to keep it simple and cook other Indian veggie dishes to go with it. That way you have all sorts of contrasting flavors playing ping pong with your taste buds..
For a dinner party, I made the chicken curry and served: Cauliflower, Okra and Coriander Balti, Lentil Dal, Green Apple, Cucumber and Scallion Raita, Carrot-Banana Curry and Steamed Asparagus and Snow Peas. I served it with lime pickle, mango chutney, my green tomato, green apple and green chili chutney, chopped fresh coriander, chopped fresh chilies and pappadums. The cool thing about cooking Indian food is predominatesly stewed food. The preparation is fairly simple as long as you can source the ingredients.
Share This:
Madras Chicken Curry
Jackie Gordon
Mains, Gluten-Free, Parties & Potlucks
My Mama didn't know how to cook when she left the nest. She had to learn fast. This Madras chicken curry recipe was one of her most requested-by-us dishes. It's so simple a newlywed could master it!
Ingredients
1 package of Pomi tomatoes (26.46 oz tetra packed—no BSP (bisphenol-A))
1 pound yellow onions, chopped
6 cloves of garlic, chopped
1/4 cup Madras curry powder
1 teaspoon cayenne pepper (optional)
2 teaspoons tamarind paste
1 2-3 pound whole chicken, cut into pieces, if desired ( or use legs and thighs)
3 teaspoons salt
freshly ground black pepper
1 pint plain yogurt or coconut milk (optional—in original recipe, my mother never added it.)
Directions
Place all ingredients, except yogurt or coconut milk in a large pot.
Bring to a boil, then turn down to a simmer. If it seems a little dry, you can add some water.
After a half an hour, taste and adjust the seasoning. Depending on the strength and taste of your curry powder, you may need to add more.
Bring to a boil and turn down to a simmer. Cook until the chicken falls off the bone, about one hour.
Cool completely. Remove bones from the curry.
When ready to serve, add yogurt or coconut milk. Reheat completely.
Total time:
Yield: 6 servings
Notes
Serve white rice with chutney and your choice of raita on the side. The original recipe calls for garlic powder, but I added fresh garlic. The original written recipe calls for cooking it for 45 minutes in a pressure cooker.
You can make it a day ahead, it also freezes beautifully.
Carrot Banana Curry
Jackie Gordon
Sides, Gluten-Free, Vegetarian & Vegan
When I was a kid this was a truly exotic recipe. Who eats bananas for dinner? CRAZY! It's the perfect accompaniment to a savory curry and vegans and vegetarians can enjoy it too!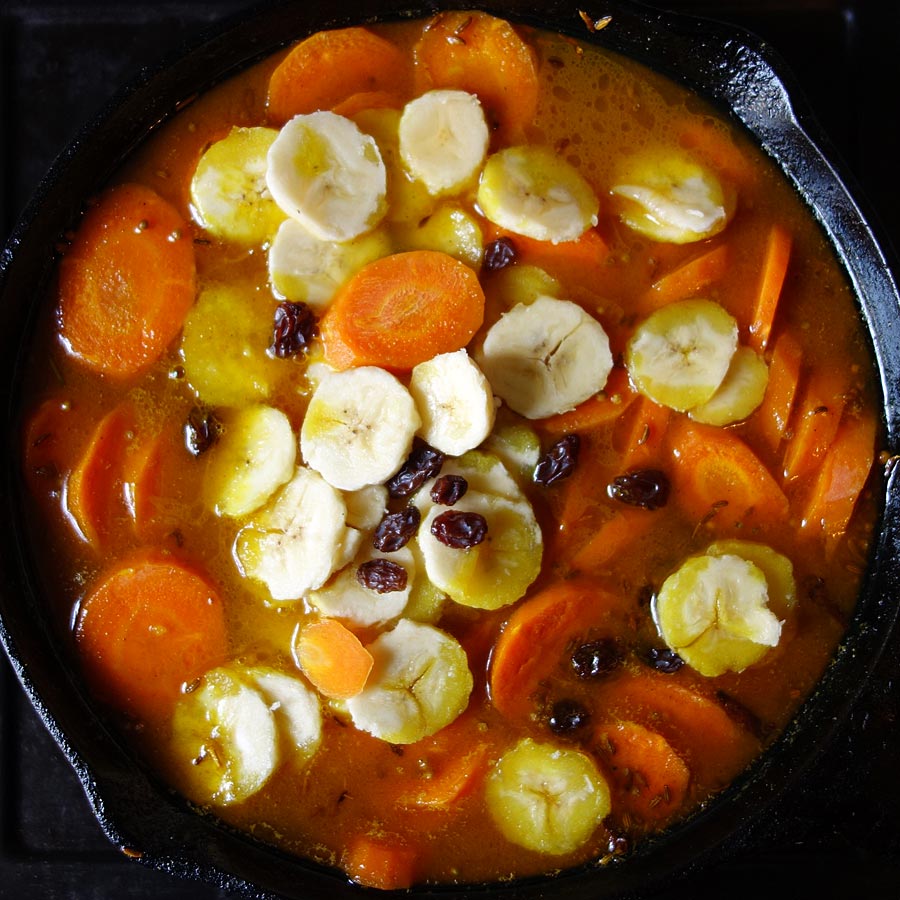 Ingredients
2 pounds carrots, sliced (slant cut 1/4" or so)
2 cups fresh orange juice
1 teaspoon salt
Water
4 tablespoons butter or ghee
1 ripe banana, thinly sliced
1/4 cup raisins
6 cardamom pods, seeds only
2 teaspoons turmeric
1 tablespoon cumin seeds
1 1/2 teaspoons yellow mustard seeds
1/4 teaspoon cayenne pepper
1 teaspoon madras curry powder
1 tablespoon cornstarch, optional
Directions
In a medium saucepan, place carrots, orange juice, salt and enough water to cover the carrot slices completely cook over medium heat for about five minutes.
In a medium skillet, melt butter and add cardamom, turmeric, cayenne, and curry; stir for a bit to incorporate all the spices. Then, add the spices back into the carrots, Use some of the simmering liquid to deglaze the skillet. Add the raisins and banana slices to the pot. Turn the heat down to a simmer and let the flavors meld over the next 30 minutes or so.
OPTIONAL: To thicken the curry, remove about a cup of the liquid from the dish and whisk into it the cornstarch to make a blended slurry, then add this slurry back to the main dish and stir until it has thickened a bit.
Total time:
Yield: 6 to 8 servings
Notes
The original recipe calls for creating a slurry out of some of the liquid from the curry and the cornstarch if you need to thicken it. I found that cooking the sauce longer and reducing the liquid creates a nice consistency.
I like to serve this as a side dish with my Madras Chicken Curry.
Adapted from the classic cookbook The Vegetarian Epicure by Anna Thomas. Check out Anna's latest book Love Soup: 160 All-new Vegetarian Recipes From the Author of the Vegetarian Epicure.