Maple My Endive, Apples, Blue Cheese and Candied Hazelnuts Salad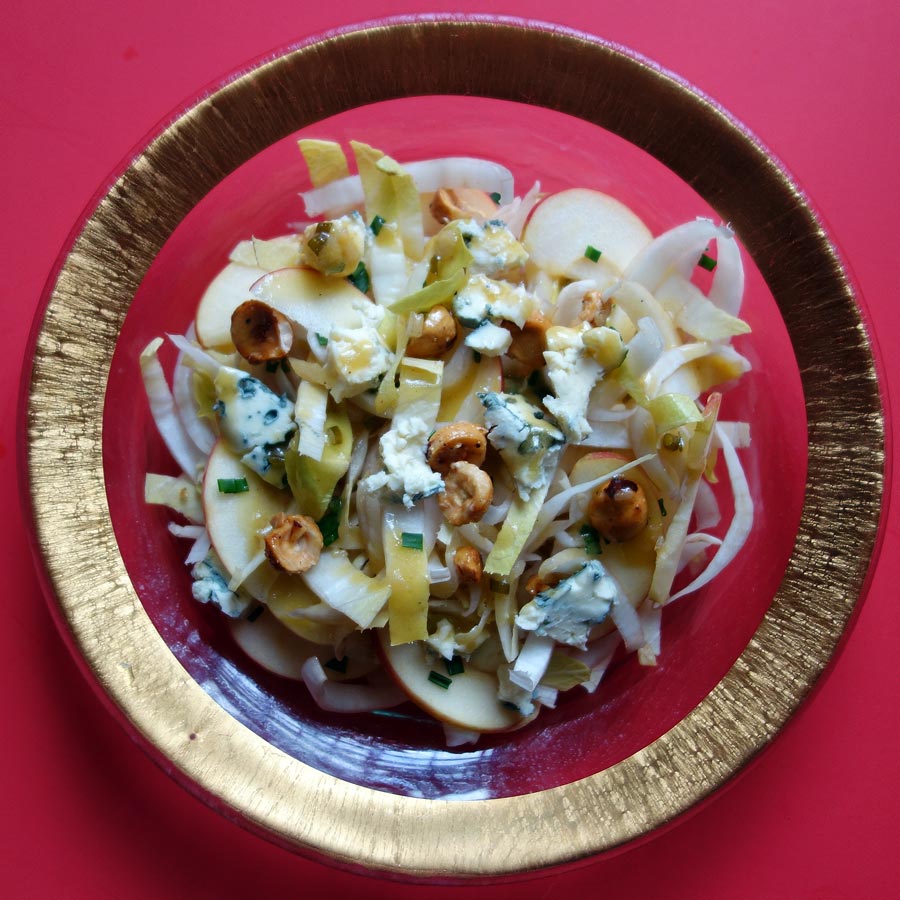 Endive Salad with Apples, Blue Cheese and Candied Hazelnuts
The words "winter salad" don't stir up the same emotions or lack of emotion as the words "summer soup". I get as excited about summer soup as a flat line on a heart monitor. The patient died from boredom. I like my potatoes in potato salad in the summer, not in Vichyssoise. I'll have my fruit in its own skin or on top of a Pavlova in the summer, thank you. Please don't throw my smoothie into a bowl with a dollop of crème fraiche—not that I order many smoothies either. Give me my peas right off the vine, zipped from their shells, still warm from the sun. As far as I'm concerned, cold pea soup belongs in the Exorcist.
It's not that I haven't tried to love summer soup, I have. It's often the amuse bouche at upscale restaurants in the summer, so I've tried many of them. They are not awful, but they leave me cold, except for gazpacho, but definitely not pureed. I'll take mine straight up with chunks is my motto.
On the other hand, the words "winter salad" scream, "Game On!" because there's so much room to be creative with root veggies, citrus fruits, and hearty winter greens. I have to add more winter salads to the blog, but there is a stunning Roasted Beet Salad With Dukkah Crusted Labne Balls & Preserved Lemon Dressing I made for a winter brunch party a few years ago. Check out my Winter White Salad with Parmesan Dressing.
We drove from New York to Montreal on the day after Christmas, in 2012. It was a fairly easy six-hour ride and luckily we only hit snow when we reached Canada. Montreal looked stunning dressed in white. We stayed at the Montreal Marriott Château Champlain, which is not only in the heart of downtown, but on top of the subway and directly linked to the Underground City. So you rarely have to actually go outside.
However, we got in late and it was the day after Christmas so most of Montreal was closed. We were starving and our options were few. As pretty as freshly fallen snow looks, it's a pain to drive in, especially in an unfamiliar city. We wound up trudging through the snow to the Dominion Square Tavern and having a version of this Endive Salad with Apples, Blue Cheese and Candied Hazelnuts with our meal of moules frites and braised beef. I think of it as a winter salad because I had it for this first time in the snow. The maple vinaigrette, apples, and candied nuts are cozy weather foods, but the endives grow all year round. It was still on the menu when we went back in August of 2014 and just as tasty, but I did miss the snow a little.
Share This:
Endive Salad with Apples, Blue Cheese and Candied Hazelnuts
Jackie Gordon
Appetizers & Snacks, Soups & Salads, Gluten-Free, Vegetarian & Vegan, Parties & Potlucks
This is a lovely salad that I originally had in Montreal, at the Dominion Square Tavern, in the dead of winter in 2012. It's a long way from New York so I had to make my own version.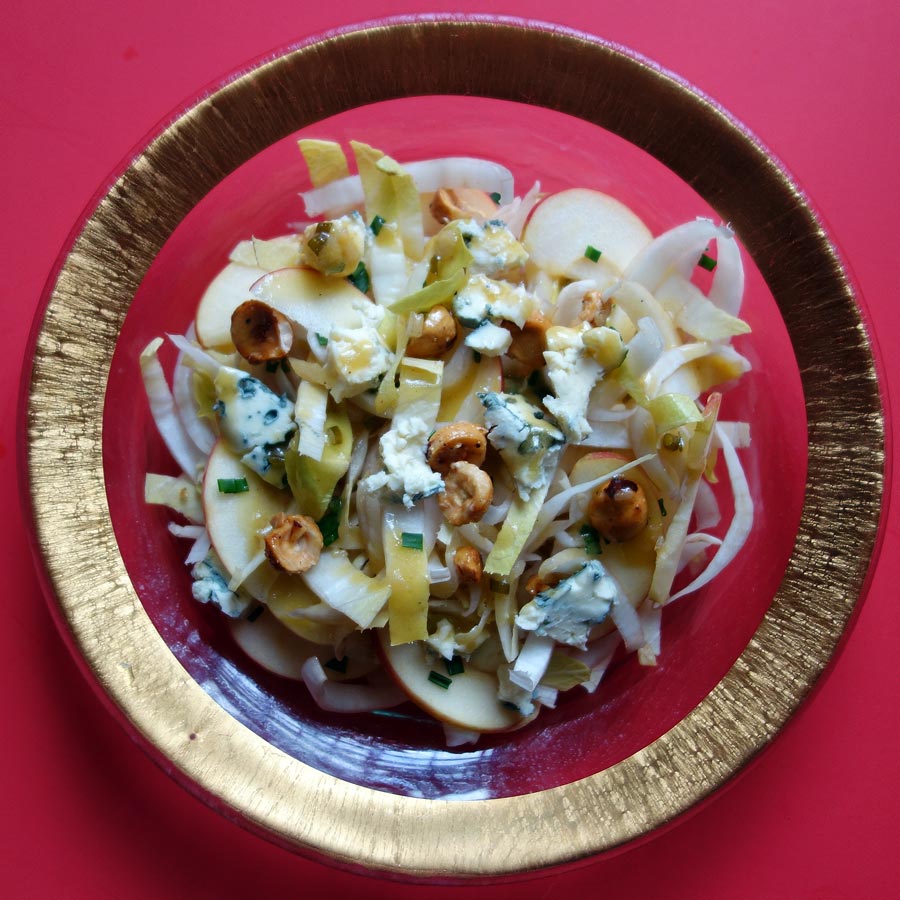 Ingredients
3 endives, sliced into rounds
1 apple, sliced into thin wedges (I used a Honeycrisp)
1 tablespoons of chopped chives
3 ounces hazelnut halves, candied or toasted
1/4 pound of blue cheese, crumbled
Recipe for Maple Vinaigrette
Recipe for Fast Candied Nuts
Directions
In a medium bowl, toss together endives, apples, chives with 1/4 cup of Maple Vinaigrette or more to taste, sea salt and freshly ground black pepper.
Top with blue cheese and nuts.
Total time:
Yield: 4 servings
Notes
You can substitute different nuts. I think the original version had pecans on it and walnuts would be wonderful too.
Maple Vinaigrette
Jackie Gordon
Condiments & Canning
I first tasted this maple vinaigrette on a endive salad at Dominion Tavern in Montreal in 2011. I never forgot it. It's perfect for every day.
Ingredients
2 tablespoons maple syrup
1 teaspoon shallots, minced
2 teaspoons Dijon mustard
1/4 cup apple cider vinegar
2/3 cup of extra-virgin olive oil
Sea salt
freshly ground black pepper
Directions
Mix maple syrup, shallots, mustard vinegar and olive oil in a jar. Put on the lid and shake until the dressing is emulsified. Add salt and pepper to taste.
Total time:
Yield: about 1 cup
Notes
Use real maple syrup and the best Dijon mustard you can find. I like Laurent Du Clos brand of mustard. It has a bite!
Fast Candied Nuts
Jackie Gordon
Soups & Salads, Gluten-Free, Vegetarian & Vegan, Desserts & Chocolate, Condiments & Canning
I like to add candied nuts on top of desserts, salads, a cheese board, and more. This is a quick way to make them.
Ingredients
1 cup of unroasted nuts, whole, halved or roughly chopped (they should be even in size)
1/2 cup of granulated sugar
1/4 cup of water
flaky sea salt (optional)
Directions
Place nuts a cold medium cast iron skillet. Turn on medium heat. Stir nuts constantly with a silicone or heatproof spatula, until they are lightly toasted. The whole nuts will take longer.
Sprinkle in the sugar continuing to stir the mixture until it melts and begins to coat the nuts. You will see beads of caramel in the pan. Add the water and continue to stir to coat the nuts and evaporate the water.
Stop cooking at desired consistency. Sprinkle with salt, if desired. For cake garnishing, salads or cheeseboards I like the nuts to be drier. For sundaes, I like the nuts to be wetter. Depending on how I'm using them I may add some cream to the nuts to make a creamy, nutty caramel sauce.
To further dry the nuts, I put them in a 300 ° oven for 5-10 minutes.
Total time:
Yield: 1 cup
Roasted Beet Salad With Dukkah Crusted Labne Balls & Preserved Lemon Dressing
Jackie Gordon
Soups & Salads, Sides, Gluten-Free, Vegetarian & Vegan
You could eat any of the three delicious components of this salad on their own, but I combined to make mouth music as part of a brunch I made for friends who tend to be vegetarian-ish.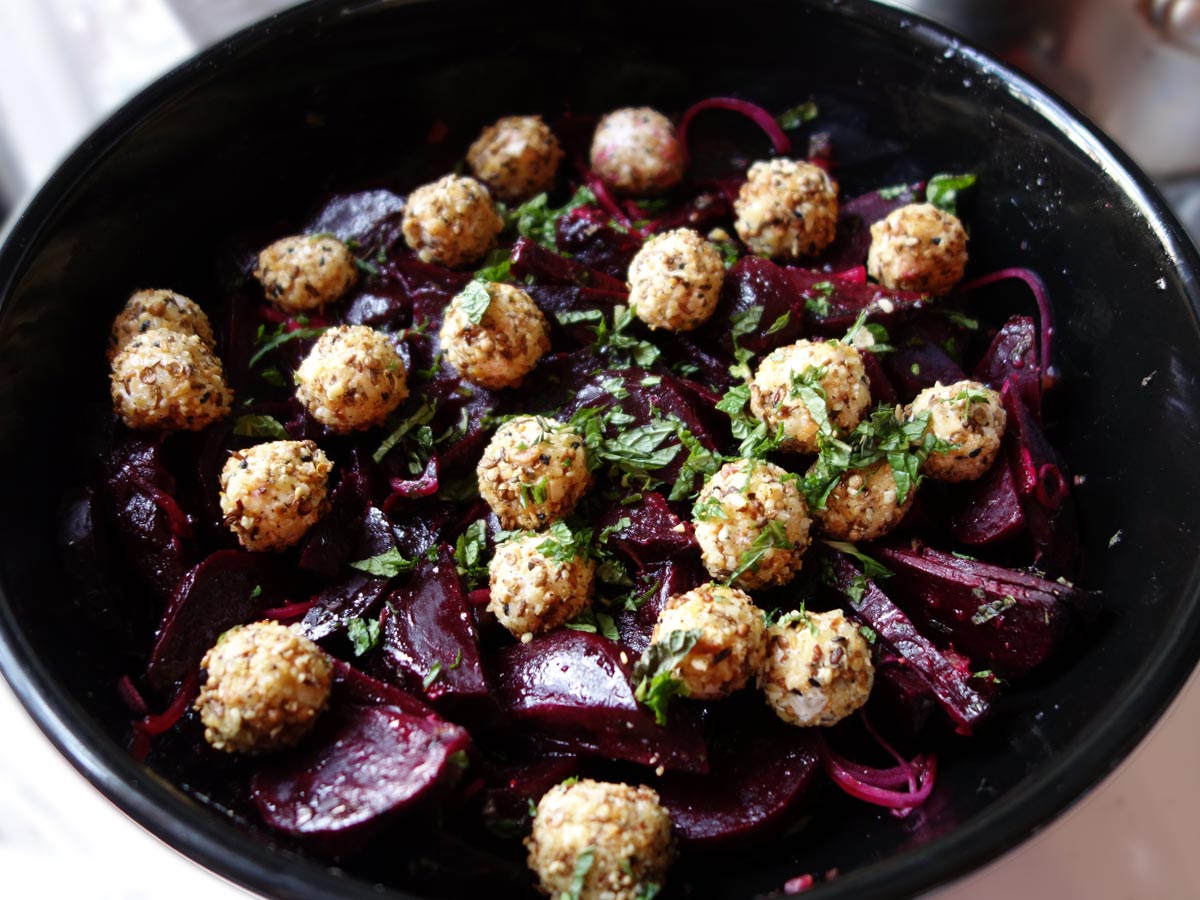 Ingredients
16 ounces Greek yogurt
2 pounds whole beets, roasted, peeled and cut in wedges
1 small red onion, sliced thin
1/2 cup mint leaves, chopped
sea salt
freshly ground black pepper
1 cup Dukkah
1/2 cup Preserved Lemon Dressing
Directions
To make labne, line a strainer with doubled over cheesecloth and place over a medium sized bowl. Fill with yogurt. Gather the sides of the cheesecloth and bind it with a rubber band. Place in the refrigerator to drain for 2-3 days.
Roll the drained labne into 1" balls and roll them in the dukkah. Set aside.
Mix beets, red onions and half the mint with Preserved Lemon Dressing, sea salt and freshly ground black pepper to taste and place in a wide bowl or pile on a platter.
Top with labne and sprinkle with remaining mint.
Total time:
Yield: Serves eight
Notes
This recipe take several days to make if you're making the labne from scratch. You can buy labne at a Middle Eastern grocery store. My favorite one is Sahadi's which is in Brooklyn, by me.
Preserved Lemon Dressing
Jackie Gordon
Vegetarian & Vegan, Condiments & Canning
A simple salad dressing made with preserved lemons, olive oil and aromatic spices
Ingredients
1/2 preserved lemon peel and pulp, pureed
1/4 cup lemon juice
3/4 cup extra-virgin olive oil
1/2 teaspoon coriander seeds
1/2 teaspoon cumin seeds
Sea salt
Freshly ground black pepper
Directions
In a mini food processor, fitted with the steel knife, purée the preserved lemon or mince it finely with a knife.
In a dry, heavy frying pan toast cumin and coriander seeds until they release a scent, about 1 minute, then remove from the pan and crushed them with a mortar and pestle.
Put seeds and reaming ingredients in the food processor and processor to incorporate. Adjust seasoning.
Total time:
Yield: about 1 cup
Dukkah
Jackie Gordon
Vegetarian & Vegan, Condiments & Canning
Serve dukkah with sliced bread and olive oil. Roll a log of goat cheese in it and serve with crackers. Also delicious for crusting fish or chicken.
Ingredients
1 cup whole almonds, very coarsely chopped
1/2 cup pumpkin seeds
1/4 cup sesame seeds
3 tablespoons whole coriander seeds
1 1/2 tablespoons of cumin seeds
1 tablespoon fennel seeds
1 tablespoon whole peppercorns, crushed slightly if using a food processor
1 1/2 teaspoon sea salt
1 teaspoon brown mustard seeds
Healthy pinch of cayenne pepper
Directions
Put all ingredients, except cayenne pepper, in heavy skillet and toast gently. Shake the pan or stir spices to toast them evenly, being careful not to burn them. You want them to release their aroma. I used the sesame seeds as an indicator and let them get just light brown since the mixture will continue cooking when you remove it from the heat.
Once it is lightly toasted, pour ingredients into the food processor fitted with the steel knife or another dish to stop them cooking. Add cayenne pepper and cool.
Process mixture by pulsing until the ingredients are crushed like coarse bread crumbs or grind them with a mortar and pestle.
Total time:
Yield: 2 cups
Notes
To Crust Salmon
Dip salmon fillet in olive oil. Place salmon, skin side down, in a frying pan or baking tray and carefully put the dukkah on top. Drizzle or spray with more olive oil. Put pan over a hot flame or in a 400° oven; cook for 5 minutes and then broil on top until dukkah is browned.
White Winter Salad
Jackie Gordon
Soups & Salads, Gluten-Free, Vegetarian & Vegan, Parties & Potlucks
I called this a winter salad because I made it in the winter. It looks a little like a snow ball or, as a few people thought when they saw the photo, a white chocolate truffle rolled in coconut.
Ingredients
8 cups assorted white vegetables (cauliflower is a must if you want to use it decorate that plate as I did)
Parmesan cheese, shaved
1 teaspoon kosher salt
1/2 teaspoon white pepper
1 cup creamy Parmesan dressing (recipe follows)
Directions
Shred the vegetables, on a mandoline, or slice them thinly.
Set aside thinly sliced cauliflower to fan around the plate. (You could use another vegetable, symmetrically cut and displayed, but cauliflower looks best.)
Mix the vegetables with kosher salt, white pepper and Creamy Parmesan Dressing.
Arrange salad by fanning the cauliflower in a circle and piling remaining salad in the middle of the plate.
Garnish with Parmesan cheese.
Total time:
Yield: 4 servings
Notes
I used white vegetables (parsnips, fennel, cauliflower, Jerusalem artichoke and jicama), but you could also use other fruits and veggies like white radishes, endive, kohlrabi, pears, Vidalia onions, cabbage, apples, celeriac, white asparagus, cooked potatoes, daikon radish, white mushrooms, etc.
The white salad stands out beautifully on a dark platter. How gorgeous would it look against thinly sliced red, yellow and purple roasted beets?
Creamy Parmesan Dressing
Jackie Gordon
Soups & Salads, Gluten-Free
Anything! That's what I'd recommend putting this dressing on. I thought about drinking it. It can go on any savory salad, as dip for fish fingers or on some thinly sliced rare beef. It would be wonderful drizzled over summer tomatoes. Just make it.
Ingredients
2 garlic cloves
2 tablespoons lemon juice
1/4 cup mayonnaise
1/4 cup sour cream
1/2 cup Parmesan, grated
1 teaspoon kosher salt
1/2 teaspoon white pepper
1/4 cup water
Directions
Puree the garlic, salt and lemon juice in a food chopper or blender.
Add remaining ingredients and process or blend until smooth.
Total time:
Yield: 1 generous cup, but it will not be enough