Mother's Day Cheese Blintzes & Strawberry Rhubarb Compote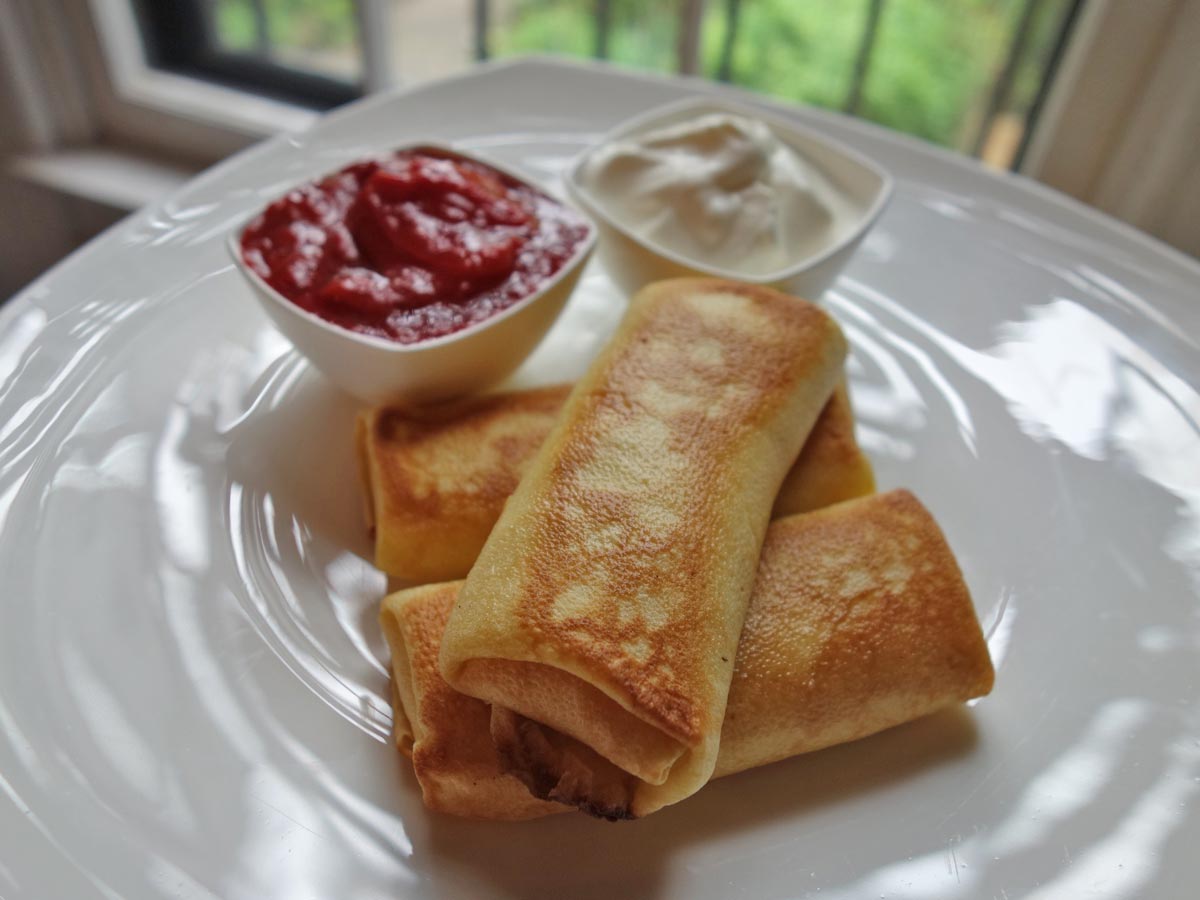 My mother's main request of me this Mother's Day was to PLEASE keep it simple. "I just want bagels, lox and cream cheese, to play Scrabble and watch Toy Story 3," she said.
I rolled my eyes. She knows I hate simple.
I said, "I have to make something—how about blintz soufflé?" She lit up because she LOVES blintzes and this casserole style of making them is pretty simple. Done.
Then I thought, there's no reason to take the easy way out since I wasn't making anything else. So I offered to make real blintzes and she didn't roll her eyes, so it was all good.
I like classic blintzes with a plain cheese filling on the inside, served with jam or fruit and sour cream. She found beautiful rhubarb at the market and adding strawberries was a natural and tasty progression.
The original recipe for Jewish cheese blintzes comes from Fran Zacharias of Munster, Indiana. Blintzes are similar to French crêpes, Polish nalesniki, Hungarian palacsinta and Serbian palachinke—thin pancakes that are rolled around various sweet or savory fillings. The difference is that blintz batter has twice the amount of eggs as crêpe batter.
Share This:
Cheese Blintzes
Jackie Gordon
Breakfast & Brunch
Cheese blintzes are comfort food in my family and at the same time a special treat. I think they are best homemade because commercially made blintzes are ruined by making the filling too sweet. According to my mouth, they should be just slightly sweet and served with something sweet and of course, sour cream.
Ingredients
Wrappers4 large beaten eggs
1/2 cup water
2/3 cup milk
1/2 teaspoon salt
1 cup all-purpose flour
1/4 cup clarified butter or canola spray
Filling1 pound farmers cheese
1 tablespoon melted butter
1 large egg yolk (save the egg white to seal the blintzes)
1 teaspoon vanilla
1/4 cup sugar
Directions
To make the blintz wrappers, beat together eggs, water, and, milk in a small bowl.
In a medium bowl, mix dry ingredients and slowly beat in egg mixture until the batter is smooth. Allow batter to rest for at least a half hour.
Heat a small skillet (about 7") over medium heat and add a tablespoon of clarified butter. Pour about 1/4 cup of the batter into the pan and swirl it around, pouring off excess. Cook for about a minute, not letting it brown until the edges start to just curl. Do not flip them. Carefully remove them from the pan and layer them to cool.
To make the filling, mix together farmers cheese, melted butter, egg yolk, vanilla and sugar in a medium bowl until incorporated.
To assemble the blintzes, beat the egg white until frothy in a small bowl. Place a blintz wrapper on a plate and place a generous tablespoon of the filling at the top of the round. Brush the egg white around the remaining outer circle of the wrapper. I rolled the wrapper from top to cover the filling, then fold over the sides and roll again from the top until the blintz is formed. Place, seam side down, on a platter. When you've wrapped all the blintzes, prepare to fry them.

In a large skillet over medium heat, fry the blintzes in butter until they are golden brown about 2-3 minutes on both sides. Place in a 250 degree oven to keep them warm until they are ready to serve.
At this point you can also cool them in the refrigerator or freeze them.
To serve them from the refrigerator (defrost beforehand if applicable), bake them for 10 minutes until the blintzes puff and are heated through.
Serve blintzes with sour cream or plain Greek yogurt and fresh fruit, fruit compote or fruit syrup.
Total time:
Yield: 13-15 blintzes
Notes
If you can't find farmers cheese you can substitute small curd cottage cheese or ricotta cheese. Remember these are great made ahead of time and kept in the refrigerator or frozen.
Strawberry Rhubarb Compote
Jackie Gordon
Gluten-Free, Desserts & Chocolate, Breakfast & Brunch, Condiments & Canning
After being in the chocolate fountain business for ten years, I've gotten sick of strawberries. I can only eat perfectly ripe, sweet organic ones, preferably just picked. But there's an exception and that's when there's rhubarb to pair with them. I will eat this combo anytime. That said, it tastes best with perfectly ripe, sweet organic strawberries, preferably just picked. I made this strawberry rhubarb compote to go with cheese blintzes on Mother's Day for my mom.
Ingredients
1 pound rhubarb, sliced in 1/2" pieces
1 pound strawberries, hulled and halved
1 teaspoon cinnamon
1 cup granulated sugar or more to taste
1 pinch salt
1 teaspoon orange zest
Directions
In a medium saucepan, mix the strawberries with the 1/2 cup of the sugar and let them sit for 10 minutes.
Cook the strawberries, over low heat, until the strawberries are tender, but keep their shape. Approximately 7-10 minutes depending on the size of the strawberries.
Drain the strawberries through a strainer over a bowl to capture the strawberry juice. Return the juice back to the saucepan and place the strawberries in a bowl (TIP: use the bowl you plan to serve or store the compote in).
Return the saucepan to the stove, add the rhubarb, the remaining sugar, salt and orange zest to the juice and cook mixture over medium heat, until it's just tender, about 7-10 minutes. Be careful not to overcook the rhubarb. You want some of it to hold it's shape. Taste the rhubarb. If it's too sour, add more sugar to taste. Once the sugar is melted, add the strawberries to the rhubarb mixture and cook it for two more minutes, just to incorporate and meld the flavors. Remove from heat and cool. You can serve the compote cold or warm.
Total time:
Yield: 3 cups
Notes
You can also eat strawberry rhubarb compote for breakfast on granola, oatmeal, french toast, pancakes or toast. For dessert, the options are endless, but my top picks would be panna cotta, pavlova, cheesecake, trifle or a parfait.