Networking? Give Me Some Skin—Salmon Skin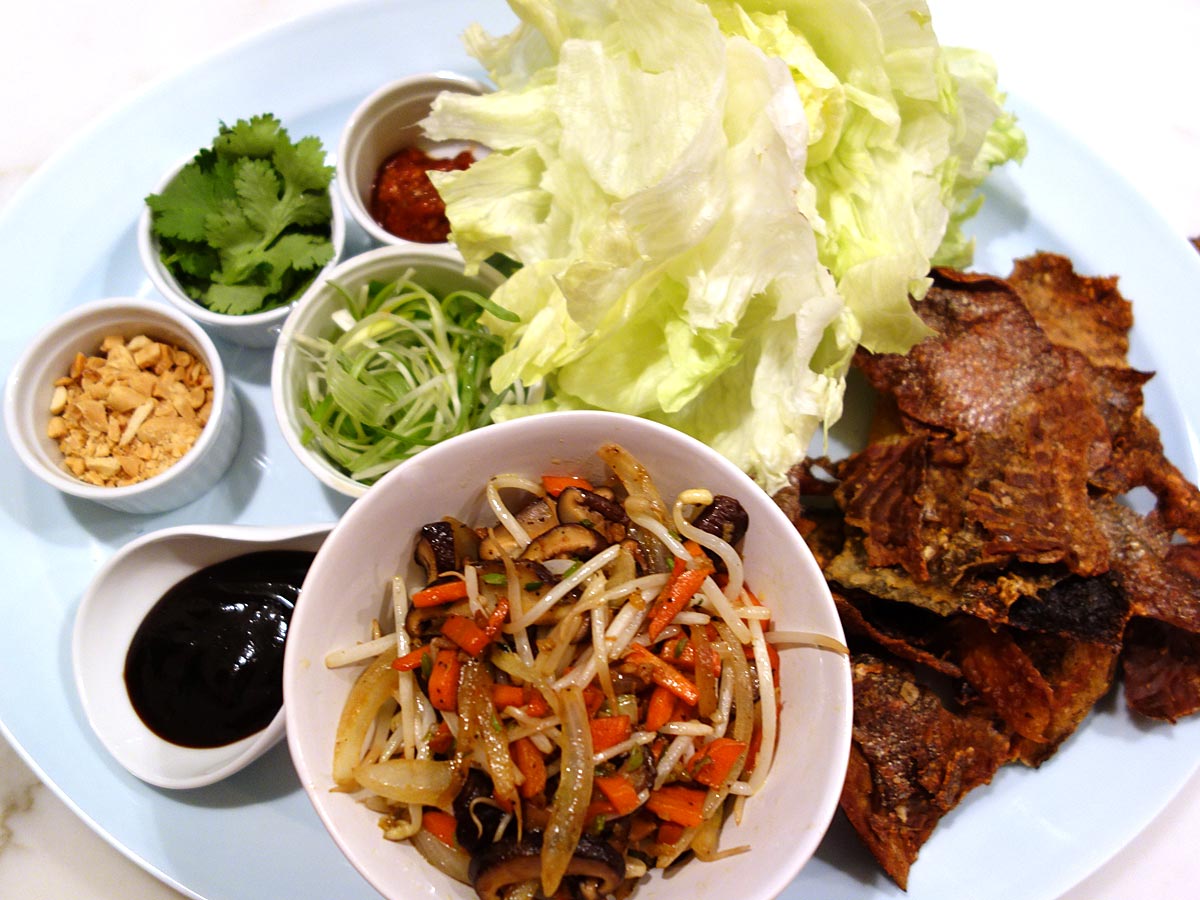 Salmon skin san choi bow
Food served in lettuce cups delights me for two reasons. One, it's fun to eat. Two, it's lighter than eating food served with carbs, so I can eat more of it. Salmon Skin San Choi Bow is my spin on a dish I had for first time when I lived in Melbourne, Australia. If you go, eat at the Supper Inn. It's a family-run Chinese restaurant located in Melbourne's Chinatown in the Central Business District (CBD). I've been eating there for over twenty years and the food is SOLID.
San Choi Bow at the Supper Inn is sautéed chicken with Asian veggies served in lettuce cups with hoisin sauce. I've also seen it made with pork. I created this version as part of a dinner my food-obsessed friends and I made for a Christmas Eve 2013 with the theme "Feast of the Seven Fishes and a Hunk of Meat." We are not religious, but we love a good theme.
Crispy, crunchy salmon skin, atop gingery, garlicky fresh Chinese mushrooms, water chestnuts and bean sprouts in lettuce cups with all kinds of toppings to play with. Each time I've made San Choi Bow for dinner parties my guests always get a big kick out of it because they get to play with their food. It's a way of bringing what's fun about cooking to the table, and it becomes a delicious conversation piece.
Salmon Skin San Choi Bow is perfect for gluten-free and pescatarian diners. If they leave off the salmon skin, vegetarians and vegans will love it too. It's a real crowd-pleaser.
Share This:
Salmon Skin San Choi Bow
Jackie Gordon
Appetizers & Snacks, Mains, Gluten-Free
Every time I order sushi, I swear I'm getting something different and then I order a salmon skin roll. Perhaps that's because salmon skin rarely shows up anywhere else in my life and I have to get my fix. Props to the Japanese for inspiring this cross cultural dish.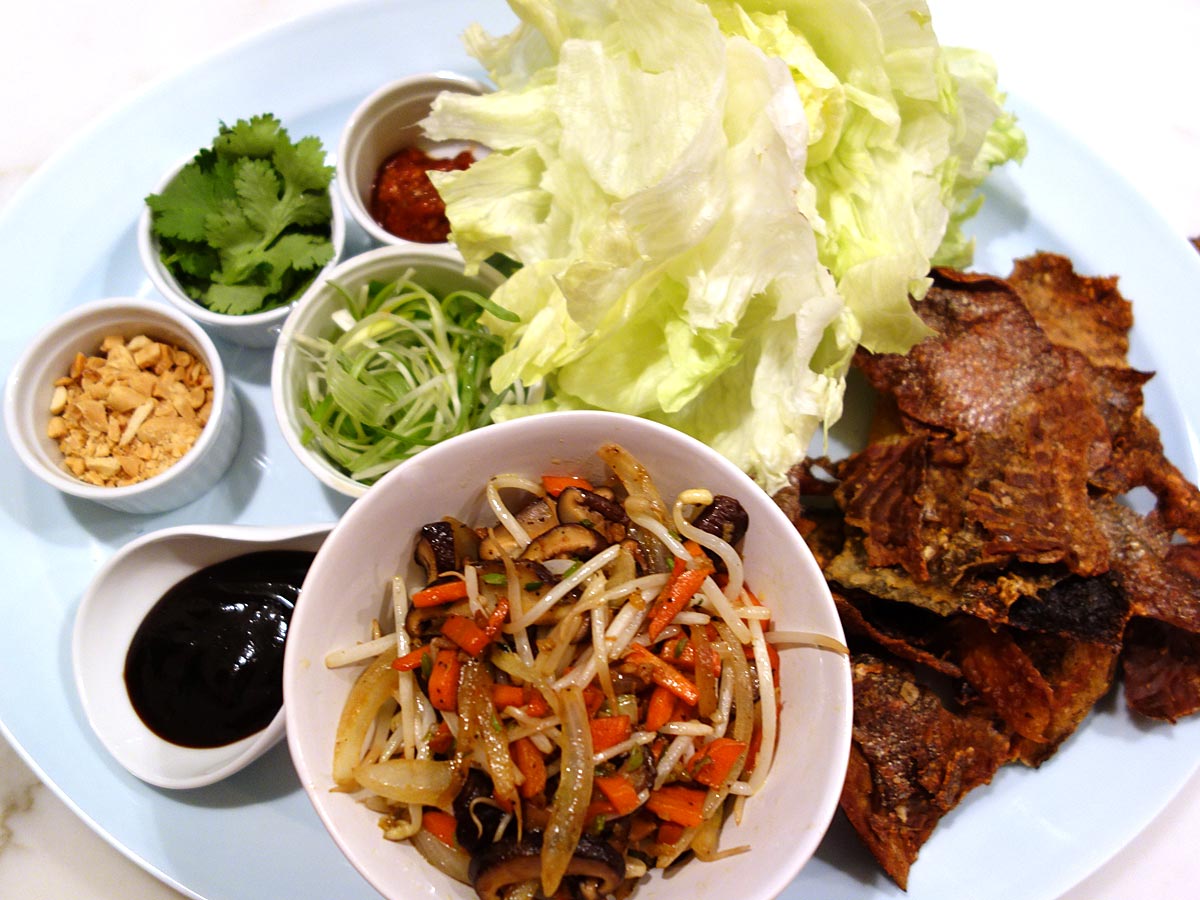 Ingredients
Topping:
1/2 pound salmon skin
1/2 cup roasted peanuts, chopped
1/2 cup coriander leaves
3 scallions, sliced or shredded
chili paste or fresh chilies, sliced
hoisin sauce
16 iceberg lettuce leaves
Filling:
1 medium onion, diced
1 (1" piece) ginger, grated
3 garlic cloves
1 small red pepper, diced
1 pound Chinese Mushrooms fresh, sliced
1/2 cup water chestnuts, slivered
1/2 lb bean sprouts
2 tablespoons soy sauce (gluten free)
kosher salt
freshly ground black pepper
Directions
Prepare your toppings and place them in small bowls.
Preheat oven to 400°. Place salmon skin on baking trays lined with silpat, greased baking paper or parchment. Roast the salmon skin until it is crisp, draining off the excess fat every few minutes if you need to. This can also be done under the broiler, but don't use silpat or any kind of paper because it will burn. Watch the skins very carefully so they don't burn. Cool. Slice or break the salmon skins into pieces. Set them aside.
Sauté onion with ginger and garlic until they are translucent, stirring constantly. Add red pepper, mushrooms and water chestnuts and continue cooking until the mushrooms are soft. Add soy sauce and salt and pepper to taste. Add the bean sprouts and cook for one more minute. Remove from heat.
Put the mushroom mixture in a bowl on a platter with the salmon skin and lettuce leaves to serve.
Total time:
Yield: Serves eight
Notes
To eat, each guest puts the mushroom mixture in the lettuce leaf and tops with salmon skin and their choice of toppings and eats it like a taco.
You can ask your fishmonger to save the salmon skins for you or buy them at a Japanese fish market like Mitsuwa in New Jersey.