No Tomato Left Behind: My Tomato Salad Safe House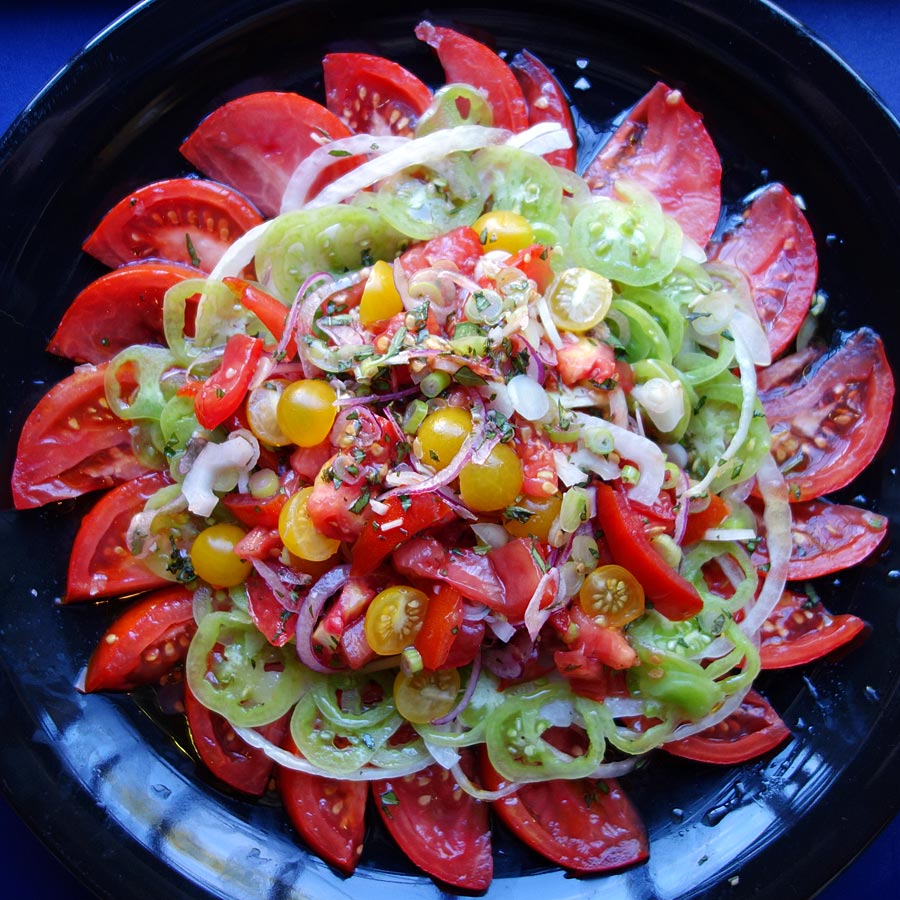 No tomato left behind. That's my gardening motto. Every year, I "farm" in my Brooklyn backyard. The crop that likes me best is tomatoes. In the spring, I'm full of hope, I pour over the Silver Heights farm catalog of hundreds of organic veggies which is pretty much like reading food erotica.
Who can resist:
"Honeydrop, 62 days, I. NEW The folks at Crabapple Farm in Chesterfield, MA, have developed a tasty 1" or a bit more, round cherry that has incredibly sweet, complex flavor – every bite tastes a bit like honey! Because this is a sport, most plants will produce their primary color of shades of yellow or even cream. The secondary color occasionally is a light rose. Some folks think this is a good rival to the hybrid Sungold, but shows much more resistance to cracking. If you are not too picky about the color of the tomato, this new variety is worthy of a try, especially if you are seeking a tomato that is perfect for snacking!"
"Principe Borghese, 65-75 days, D. Suitable for container growing, this prolific bush puts out long stems of clustered 1-2 oz., 2" long fruits with little juice or seeds. Tomatoes ripen early and hang on the vine a long time, making it easy to cut whole stems of mature fruits to hang and dry. This is a preferred variety for sun drying in Italy. These put store-bought dried tomatoes to shame. There are at least 8 strains of this variety, some with a pronounced sharp point at the blossom end, others without the point. Market growers sell these on full trusses as the fruits cling to the vine. Heirloom."
"Rutgers, 74 days, D. Compact vines with heavy foliage bear reliable crops of 6-8 oz., red, globular, slightly flattened fruits with thick walls. Great for canning. Developed by the Campbell Soup Co. in 1928, a cross between Marglobe and J.T.D. Refined by Rutgers in 1943. We offer the unimproved older strain of Rutgers, as we prefer its flavor, fresh and cooked. Heirloom."
I fantasize about them, much the way I'd imagine people who are looking for love or a hook up do on dating websites do about their prospects. There are no pictures in catalogue so I have to let my imagination paint a picture from their description. I want to order all the "uppity" tomatoes. I coined that name over the years because they lead charmed tomato lives. They are carefully cultivated by Trina and her team under optimum conditions at her farm near Narrowsburg, New York. Each tomato lives it's own little pot, hanging out in the greenhouse with it's mates, watered and pampered, until they are ready to be sold. I manage to control myself and buy only 15 - 20 plants because I have to leave room for my favorite tomatoes of all. The mystery volunteers that crop up from the compost or the garden every spring.
I have a lot of respect for the scrappy tomato plants that seem to find their own way in life. I pot every one of them up. I plant some of them amongst the uppity ones. It's a bit of a surprise party because you never know what they'll turn out to be. I also give them away. I post a note on my neighborhood Yahoo newsgroup and my social media channels. People love to get FREE plants and I like to give them. I get very disturbed about the idea any tomato plant being unplanted and homeless. NO TOMATO LEFT BEHIND!
The volunteers are tougher than some of the uppity tomatoes. By summer, I'm full of contempt. The charm wears off the ritzy tomatoes as some of them inevitably drop dead. Oh, every once in a while they actually produce a lousy fruit or two, but my dream of bountiful salads and-or jars of these canned beauties shrivels up and withers away exactly like they do. I do the math—$3.50?!?!?!? for one way-too-precious little tomato? I feel like I've been suckered as I yank them out.
I replace them with more volunteers who have been waiting in the wings. In July, I always find a gangly volunteer or two that I missed growing sideways in the garden. I pop them in the grave of the uppity tomato and all is well again. The volunteers are a lot hardier and push on until the frost.
By the time the weather threatens the crop the objective again is what to do with the tomatoes? NO TOMATO LEFT BEHIND! I always have a healthy bunch of ripe and unripened tomatoes. I always turn some of the green tomatoes into 4G Chutney. Others get fried them or pickled whole. I especially like to pickle the cherry tomatoes.
This year, I made a Twice Tomato, Triple Onion, Four Herb Salad. It's a fun, beautiful and delicious solution for using up green tomatoes and even the fresh herbs from my "farm".
Share This:
Twice Tomato, Triple Onion, Four Herb Salad
Jackie Gordon
Soups & Salads, Sides, Gluten-Free, Vegetarian & Vegan, Parties & Potlucks
Inspired by my garden, I created a salad where green, unripened tomatoes contrast three ways with their vine ripened counterparts: color, flavor and texture. It's a great way to use up extra homegrown herbs as well.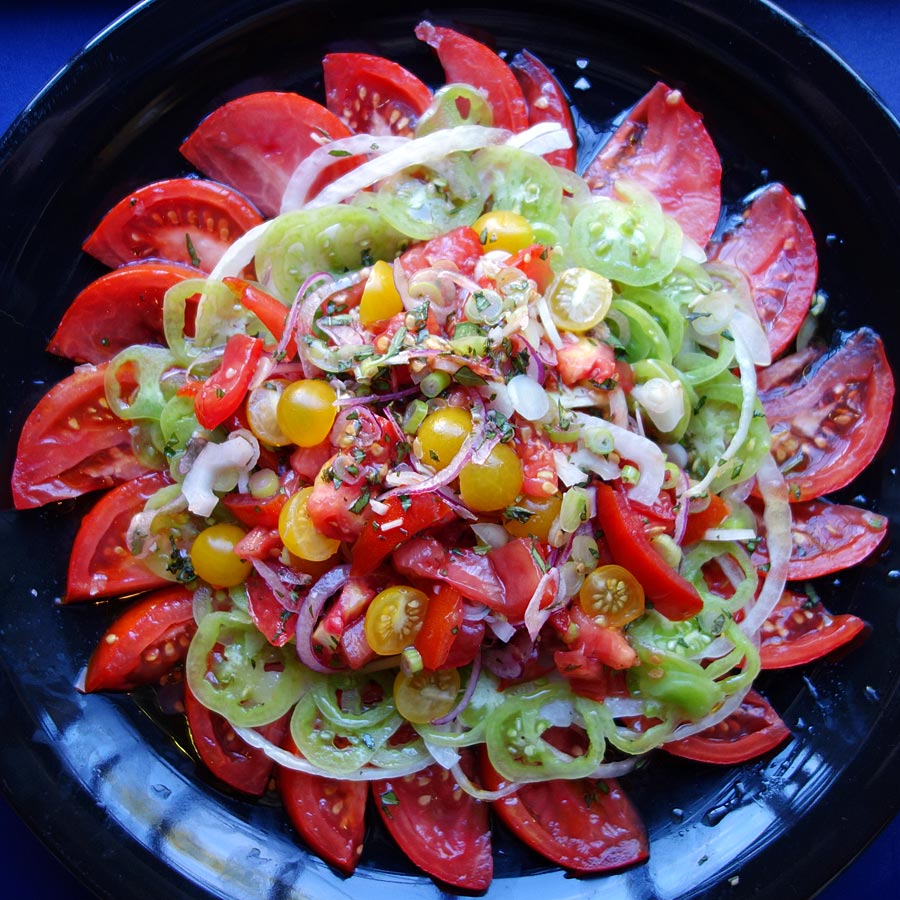 Ingredients
1 pound ripe tomatoes (use varying colors and types if you have them)
1/3 pound green tomatoes (unripened), sliced in rounds
1 small red onion or Vidalia onion
4 scallions, ends trimmed, sliced thinly in rounds
2 tablespoons chopped chives
kosher salt
freshly ground black pepper
1/4 cup of your choice of four fresh herbs, chopped:
Basil
Parsley
Rosemary
Thyme
Mint
Sage
Tarragon
Vietnamese Mint
Thai Basil
Marjoram
2 tablespoons chive flower vinegar or balsamic vinegar
1/4 cup extra-virgin olive oil
Directions
Line a plate with paper towel and lightly sprinkle it with salt. Slice the green tomatoes thinly and arrange them on the paper towel and sprinkle the tops of the tomatoes lightly with salt. Set aside for 10-15 minutes.
Slice the ripe tomatoes appropriately for their size and shape. I like to cut the large ones into thin wedges. I cut the cherry and grape tomatoes in half and the Roma tomatoes into fourths or rounds. If you only have large tomatoes, cut half of them into thin wedges and the remainder into chunks.
Slice half the red onion thinly in rings and the remainder thinly into half rounds.
Arrange the red tomato wedges in a circle on a large plate or platter. Top with a smaller circle of red onion rings and a slightly smaller circle of green tomatoes. Season with salt and freshly ground black pepper.
Mix the smaller tomatoes or chunks with remaining onion, scallions, 2/3 of the chives and herbs. Add vinegar and extra-virgin olive oil and season with salt and freshly ground black pepper to taste. Mound mixture on the center of the plate so you can still see the green tomato circle. Garnish with remaining chives. Serve immediately.
Total time:
Yield: Serves four
Notes
I use a serrated knife to cut my tomatoes. My favorite is a serrated paring knife Wüsthof gave me at an event I attended last year.