Outdoor Friendly Dish: Potato, Cauliflower & Green Bean Salad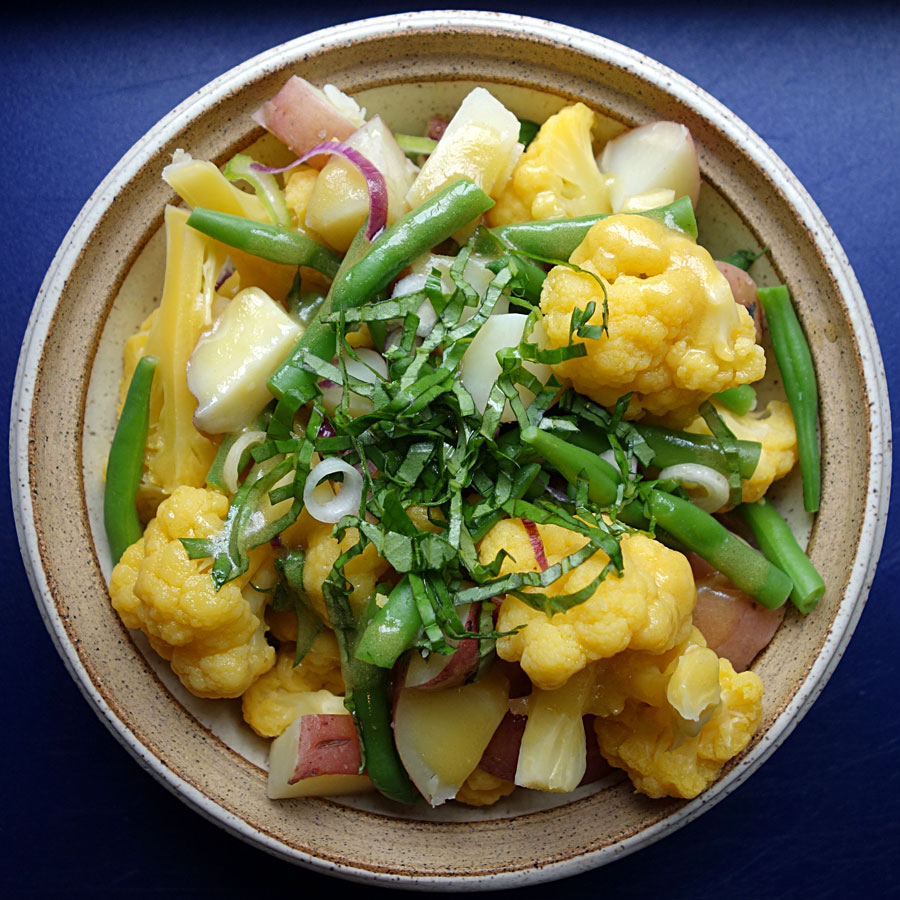 Last Saturday's weather report was not good. Rain was looming and I kept vacillating about what to cook for a friend's birthday picnic in Riverside Park. I asked my Facebook hive for outdoor friendly portable dishes and upon seeing their suggestions and noting the contents of my fridge, I made a Potato, Cauliflower & Green Bean Salad. It wasn't water-proof, but it would not be ruined by a few droplets of rain.
By the time I got to the upper west side, Momma Nature was already spitting. As I struggled to get all the food and rain gear out of the car, I dropped my cell phone, unbeknownst to me, in the street, face-down on the sidewalk. My daily paranoia of thinking I'd lost my phone or it's been stolen at least ten times a day, finally paid off. I'd barely crossed the street when I stopped to frisk myself and found out this time I really was "phone-less". WHAT??? I re-searched my four bags and roller cooler and yes, my phone was GONE! I left all my crap in the drizzle and retraced my steps or missteps as it turned out. Having a red case on my phone also paid off because I saw it immediately. I was very happy that it was raining and that I was on Riverside Drive because the street was deserted. I ran over, grabbed it, kissed it, thanked my lucky stars and went back to the picnic.
What were we talking about? Oh, right potato salad. This one is a winner. You can make it with any veggies because the dressing is so nice and mustardy. l kept it dry and reasonably covered until we finally gave up on the outdoor celebrations and found shelter at the birthday girls apartment.
Share This:
Potato, Cauliflower & Green Bean Salad
Jackie Gordon
Soups & Salads, Gluten-Free, Vegetarian & Vegan, Parties & Potlucks
This Potato, Cauliflower & Green Bean Salad in a Dijon Basil Vinaigrette is perfect for a picnic since it gets better the longer it sits.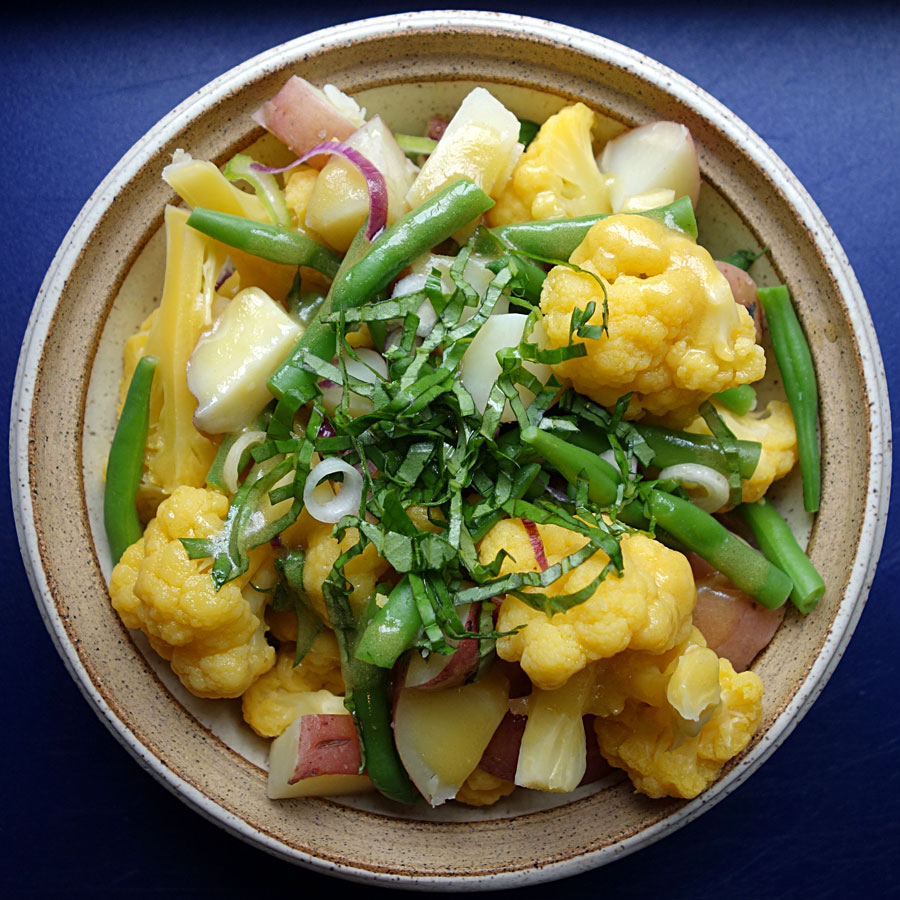 Ingredients
1/4 cup Dijon mustard
1/4 cup white wine vinegar
3/4 cup of extra-virgin olive oil
1 clove garlic, minced
1 tablespoon basil leaves, chopped
1 pound Russet potatoes, sliced and steamed
1/2-pound cauliflower florets, steamed
1/2-pound string beans, steamed
3 ounces sliced red onions
kosher salt
freshly ground black pepper
Directions
In a 2 cup container with a lid, shake the mustard, vinegar, olive oil, basil, and garlic until it is emulsified. Season with salt and freshly ground black pepper to taste.
In a medium bowl, mix the potatoes, cauliflower, green beans and red onions with the vinaigrette. Season with salt and freshly ground black pepper to taste.
Serve immediately. If you let it sit before serving give it a quick taste in case it needs more salt and pepper.
Total time:
Yield: 2 pounds
Notes
I used orange cauliflower for this salad, but you can use another color or substitute in other vegetables as you prefer.