Panko Crusted Sesame Scallion Shrimp Balls with a trio of dipping sauces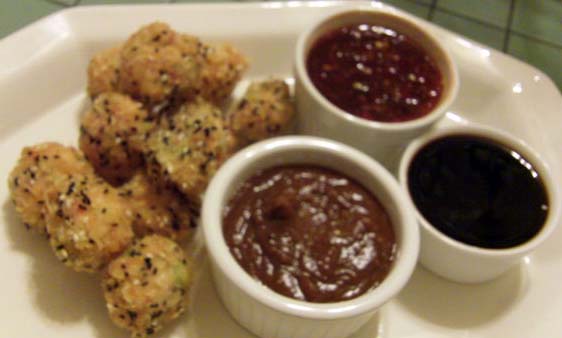 Panko Crusted Sesame Scallion Shrimp Balls with a trio of dipping sauces
These were a huge hit and look great on a platter! If you can't find fresh water chestnuts, use canned. They are definitely not as crunchy and have a bit of a canned taste.
Panko Crusted Sesame Scallion Shrimp Balls with a trio of dipping sauces
Ingredients
1 lb of shrimp, cleaned & deveined
8 fresh water chestnuts, peeled, and finely diced
6 scallions, finely sliced
1small carrot, grated coarsely, chopped and salted to wilt it slightly
1 T cornstarch
2 egg whites, lightly beaten
1 T sesame oil
kosher salt
1 tsp white pepper
1 T cornstarch
2 c panko bread crumbs (Japanese bread crumbs)
1/2 c black and white sesame seeds
peanut oil or canola oil for deep frying
In a food processor, fitted with the steel knife attachment, process shrimp, cornstarch, egg, sesame oil, 1 tsp salt and pepper, until pureed. Scrape shrimp mixture into a bowl and mix in water chestnuts, scallions and drained carrots. Mix panko, sesame seeds and 1 tsp salt in a wide mouthed bowl. Using a teaspoon drop small scoops of shrimp mixture into bread crumbs. Gently pick up and shape into balls then re-roll the balls gently in the bread crumbs. Once all the balls are formed, heat 3" of oil to medium heat in a deep fryer, a wok or a sauce pan. Gently lower shrimp balls into oil and cook till they are done, about three minutes. Cooked shrimp balls will rise to the surface of the oil. Remove with a slotted spoon and drain on paper towels. Makes 30-40 balls.
Hoisin Peanut Sauce: I mixed natural peanut butter with hoisin sauce and some soy sauce. It was divine!
Sweet Chili Sauce: I mixed sweet chili sauce for chicken with sambal olek to make it spicier.
Soy Ginger Garlic: I mixed soy, rice vinegar, mirin, a fine julienne of pickle ginger and grated garlic.
Chinatown markets or Asian markets have the ingredients I used.
Share This: