Save-the-Date Pie Party Potluck LIVE 2014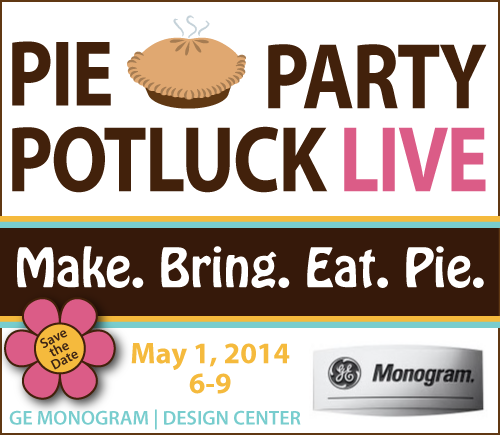 It's Pi Day Peeps!!! That means all over the world smart people will be celebrating pi (π). The even smarter people will be celebrating with PIE!!!
It's the perfect day to officially announce the SAVE-THE-DATE for Pie Party Potluck LIVE 2014 that will take place at GE Monogram Design Center on May Day, May 1st, 2014.
Pi (π) is the ratio of a circle's circumference to its diameter. Pi is a constant number, meaning that for all circles of any size, pi will be the same.
The diameter of a circle is the distance from edge to edge, measuring straight through the center. The circumference of a circle is the distance around.
So you can use pi (π) to measure pie, at least pies that are circular.
BUT pies come in many shapes and forms including: tarts, galettes, pop tarts, hand pies, quiches, empanadas, turnovers, pasties, pizza, tartlets, strudel, pie in jars, pie-lets, etc.
PIE /pī/ noun
1. a baked dish of fruit, or meat and vegetables, typically with a top and base of pastry.
synonyms: pastry, tart, turnover
"the enticing aroma of fresh-baked pies"
Pie Party Potluck LIVE 2014 is an industry-only event for food bloggers, food writers and food professionals.
The Twitter and Instagram hash tag is #PiePartyGE
Check out sea of pies in our past pie party videos and recaps with links to the "droolicious" lists of the pies people made for the events.
WATCH VIDEOS
Pie Party Potluck LIVE 2011 Video
Pie Party Potluck LIVE 2012 Video
READ THE BLOG POSTS
Storm of Pies (it happened right after Hurricane Sandy)
The Diva That Hosted Pie Party Potluck LIVE
Want Your Product to Reach 60 Food Bloggers and Food Professionals?
Sponsor Party Potluck LIVE 2014 and get your product could be talked about, tasted, listed, blogged, linked, Facebooked, Google+'d, tweeted about, etc.?
There are varying levels of participation available. Email me: .(JavaScript must be enabled to view this email address) for more information on how your brand can be part of the party and get more buzz!
Share This: