The Diva That Helped You Make A Difference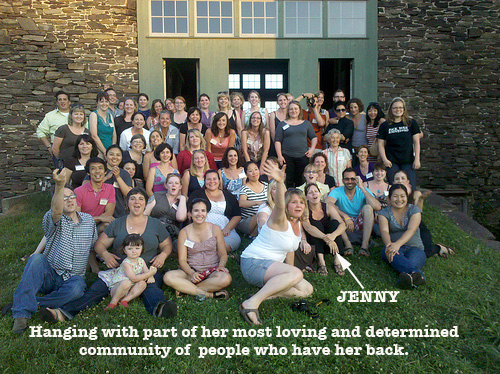 What would you do if your life changed in an instant? If the life that you counted on, even took for granted at times, combusted? We like to pretend the unthinkable will never happen to us, but it does. Hey, we had an earthquake in NYC yesterday! The unthinkable happens. Shit happens.
A little over two weeks ago, the unthinkable happened to a food blogger friend of mine, Jennifer Perillo. Her husband had a massive heart attack and her life changed in an instant. POOF! Now she is alone, with two young daughters. Not only did she lose the love of her life, she lost the security that made it possible for her to pursue her career of food writing without worry. Now there's a mortgage and health insurance and other expenses that she has to manage and pay for while raising her children on her own. Luckily she is part of one of the most loving and determined community of food loving people who have her back. We are making sure she has a nest egg for her and her girls. We want her to breathe a little easier, to take time to heal and to be able to pursue her dreams and rebuild her new life.
Bloggers Without Borders is a newly formed non-profit run by the amazingly generous Maggy Keet and Erika Pineda-Ghanny.
MAKE A DONATION
They've set up A Fund For Jennie and you can make a donation to the fund here.
AUCTION
There's an auction with incredible items to bid on to raise money for the fund here.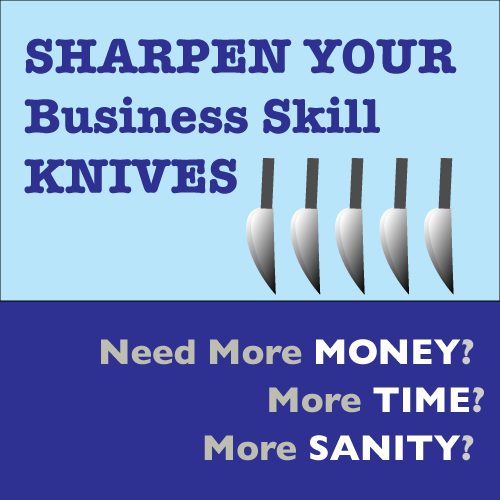 Get More Money, Time, Sanity
I'm auctioning off a month of strategic business coaching services. I work with passionate people in food businesses (and other businesses) who need to sharpen their business skill knives so they can build a successful business that gives them lifestyle they want.
Is this you?
YOU WANT A BUSINESS
You have a brilliant idea for a business, but you don't know how to go about making it happen.
You're thinking you'd like to have a business, but you don't want to follow in the footsteps of the millions of people who have tried and failed, so you stay in the job you hate because you're scared.
YOU HAVE A BUSINESS
You're working your butt off and not making any or enough money.
You're making money, but you don't have any time.
You have a business, but it's not growing because no one knows about you.
You have a business, but you're overwhelmed trying to do EVERYTHING to grow it and you're stretched too thin and you're exhausted.
You're driven crazy knowing businesses, similar to yours are making a lot more money than you are.

You feel like you're doing something wrong and you don't quite know what it is.
You need someone to be brutally honest about the strengths and weaknesses of your business.
You don't know how to value your services.
You SUCK at sales.
You SUCK at marketing.
You SUCK at networking.
You HATE dealing with the numbers.
You don't know how to meet prospective clients.
Your staff doesn't do what you want them to do.
You have a business that makes you unhappy, but you're too scared to end it.
You want to develop your presenting skills for live demos, videos, public speaking, etc.
LET'S MAKE YOUR LIFE DIFFERENT
We'll work together for one month to develop a strategy that will lead you towards getting what you want. We'll create a clear plan with actionable steps that will generate what you want: more money, more time, more freedom, etc.

Make a difference now. Make a contribution to help Jenny and to help yourself at the same time. You'll both get to breathe a little easier.
BID TO GET WHAT YOU WANT NOW
The bidding starts at one hundred dollars ($100.00). Please leave your bids in the comments section below. The bidding must be completed by August 30.
Thanks for being a part of the community and doing what you can to help during this unthinkable time.
XXOOJAX
FROM MY CLIENTS
"Since beginning to receive coaching from you less than 6 months ago, my financial net worth has skyrocketed to the highest it's been in my entire adult life. I am plowing through my debts faster than I imagined, I'm raking in income, I've increased my income from my coaching practice four- or five-fold and this week I even sold a piece from my studio. I now have realistic and attainable financial goals, which is giving me freedom to think outside my comfort zone of the 9-5 grind. For the first time ever, I actually see a glimpse of my future as an independent artist and entrepreneur. It's not just a pipe dream anymore, but a realistic picture of my life." - Keren M.
"I got more out of an hour with Jackie Gordon than I did from an entire networking class. I walked away with two big ideas and five concrete steps to make them happen."
-Elie V.
About Me
I've have owned a number of food businesses and still run a successful chocolate event business, Divalicious Chocolate Events, Fountains and Tastings, in New York City. I shut MY FAILURE of a retail chocolate cafe in 2009. Between my lack of passion for retail, the economic collapse and the building that housed my store being covered with scaffolding without my being allowed to put up any signage (thanks to my A**hole landlord), I was done struggling. I decided to study with one of the country's most successful business coaches to find out what made him successful and where I was going wrong. I did and now I help others avoid my mistakes and their own.
I've worked in all areas of the food business for years front of the house and back of the house for over 20 years. I've done recipe development, operations strategies and consulting. I'm also an award winning singing chef, performer and speaker. I've spoken and taught business skills and strategy workshops and events for IACP, NYWCA, APCA and Techmunch as well as numerous food and arts festivals.
Share This: