The Diva That Made Pine Nut-Cherry-Apricot Tart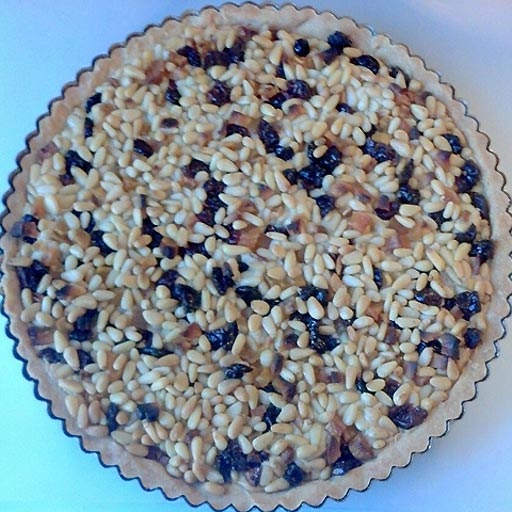 Pine nut, cherry, apricot, browned-butter frangipane tart
BUTTER LOVE! Everyone wants some! I had a bit of a Kerrygold butter windfall recently. They generously sponsored our Pie Party Potluck LIVEevent in October. A few of the bloggers who were supposed to come were unable to make it. So I got butter love which made me better able to spread more butter love all over my Thanksgiving dinner—butter, butter everywhere!
One place it wound up was in my pine nut tart, but I wanted to be different than the pine nut cookies I planned to make for NYC Holiday Cookie Swap. And I knew I wanted it to have browned butter in it. I used the butter in my tart shell recipe that I always make. I had the idea that I should try a recipe with more ingredients, but after making this simple tart shell again the only change I would make is adding a little bit of salt which I did to the recipe below.
The browned butter frangipane was inspired by these divine browned butter almond cherry cakes I used to make when I was catering in Australia. I wanted to get a similar flavor in this recipe. I found almond flour at Sahadis, in Brooklyn. It's not that easy to find in New York, but you can order it online too. Bob's Red Mill sells it in 1 pound packages.
NOTE: Be aware that you can only make your own almond flour or almond meal if you have a nut grinder. A food processor will not grind up the nuts finely enough and if the almonds get to warm as they are being ground they will release their oil and that could make your frangipane more dense.
Pine Nut, Cherry, Apricot, Browned Butter Frangipane Tart
Since I made five desserts for Thanksgiving there's always a lot of voting and opinions flying about which one is the best dessert. I really love this one and my guests gave it high marks too.
Pastry for 11" Tart
Ingredients:
1.5 c all purpose flour
1/2 c confectioners sugar
3/4 c cold unsalted butter, cut into small pieces
1/4 tsp salt
Instructions: In a food processor, fitted with the steel knife, place the flour, sugar and salt and process to combine. Add the butter and pulse until the pastry starts to come together and forms a ball. Press the pastry in the prepared tart pan using your fingertips, spread it evenly along the bottom and up the sides of the pan. Pierce crust all over with the tines of a fork (This will prevent the pastry crust from puffing up while it bakes.). Place the pastry crust in the freezer for 15 minutes to chill the crust (This will help prevent the crust from shrinking when it bakes.).
Preheat oven to 425F degrees and place rack in center of oven.
When the pastry has chilled, place the tart pan on a larger baking pan and bake until crust is lightly brown, about 13 - 15 minutes.
Remove from oven and place tart pan on a wire rack to cool while you make the filling.
Reduce the oven temperature to 350F degrees. You can make the browned butter frangipane ahead of time if you like
Browned Butter Frangipane
Ingredients:
8 oz confectioners sugar
8oz ground almonds aka almond flour aka almond meal
1/2 c all purpose flour
8oz unsalted butter, browned and cooled
3 eggs
2 egg yolks
1 tsp vanilla extract
Instructions: In a food processor, fitted with the steel knife, mix sugar, almond flour and all purpose flour. Add browned butter, eggs, yolks and vanilla. Process until smooth. Scrape frangipane into the prepared tart shell.
At this point, you can put whatever you like on the frangipane filling. Fresh fruit like cherries or peaches, poached fruit like pears or apricots, rehydrated dried fruits or different nuts. Whatever you can dream up. I wanted to use mostly pine nuts and I added in dried cherries and apricots to capture a little of the colors of Thanksgiving in the tart.
Pine Nut Topping
Ingredients:
3 oz chopped dried apricots
3 oz dried cherries
1 c pine nuts
Instructions: Mix ingredients and press them into the frangipane filling. Bake tart at 350F degrees for 30-40 minutes until the nuts are browned and the filling has puffed up. You may need to wrap the edges of the tart with aluminum foil so the crust doesn't burn. Keep an eye on it. Cool and serve.
Share This: