The Diva That Made StrawBBQ Sauce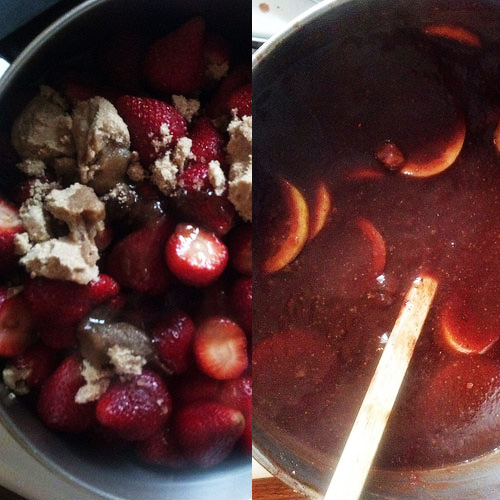 I HATE STRAWBERRIES! Yes, I said it!
Unless they are organic, sweet and juicy perfect strawberries.
I have been in the chocolate fountains and chocolate events business since 2003. Nobody knows the strawberries I've seen. I have dipped until I dropped and I'm over even looking at them.
I'm also not a jam gal. Not so big on the sweets. But I love my condiments: relishes, chutneys, chili jams, etc. anything savory.
However I do wind up with strawberry leftovers and rather than try to give them away (Yes, picture me running after strangers with containers of strawberries), I've tasked myself with finding savory ways to cook them.
This time I decided to make Strawberry BBQ sauce.
I made a Black Pepper, Strawberry, Papaya Lime Chili Jam with some strawberries. That worked out nicely so I invented what I'm calling StrawBBQ sauce. 

It's amazing how strawberries take on the texture of tomatoes when they are cooked down.
This is a great recipe for someone who longs for BBQ sauce and is allergic to tomatoes.
My StrawBBQ sauce won Best Dish at Brooklyn Swappers the other night when I served it with Berkshire Pork Italian Sausages. I brought it to Big Summer Potluck and we had it with a pig roast along with my Bhangin' Pineapple Chutney and my Chipotle Concorde Grape Ketchup. The one my fellow bloggers raved about the most was the StrawBBQ sauce.
StrawBBQ Sauce
Ingredients:
4 lb. strawberries, hulled and chopped
16 oz. brown sugar 
2 lemons, sliced
4 oz. Worcestershire sauce
8 cloves of garlic, chopped fine 
3T mustard powder
3 oz. fresh ginger, grated
8 oz. balsamic vinegar
8 oz. apple cider vinegar
1 orange, sliced rind & juice
 
2 tsp. of kosher salt
1 tsp. freshly ground pepper
3 T ancho pepper powder
1 tsp. cayenne pepper (optional)
1 T sambal olek (optional)
Cook ingredients together in a heavy pot. Simmer for a one hour. Strain orange rind and lemon slices. Can in sterilized jars.
Share This: