Threaten 'Em With Coal, Give Chocolate!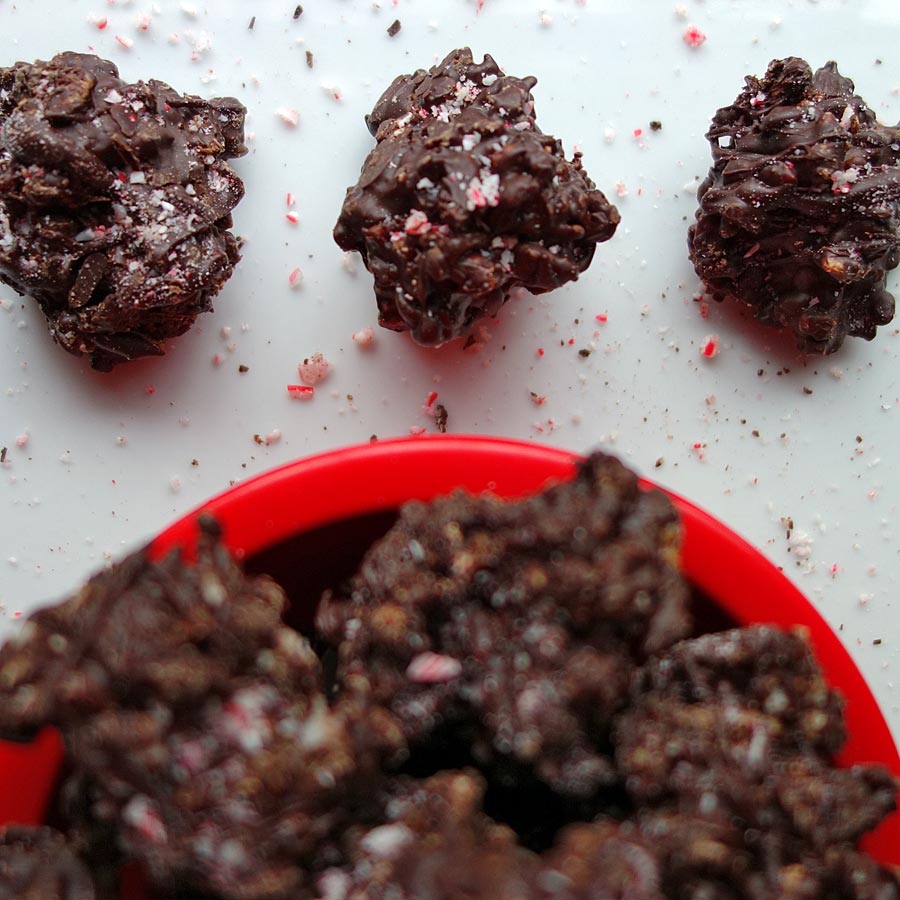 "You're gonna get coal in your stocking!" This was never a threat in my family because my mother's children were perfect… NOT!!!
We were just as horrid any other bunch of kids, but I don't believe this holiday threat was known to my mom. The one I remember best was, "If you kids get up before the sun is up, no presents". I can still remember the torture of my brothers and I staring out the window, at the houses behind our house, waiting for that first glimmer of light. It was an eternity to us.
The coal threat might have worked on me because my Christmas stocking was my favorite gift of all. My mom always filled mine with individually, beautifully wrapped gifts. l didn't care about any of the other presents. I loved seeing and unwrapping all the little gifts. She even made me a beautiful Christmas stocking to house them. As I grew up, she stopped giving me anything else. At some sad point I became too big for the stocking and we stopped exchanging gifts at Christmas. The tradition lives on because she fills my stocking with gifts for my niece Janea and ships it to Michigan
I was a feisty and dramatic little girl who was prone to temper tantrums. I can only imagine my wrath if my stocking was filled with only coal.
Chocolate Peppermint Coal Clusters are perfect for the parents who threaten coal since they look like coal. I wanted to make a crunchy chocolate cluster with the flavors of Christmas since I'd already made Maple Sugar and Pink Salted Cranberry Orange Walnut Chocolate Clusters for Thanksgiving and they were a hit. I was slightly stumped on what to put in them besides candy canes and rice when I came up with the idea to make my own peppermint patties.
Share This:
Chocolate Peppermint Coal Clusters
Jackie Gordon
Gluten-Free, Vegetarian & Vegan, Desserts & Chocolate
Homemade peppermint cream chunks, crushed candy canes and crisp rice in dark chocolate clusters that look just like coal.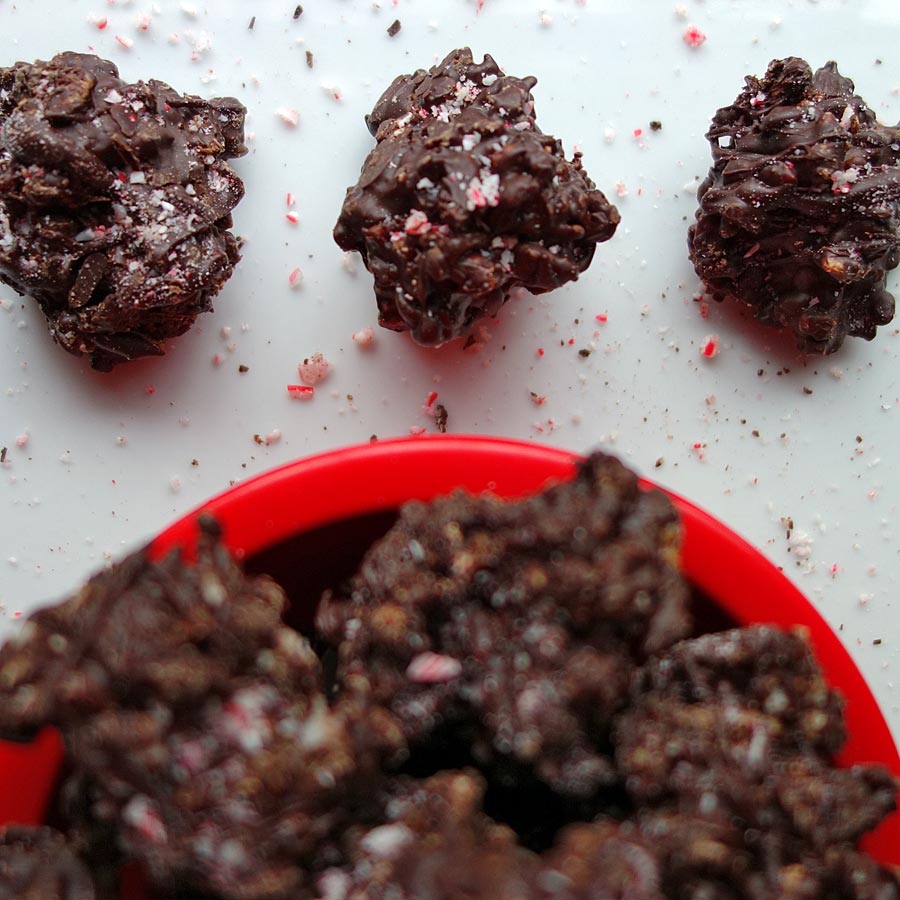 Ingredients
1 1/2 pounds of dark chocolate, tempered
2 cups of crisp rice cereal
1 recipe of peppermint patty centers, cut into 1/4" squares
1/2 cup of finely crushed candy canes or peppermint candies
Directions
Have ready a sheet pan lined with waxed or parchment paper, two teaspoons and a rubber spatula.
In a medium bowl, combine rice, peppermint squares and half the crushed candy canes.
Pour 1/2 cup of chocolate in a small bowl and cover to retain heat.
Quickly fold the rice mixture into the remaining chocolate until just incorporated. Don't overmix or the chocolate will start to set.
Spoon teaspoons of the chocolate mixture on the waxed paper.
Drizzle with the "coal" with the remaining chocolate and sprinkle with the crushed candy canes.
Total time:
Yield: 40 clusters
Homemade Peppermint Patties
Jackie Gordon
Gluten-Free, Vegetarian & Vegan, Desserts & Chocolate
Creamy peppermint centers, dipped in chocolate and they're vegan to boot!
Ingredients
1/2 pound confectioners sugar
2 tablespoons coconut oil, melted
1/4 teaspoon peppermint oil
2 tablespoons warm water
1 pound tempered dark chocolate for dipping
Directions
In a medium bowl, using a hand mixer, blend together sugar, coconut oil and peppermint oil.
For shapes: Press mixture between two sheets of waxed paper and roll to 1/4" thickness. Freeze for 1/2 hour. Cut with a cookie cutter.
For rounds: chill mixture for 1/2 hour, then roll into preferred sized balls and flatten into patties.
Dip in chocolate. Drizzle with chocolate to garnish.
Total time:
Yield: Yield depends on the size of the patties.
Notes
Peppermint extract is not as powerful as peppermint oil. You can substitute, but the flavor will not be as minty.
Another garnishing option is to sprinkle the patties with crushed candy cane before the chocolate hardens.