Top This Persian-ish Lentil Soup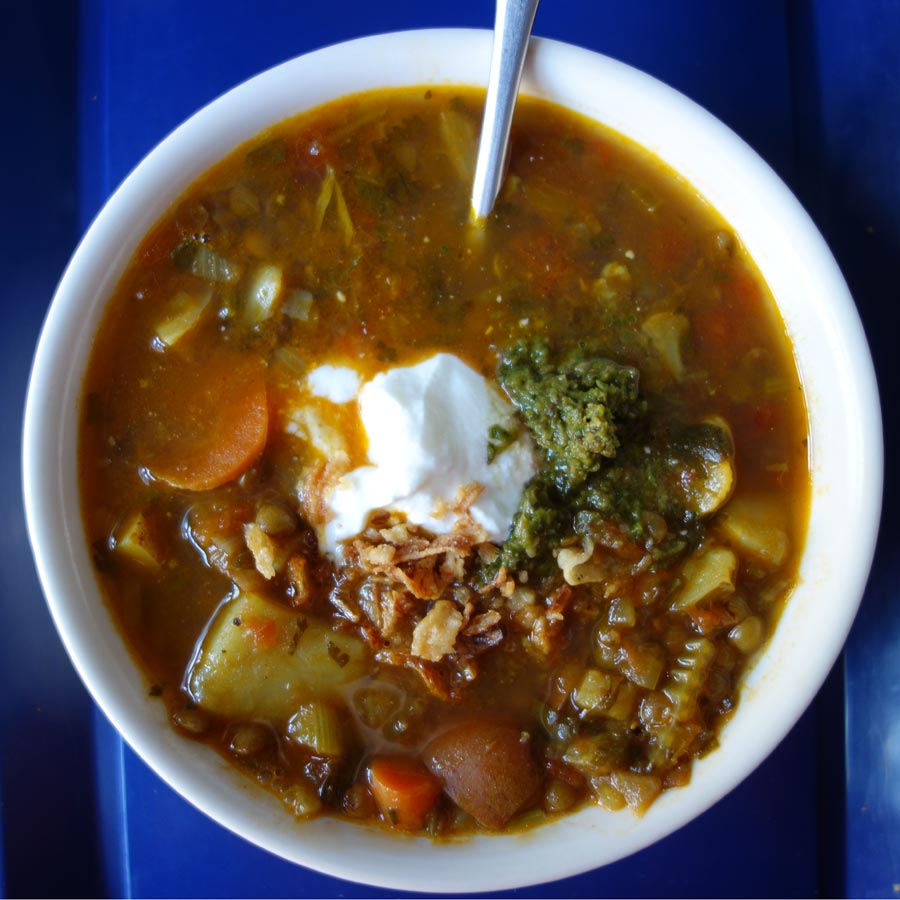 The only thing I like better than a food crawl is a cabana boy 'n' food crawl. That's where I and my most favorite food pals lie around in complete comfort, sipping sauvignon blanc, while being fed the most delicious foods in New York City by hot nubile young men while other hot young things scamper around town bringing more and more treats. Maybe this should be called a cabana boy crawl NOT! ← THIS DOES NOT EXIST!!! (But don't you think it should?)
That said, my December food crawl with bloggers: Shulie from Food Wanderings, who was visiting from DC, and Margaret from Savory Sweet Living, who is often my partner-in-dine, was much improved by having Shulie's lovely husband drive us to our destinations. Thanks, J!
We stopped at the Union Square Holiday Market, where we tried a Persian soup, ashen reshteh, that got me very excited.
No, it was not served by a cabana boy, but it had TOPPINGS on it. It was a bean- or lentil-based soup that they served with fried mint, yogurt and crispy onions. HELLO, party in my mouth!
Persian is one of the hot cuisines this year. The soup at the market didn't blow me away because the soup itself was a bit bland, but it certainly had potential. I didn't look at an actual recipe for this traditional soup so mine is a complete aberration. I called it "Persian-ish" because I was inspired by the Persian one.
I wanted a hearty, spicy soup that would be cooled by the yogurt. I wanted a soup that could be a fun to eat because of the contrasting textures between the soup and the toppings.
After I made the soup, I looked at recipes for the original soup, which is called ashen reshteh. It has noodles in it, but I wouldn't have put them in because I want the soup to be gluten-free. HOWEVER, fried noodles would make another fun-in-your-mouth topping for this soup!
Check out my Jackie Gordon Singing Chef YouTube Channel.
I'll be doing more cooking and singing on Google+—circle me there!
Share This:
Persian-ish Lentil Soup
Jackie Gordon
Soups & Salads, Gluten-Free
When I originally made this I topped it with Greek yogurt, Bryant Terry's Mustard Green Harissa and fried onions (from Ikea) and fresh chopped cilantro. Now that I wrote the recipe I realize the topping possibilities are kind of endless!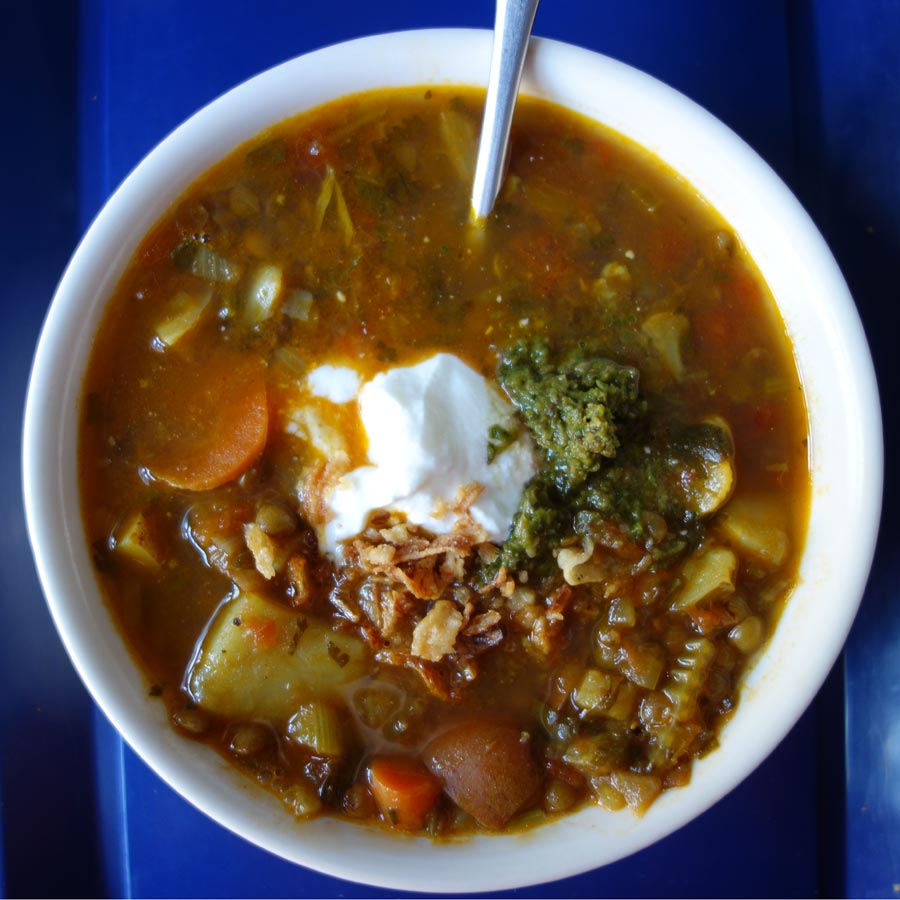 Ingredients
2 medium onions
5 garlic cloves, chopped fine
1 tablespoon kosher salt
2 teaspoon freshly ground black pepper
2 stalks celery, diced
3 medium carrots,sliced in rounds
1 medium parsnip, diced
1 cup parsley, washed and chopped
1 cup cilantro, washed and chopped
1 tablespoon ground turmeric
1.5 tablespoons ground cumin
2 teaspoons ground coriander
1 package (26.46 ounces)Pomi tomatoes
1/2 pound lentils
1 gallon stock (vegetable, chicken, etc.)
4 large potatoes, diced
1/2 head cauliflower, cut into florets
Directions
Clean the lentils and remove any funky-looking ones and any stones.
In a large stockpot, sauté the onions and garlic until they are translucent. Add the celery, carrots, parsnips, parsley and cilantro and sauté for ten minutes.
Add the turmeric, cumin and coriander and sauté for 2 minutes to release their scent. Add the tomatoes, lentils, stock and bring to a boil. Reduce to a simmer.
When lentils are al dente, about 30-40 minutes later, add the russet potatoes and cauliflower and continue to cook until the potatoes are done and the lentils are soft.
Adjust the seasoning with kosher salt and freshly ground black pepper to taste.
Total time:
Yield: Approximately 1.5 gallons
Notes
Top it! Top it! Top it! Garnish with your choice of toppings: