Yummy in my Taim-my!
Menu at Taim
On the run from the Brugal Rum tasting to the Culture Catch karaoke party, I had a rumbling in my tummy. Luckily, I was by the slammingest falafel joint in the West Village, Taim.
Taim specializes in Israeli-style falafel, which takes my taste buds back to the Orthodox Jewish falafel vendors in Les Halles in Paris. They serve up three kinds of actual falafel: traditional green (parsley, cilantro and mint), red (roasted red pepper) and harissa (Tunisian spices). It comes loaded with Israeli salad, hummus and tahini. I ordered the green with hot peppers, but I forgot to get their house-made hot sauce, too. Bugger!! I did remember to get their ginger-and-mint lemonade, which is never too sweet although it could have been a bit more gingery.
We devoured them down by the Hudson River while simultaneously enjoying a cloudy sunset and watching the park police ticket a couple of drunken teens who had climbed over the guard rail and dipped their feet in the river. Own our private live "Cops" drama. I had "Bad boys, bad boys, whatcha gonna do" running through my head…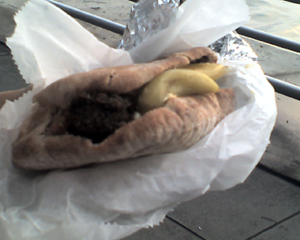 Falafel on the Hudson
All the food at Taim is strictly vegetarian and kosher. So NYers with food/religious considerations can dig on in. They fry the falafels to order (so they are crunchy and fresh—YUM!) and it's usually busy so be prepared to wait or call ahead to pick up—they deliver as well. Try their side dishes/salads/platters. I love the marinated beets with lemon, garlic and spices as well as Sabich Platter with fried eggplant, organic hard-boiled egg, tahini sauce, Moroccan carrots and Israeli salad. The Sabich is also available as a sandwich, which is easier to eat on the go-go. It's all good and very fresh and loved tasting, meaning you can taste that the person who made it gives a damn. Plus, it is super-consistent, which is very important to me. I have been eating there for several years and my mouth and my tummy always leave smiling.
Taim
222 Waverly Place, New York 10014
Taim on Menu Pages
Share This: