Networking en Chocolat: The Pain Meets the Pleasure
7:30 pm – 9:30 pm
Chocolate makes networking better! Everyone is pushing networking to help find a job, keep a job, find new clients, make new connections, find love and more. Plus you must do social networking (Facebook, Linked In, Twitter, and so on) to do more of the same to even more people! But there is no point to going out to do it without being prepared! It's like being thrown in the deep end without being able to swim.
The number-one reason that most people don't like networking is they are not doing it properly. In this new workshop you learn how to network while enjoying a tasting of Divalicious Chocolate! products as an ice-breaker, a conversation piece of sorts. There will be a speed-networking component so you can practice and find connections. It's easy, it's safe and it's yummy!!!
Mailing-list members get 10% off, so join!
Price: $30
Running time: 1.5 hours
The event begins promptly at 6:30 PM and is limited to 20 guests.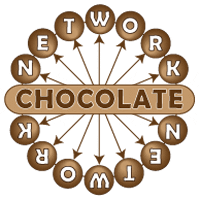 Feedback
Jackie Gordon has been leading outstanding networking workshops since 2004. Clients include the International Association of Culinary Professionals, American Personal Chefs Association, New York Women's Culinary Alliance and more.
Past attendees of our networking workshop Six Degrees of Connectivity (same workshop without the chocolate) attest to the effectiveness of our approach:
"Your workshop should be required for all first-timers at the conference; it was filled with practical, valuable advice that everyone could use."
—P. Adams
"I've been to many, many conferences and this is the only one where I truly felt comfortable and confident about my networking abilities."
—Name withheld
"I just wanted to send a quick note to thank you again for your fabulous networking seminar. It did wonders for my ability to 'make the approach'! You have such amazing energy!"
—Devin Alexander
Really enjoyed your workshop and used your suggestion of finding a benefit I could offer to the listener while explaining what I do—it worked!
—Marilyn S., Maytag Appliances