"Finally, a Cook Who's Divalicious"—24/7 Courier/Life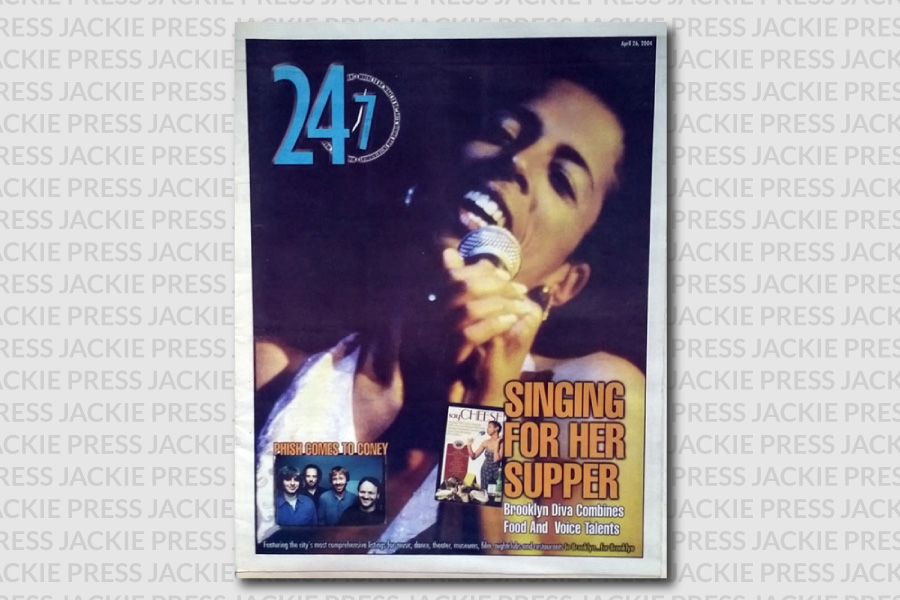 Chef Sings the Praises of Cheese
By Karen Calabria
Growing up in Boerum Hill, Jackie Gordon whiled away her childhood "always singing and always cooking." "It felt natural to cook and sing together—I just had to figure out how," laughed Gordon.
Mission accomplished.
Gordon, of Divalicious, Inc. in partnership with Terrance Brennan of the Artisanal Cheese Center, will debut "Say Cheese: tongue titillating tasting of artisanal cheese and wines and the songs they inspire" on April 28, 7:30 p.m. at The West Bank Cafe—Laurie Beechman Theater, 407 W. 42nd Street.
A pioneer in the field of eatertainment, Gordon returned to the borough in early September 2001, after a decade spent working as an actress in Melbourne, Australia.
The concept of food as entertainment originated while Gordon was performing in her first one-woman show in Australia, Black Pearls and Strange Fruit." The show eventually took first prize at the Melbourne Fringe Festival.
As an actress who had also worked as a chef, she sent a press release to the dining section of the local newspaper. When the write-up appeared in print, Gordon's frustration with the article eventually turned to inspiration."Black Pearls and Strange Fruit" was toted as a dinner show, in which Gordon exercised her cooking abilities as well as her vocal cords.
"It gave me the idea—wouldn't it be great to combine great food and great music?" recalled Gordon, who attended Brooklyn Tech High School.
That was all the motivation the singing chef needed to hit the ground running.
Her first foray into the world of eatertainment came with "The Fried Chicken Theory According To Jackie Gordon," a one-woman show that explored the collective history of soul music and soul food. When I began writing, the show became about the food. It was really a history lesson. The food came from slavery. I told stories about my family and food, about how my great-grandmother cooked her way to America," recalled Gordon.
The Fried Chicken Theory focused on food as an "Integral way of life," which, in turn, influenced the music. She regaled audiences with tales of Billie Holiday's mother's fried chicken joint, and of when Aretha Franklin and Luther Vandross recorded their album together—they holed themselves up in the studio with bucket upon buckets of fried chicken.
All the while, the audience packed in savory mouthfuls of Gordon's lavish menu of soulful favorites—macaroni and cheese, collard greens ( made with turnips and beet greens since collards are not native to Australia) and, of course her signature fried chicken.
Gordon, now a dual citizen of Australia and America, returned to her native Brooklyn with the aim of introducing New York to the concept of eatertainment After opting for a show about cheese over runner-up theme chocolate, Gordon set to work finding corporate sponsorship.
"All cheese has a story, especially Artisanal cheeses," explained Gordon. "Artisanal is the best—I figured it wouldn't hurt to start there."
Terrance Brennan, chef/proprietor of New York's Artisanal and Picholine founded the Artisanal Cheese Center in June 2003. The center is the first of its kind in the United States and house five cheese-maturing caves where more than 250 of the finest cheeses are ripened before being sent out to market.
When she first explained the concept to him, Brennan "looked at me as if I was a bit mad," but was eventually won over. Gordon's approach was to redefine the connotations of cheese. "There's a little bit of snobbery associated with cheese. I want to make it more tangible, take it off its pedestal, bring it to a wider audience," said the singing chef.
"In the past five years, the variety of fine cheeses available at cheese stores and specialty food shops and online has increased tenfold, and choosing can be challenging for consumers facing a burgeoning selection of hundred of cheeses," said Brennan. " People will leave this show armed with a multi-sensory experience and knowledge of what makes artisanal cheeses stand out from the rest."
Indeed, audiences will have the chance to sample eight cheeses, paired with four Diageo Chateau and Estate wines, with a song to accompany each cheese. In addition to providing a general history of cheese, Gordon will detail the history of each cheese featured in the show. There will also be a gallery of images, projected on a screen behind Gordon, during the presentation of each cheese. "Everyone will be getting a real "chedducation!" Gordon laughed.
The founder of Divalicious, Inc., an organization that pairs fine food and music, also had the opportunity to pen her own music for the show, including the tune. "If I Could Date Cheese" and another ditty about tasting wine with cheese.
For the show, Gordon has prepared Divalicious Ruby Sun Splash Relish, a tomato relish that nicely compliments the cheese. It will be served on the side, to be used as a chutney.
Among the cheeses being featured in the show is a soft-ripened Portuguese cheese named Serpa. The sheep's milk cheese contains linoleic acid, which helps to clear arteries and aids in the digestion and fights osteoporosis. Serpa is also thistle-renneted, making it a totally animal-free product for vegetarians.
When she's not performing, Gordon is the founder of Divalicious, Inc., an organization that creates private and public events with a mix of fine food and entertainment. "Divalicious is about encouraging people to eat better foods—not necessarily healthier, but better quality foods," says Gordon.
"Say Cheese" will begin its run of 14 performances on April 28, running through June 11. Performances begin at 7:30 p.m. Tickets are $60.00 each (price includes cheese and wine samples an accompaniments). Tickets are available through Ticket Central, www.ticketcentral.org.
For more information about upcoming Divalicious, Inc. events and services, visit www.jackiegordon.com on the web.
For more information about Artisanal Cheese Center, or to schedule tastings or enroll in a class, visit www.artisanalcheese.com.