"Brooklyn's Own Singing Chef Serves Up Tasty Melodies"—Brooklyn Daily Eagle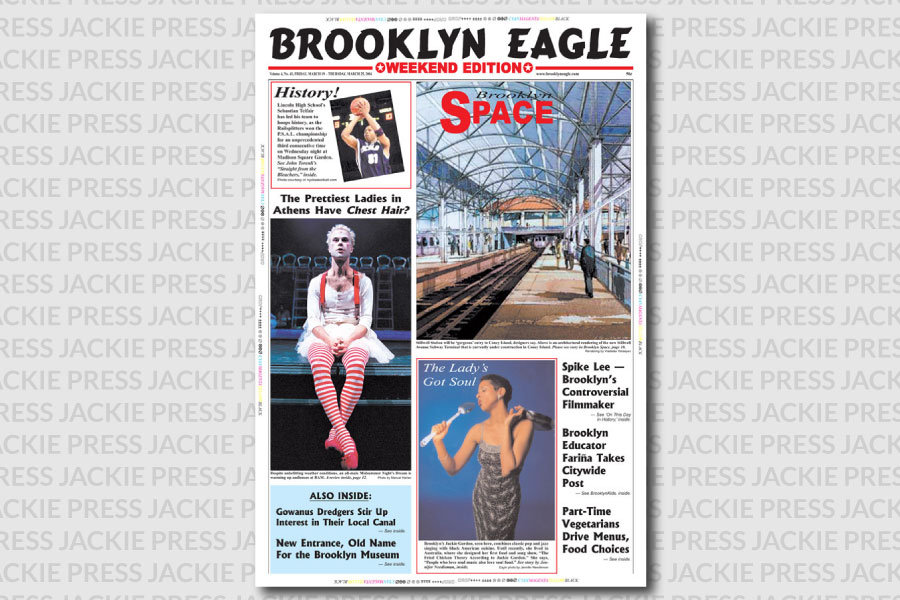 by Jennifer Needleman, published online 03-19-2004

COBBLE HILL—Brooklynite Jackie Gordon, as the phrase goes, is singing at two weddings. Er, I mean, cooking at two weddings. Actually, it's both. As Brooklyn's own singing chef, Gordon has designed her own form of performance, which she calls "eatertainment."
Gordon is a trained cook, having worked as head chef at countless restaurants throughout her career on both sides of the globe—New York City and Melbourne, Australia. She is also a world-class singer/performer, and after years of being "Jackie of two trades," she decided to merge her talents. "I create shows around food and music," said Gordon.
Born in South Brooklyn, Gordon eventually migrated to Australia where she designed her first food and song show, called the Fried Chicken Theory According to Jackie Gordon. It was a smash hit in Melbourne, unique for being a dinner show "with actual good food."
"Australians love black American culture," said Gordon. "They just suck up culture from other places." The show was conceived when Gordon, working as a chef, advertised an earlier dramatic work she created about black American singers and their stuggle for racial equality, called Black Pearls & Strange Fruit. The newspaper, confused perhaps because Gordon had been known in the community as a chef, printed a blurb that led readers to believe that Black Pearls was somehow food-related. "I got all these phone calls asking for tickets to the dinner show," said Gordon, who was involved in programs teaching the local Australian community about black American food. After the flood of phone calls, Gordon decided to take the hint, and wrote, produced and starred in her first work of "eatertainment"—educating the public about how food and music are related through designing a menu, serving dinner and singing during the meal
"People who make soul music also love soul food," was the line of reasoning Gordon used to get people in the door. Sponsored by Tabasco sauce, one of the most widely-used soul-food condiments, the show took off, garnering unexpected critical acclaim and doing good business at the box office. Gordon was living between New York and Australia, coming home yearly for visits but returning to her life as the singing chef of Melbourne. She was home in New York, however, during the terrorist blasts of September 11, and after that trauma, Gordon felt she needed to return.
"You can't live with your ass between two seats," she said.
Now, Gordon is living back in South Brooklyn, and is poised to take on her two realms of expertise at once—fine cuisine and exuberant performance.
Her upcoming show, Say Cheese, will feature Gordon at the microphone as she belts out "cheese classics"—ditties about the beauty and refinement of everybody's favorite churned foodstuff—cheese. Presented in conjunction with the folks at the Artisanal Cheese Center in Manhattan, Say Cheese will open at the West Bank Café in midtown, and promises to be a "multi-sensory, multi-media, educational and highly entertaining event." During the show, audience members will have the opportunity to taste high-end cheeses from France, Italy, Holland, Spain, Portugal, Great Britain and the U.S.
"It will make going to buy cheese less of a traumatic experience," said Gordon with a laugh.
Apparently, cheese is the new wine, according to Artisanal Cheese expert and founder Terrance Brennan.
"People are discovering and learning about different tyupes of cheeses, and they're treating it like fine wine, offering a nice piece or a selection of cheese as a gift, or serving a few special cheese when guests come to visit…"
For that special type of Foodie who loves cheese best (let's call them "Cheesies"), Say Cheese will be a welcomed opportunity to glom up some delicious samples (and let's not forget the fancy wines) while bopping to some cheese-related (not cheesy) melodies. For newbies, the show will be like freshman year at Cheese University—with a soundtrack.
Gordon's company, Divalicious, offers numerous services, including corporate and private events, eatertainment shows on demand and personal chef services.
Look out for Gordon's future projects, which may include a show called "Maztoh Ball Memories" in which she will explore the ethnic and cultural connections brought into her life by the another branch of her family.