"Finger-clickin'…"—The Age (Melbourne, Australia)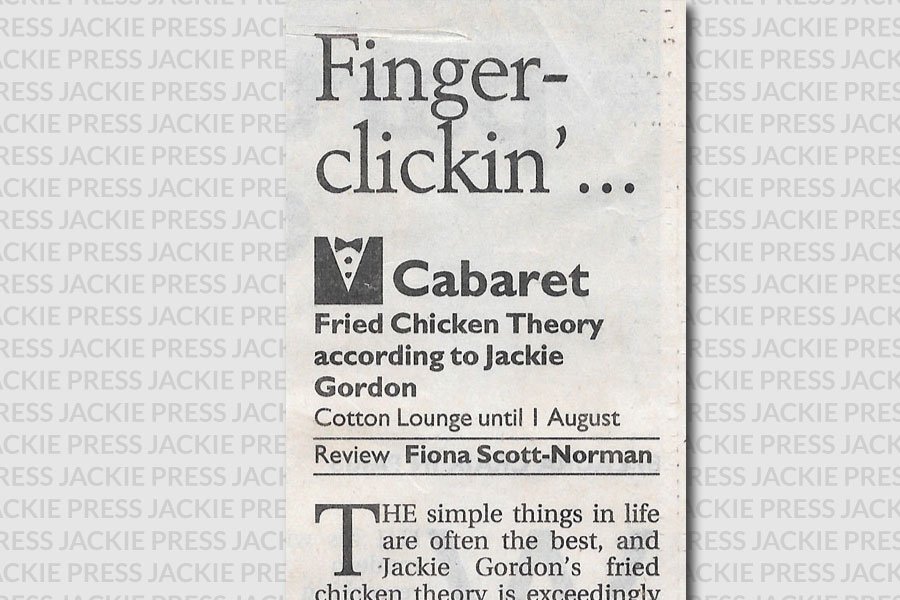 The Fried Chicken Theory According to Jackie Gordon (The Cotton Lounge, South Yarra) July 1999
Reviewer: Fiona Scott-Norman
The simple things in life are often the best, and Jackie Gordon's fried chicken theory is exceedingly simple. This American born, half-Jamaican, open-hearted singer/chef says that if you eat soul food, the soul goes through you. Such a connection would be difficult to prove to the satisfaction of the AMA, but it feels right when you're listening to some sweet blues and soul after a bowl of smoked sausage and seafood gumbo.
The idea of combining food and music is scarcely original, but Gordon's Fried Chicken Theory moves way beyond the thematic.
The evening begins with a truly delicious buffet of authentic, succulent, deep-south soul cooking prepared to recipes from Gordon's grandmother and great-Grandmother.
Gordon works the room as hostess until she slips out of her hospitality smock to reveal a skimpy red sequined dress and takes to the stage with her backing band, Disasterware and velvety back-up singing duo Caramelle.
Gordon works her way through a good-looking soul/blues song book that includes music from Aretha Franklin, Etta James, Otis Redding, Percy Sledge, Nina Simone, and Betty Roberts. She can sing the blues, too, with a rich belting voice. Disasterware is a tight funky outfit.
Gordon was a little shy at first, not really selling herself, the songs or her anecdotes, which undercuts her unnecessarily because she was clearly born to be doing this. Fried Chicken Theory is a terrific show.