Bacon Fried Rice
Jackie Gordon
Mains, Sides, Gluten-Free, Breakfast & Brunch
Bacon Fried Rice is my favorite breakfast dish, but I could also eat it for lunch, dinner, afternoon snack, or even dessert. Clearly, it may seem that I have a problem. I say, "There's no problem unless there's no more bacon or rice in the world."
Ingredients
2-3 tablespoons of high-heat cooking oil (peanut, grapeseed, etc.)
2 strips of bacon, diced
2 eggs
1 small onion (yellow or red), diced
2 cloves of garlic, minced
1" piece of ginger, grated
About 3 cups of chopped veggies in any combination you like:Kale, chopped
Swiss chard, chopped
Red cabbage, chopped
Zucchini, diced
Yellow squash, diced
Carrots, diced
Jicama, diced
Red pepper, diced
Spinach, chopped (I use frozen)
Asparagus, sliced
Peas (I use frozen)
Mushrooms, diced
Cauliflower, chopped
Broccoli, chopped
4 cups of cooked white rice, cold
1-2 tablespoons soy sauce
Scallions (optional)
1 tablespoon or more of herbs:Vietnamese mint, chopped
Thai basil, chopped
Cilantro, chopped
Directions
In a small bowl, scramble the eggs with a fork.
In a large skillet, over medium heat, cook off the bacon and remove the bacon bits from the pan. Set aside.
Pour in the eggs in the skillet and cook until set and remove from pan. Chop up the egg and set aside.
Add the oil to the skillet and sauté the onions, garlic and ginger, until the onions are translucent.
Add the vegetables in succession, from the hardest vegetables, such as carrots, jicama and broccoli, to the softest, such as zucchini, yellow squash or mushrooms, just as you would in a stir-fry. You can't really do this wrong. Cook a few minutes to soften the veggies.
Add the rice, bacon and eggs to the skillet with the soy sauce, sea salt and freshly ground black pepper. Cook for a couple more minutes. Remove from heat. Adjust seasoning, Toss in the herbs at the last minute and garnish with scallions, if desired.
Serve with extra soy, if desired. I like to put chili paste or chilies in soy or in fish sauce and splash it over the fried rice.
Total time:
Yield: 1 serving for me or 2-3 servings for the non-addicted
Notes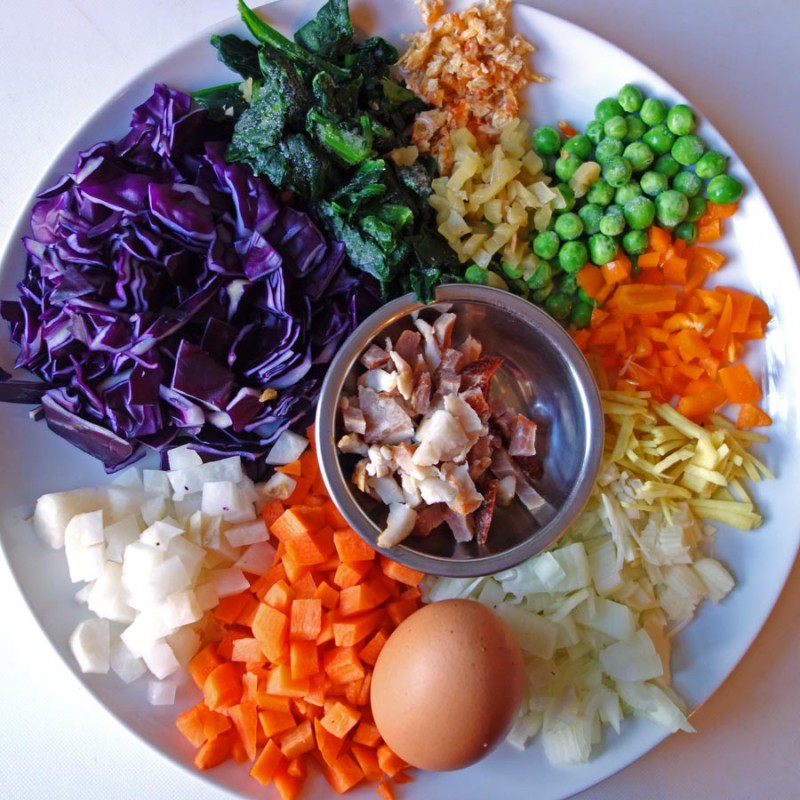 You must use cold rice for this dish. Otherwise it doesn't work. You can also use cold brown rice, cold quinoa, cold barley, cold oat groats, cold buckwheat or cold noodles—whatever you like.
You could also leave out the bacon—GASP, THE HORROR!!!—to make vegetarian fried rice.
The photo is the mise en place for a bacon fried rice I made (counterclockwise, from left): bacon (center), red cabbage, jicama, carrots, egg, onions, garlic, ginger, orange pepper, peas, dried shrimp, preserved vegetable and spinach. Not pictured: rice, soy, S&P.