Just Hand over the Pies and Nobody Gets Hurt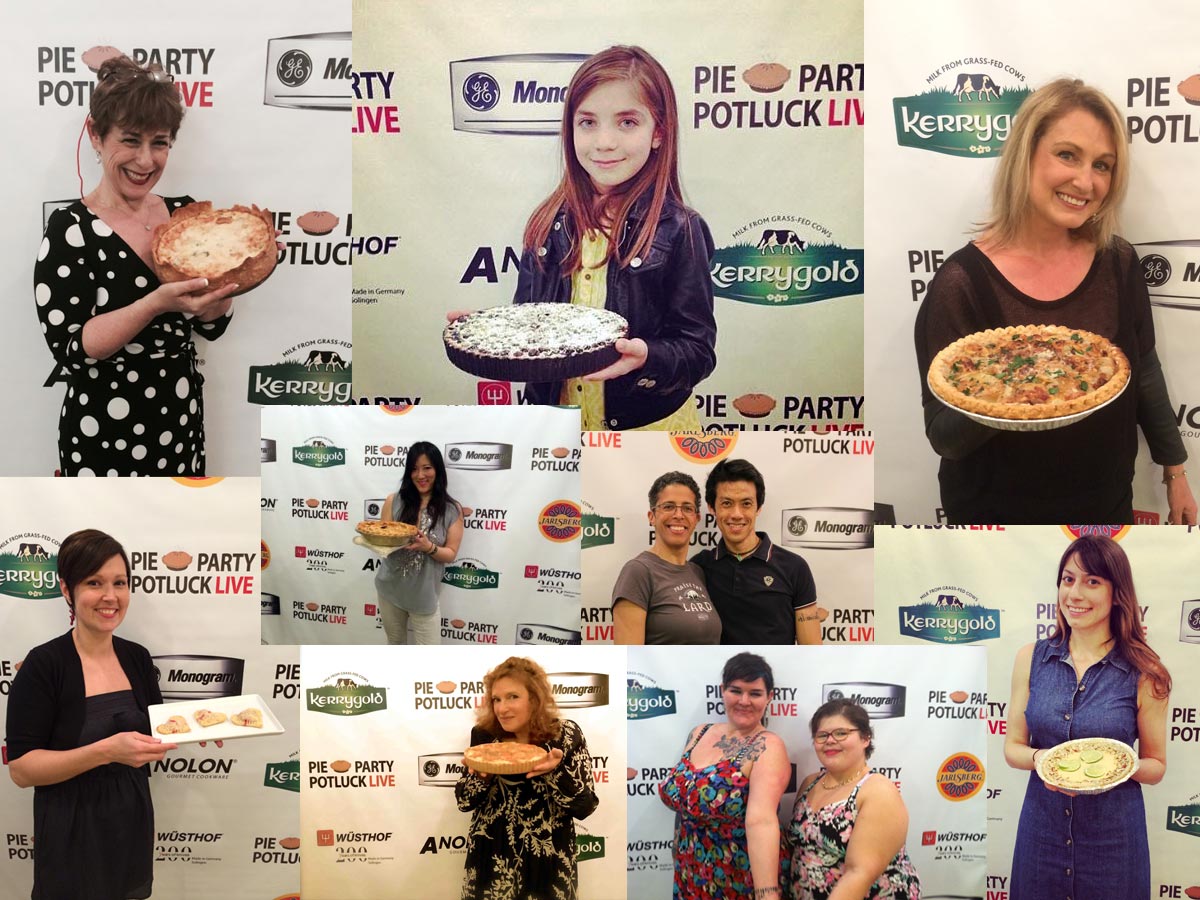 Pie Party Potluck LIVE! didn't happen in 2013 and it almost didn't happen in 2014.
The last Pie Party was in October 2012. I was too busy with my show Chocabaret in 2013. Plus, that was the year we tried to throw the ill-fated Tea Party-Dance Party: where a high tea party meets a boogie down dance party…, when we might have normally thrown Pie Party. We pulled the plug on the tea party because too many forces made it risky (I WILL MAKE THIS HAPPEN!!!). We didn't really plan to host another Pie Party, but our blogger friends kept asking when it was going to happen. Are you doing another Pie Party? When is the next Pie Party? When? When? When?!!!
Finally, the demand won us over and the crowd got the best Pie Party Potluck LIVE! 2014 we've hosted to date. Most of the guests were food bloggers from my Tri-State Food Blogger Mailing List and local culinary professionals, but folks traveled from Pennsylvania, too, and we had attendees that came from as far afield as the West Coast. They brought their finest sweet and savory pies to feast on while enjoying each other's company. This year it was like the Pie Oscars because we had a step and repeat banner; guests posed on the "bread" carpet with their creation before adding it to the spread of over 75 divine pies. Check out the list of the pies in attendance on my partner Ken's post, Hungry Rabbit, "NYC Parade of Pies".
I always go gluten-free for Pie Party Potluck LIVE! because I want to make sure the gluten-free guests have enough pies to eat. I made a Bacon, Goat Brie, Leek & Pear Pie in a Roesti Crust and a Brûléed Lemon Curd, Chocolate Tart in a Coconut Rice Crust. The latter was delicious but didn't work out. I made the crust much in the way that you would make a cookie crust. I combined crisp rice crumbs, coconut and butter, pressed it into a pie pan and baked it. It looked quite gorgy. That was topped with a dark chocolate ganache, then a layer of lemon curd. Sounds great, but physics prevailed. When I brûléed the lemon curd, the heat melted the chocolate and the crust below it. When I started to pull the tart ring off, the crust showed signs of a landslide, so I carefully adjusted the ring and served the tart with it on. Taste-wise, the reviews were great, but I'll be working on that recipe.
Pie Party does not happen without two entities. The most important is our community of bloggers and food professionals who attend. Our community rocked another Pie Party out of the park. We especially appreciate the folks who post about the event event on Twitter, Facebook, Instagram, Pinterest and Google+ and who take the time to write about the event on their own blogs because that helps us attract the other essential entity—our sponsors.
Pie Party Potluck LIVE! 2014 Sponsors
Pie Party Potluck LIVE! 2014 was brought to life by a wonderful array of sponsors:
To add to the fun we ran a bunch of photo contests, during the event, where the bloggers took pictures with our sponsors' products to try to win cheese, butter, cookware, cookbooks and more!
Here are the Pie Party 2014 posts by our awesome community:
Thanks to our wonderful volunteers, Bernice, Sara, Thông and Craig, for helping to make this event a HUGE SUCCESS!!!!
SPECIAL thanks to my partner-in-making-awesome-parties, Ken Leung.
Bacon, Goat Brie, Leek & Pear Pie in a Roesti Crust
Jackie Gordon
Gluten-Free, Breakfast & Brunch
This is a gluten-free pie where the crust is made from potatoes in the style of a potato roesti. I was creating a recipe for one of the sponsors.
Ingredients
Potato Crust1 pound potatoes, peeled and coarsely grated (I used russets)
3 tablespoons butter
Kosher salt
Freshly ground black pepper
Filling4 ounces bacon, chopped
Butter
3 ounces Woolwich Dairy Goat Brie (half the 6.5-ounce wheel)
3 leeks, chopped (save the dark green part for stock)
1 tablespoon celery leaves, finely chopped
4 ounces dried pears, diced
2 teaspoons fresh thyme, finely chopped
1 tablespoon flat leaf parsley, finely chopped
3 eggs
1-1/2 cups of milk or a mixture of milk and heavy cream
Kosher salt
Freshly ground black pepper
Directions
Preheat oven to 350°.
In a medium saucepan, bring 2 quarts of water and 2 teaspoons of kosher salt to a boil.
Add potatoes and bring them back to a boil and boil for 3 minutes. The potatoes should be soft, but hold their shape. Drain.
Mix potatoes with butter and season them with salt and pepper to taste.
Press the potatoes into a 9" pie pan, firmly. Make sure you get all the way up to the lip of the pan and there are no holes in the crust.
Bake potato crust for 20-30 minutes until fork tender.
In a large skillet, over medium heat, cook the bacon until crisp and remove bacon pieces. Add enough butter to the leftover bacon fat to make a 1/4 cup.
Sauté the leeks, celery leaves and pears until soft, season with salt and pepper, adding more butter if necessary. Add thyme and parsley and continue cooking for 3 minutes. Adjust seasoning.
Put 3/4 of the leek mixture in the pie crust.
Beat eggs with milk and pour over the leek mixture.
Sprinkle bacon pieces on top.
Bake pie until almost done, about 30 minutes. You want to be able to place the brie on top without it sinking into the filling.
Slice brie in small 1/2" wedges and place cut sides down in a circle on top of the pie. Top with the remaining leek mixture in the center, up to the edges of the brie (you don't want to cover the cheese).
Bake until the pie is done, about 10-15 minutes. You may have to cover the edges of the pie, including the brie, with foil, if the crust gets too brown before the center of the pie sets.
Cool slightly and serve.
Total time:
Yield: 1 9" pie, 8 servings
No comments have been posted.
Post a Comment
The commenting period has expired for this post.