The Menus Of Thanksgivings Past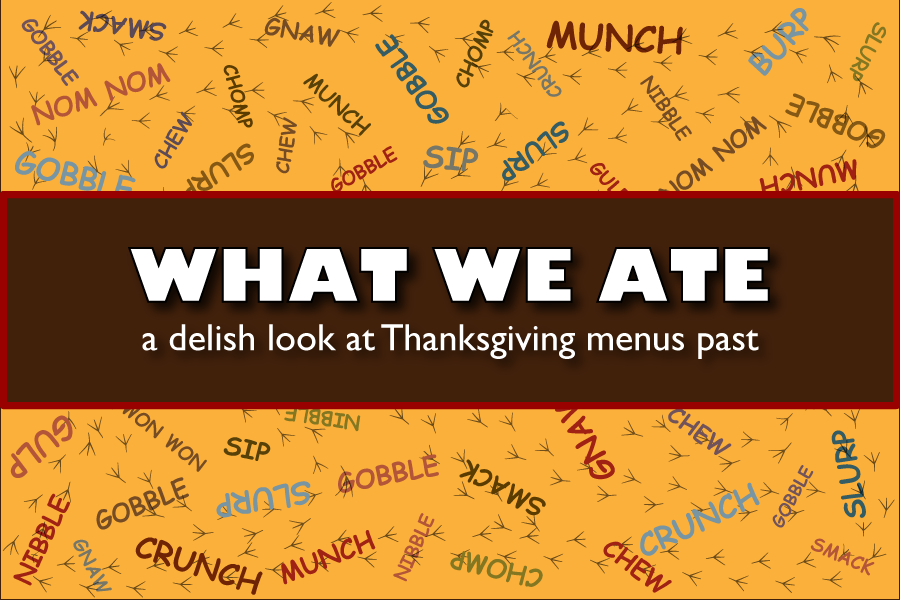 Learn from your past mistakes and your past wins. When I mentioned I was working on my Thanksgiving menu for 2014, a friend asked to share what I was thinking of doing so he might gain some inspiration for his menu. I always write a menu, but I don't know what I actually made until after I made it. So here's what I actually made for my double Thanksgivings for this and year and the past fourteen years (I've been adding to this post every year). I could have gone further back, but enough already!
(UPDATED for 2021)
VG = vegetarian, V = vegan, and GF = gluten-free
Thanksgiving 2021
APPETIZERS
Shrimp toast scotch egg with scallions, jicama, carrots, sesame seeds, and hand-cut tiny breadcrumbs with sweet soy chili sauce 
Scotch egg with spinach, shallots, celery, garlic, oats, quinoa, flaxseed, poppy, thyme, rosemary, and a choice of olive tapenade or maple mustard sauce VG
Roasted butternut squash balls with bocconcini topped with toasted pistachios, and a chili, mint & lemon oil VG
Roasted grapes with bocconcini topped with toasted pistachios, and chili, mint & lemon oil VG
Roasted garlic feta spread with TJ's onion crisps VG
Roasted eggplant with tamarind fig jam in Kataifi pastry topped with sesame seeds and served with chermoula sauce VG
MAINS
Turkey GF
Giblet Gravy
"Allium-inati" Stuffing with roasted shallots, leeks, and fennel, sauteed onions, celery, chestnuts, prunes, bread, and eggs VG
Apple Cider Caramel Walnut Smashed Sweets V GF
Grandma's Rice VG GF
Jax Mac & Cheese VG
Craig Claiborne's Red Cabbage V GF
Creamed Rutabagas VG GF
Asparagus with Sautéed Green Tomatoes and Garlic V GF
Creamy Garlic Chive Mushrooms VG GF
CONDIMENTS
Cranberry Sauce V
Spicy Rhubarb Cherry Chutney V
Canned jellied cranberry V
DESSERTS
Espresso Chocolate "Flan-fait" VG
Cupboard Harvest Pandowdy with ginger creme fraiche and pie crust straws VG
Pumpkin Roulade with marscapone ginger filling VG
Chocolate caramel pecan cheesecake bites VG
---
VG = vegetarian, V = vegan, and GF = gluten-free
Thanksgiving 2020 (COVID aka weird Thanksgiving where I made a lot of dinners to go)
APPETIZERS
Baked goat cheese with roasted grapes, roasted shallots, toasted hazelnuts, olive oil and a sprinkle of tarragon VG 
Jamon with tres leches cheese and leatherwood honey
Endive with country pate, Dijon mustard, green tomato chutney, and microgreens
MAINS
Turkey GF
Giblet Gravy
Shiitake Mushroom & Leek Stuffing VG
Candied Sweet Potatoes with Cranberries & Apples V GF
Grandma's Rice VG GF
Jax Mac & Cheese VG
Creamed Rutabagas VG GF
Brussels Sprouts with toasted almonds, crisped shallots and currants plumped with Pedro Jimenez sherry and sherry vinegar V
CONDIMENTS
DESSERTS
Chocolate Semifreddo with cherry sauce and candied almonds made by Richard. VG
Cupboard Harvest Roasted Pear Hand Pies topped ginger sugar with crème fraiche VG
Chocolate & Caramel Dipped Granny Smith apples coated with walnuts, almond, toasted coconut or peanuts VG
Chocolate Rainbow Cookies VG
Chocolate Drizzled Caramel Crunchtacular popcorn, pretzels, potato chips, rice krispy bits, and peanuts VG
Pecan Diamonds VG
Almond Hazelnut Brittle
(Chocolate dipped Oreos & Grahams - just for Frank) VG
Spiced Pumpkin Mini Bundt Cakes VG
---
Thanksgiving 2019
APPETIZERS
Shrimp Toast Balls with Sweet Chili Sauce
Dukkah & Goat Cheese Wrapped Grapes VG
Chicken Liver, Muscat & Pear Parfait
Gouda Rosemary Poppy Thumbprint Cookies with Yellow Tomato Jam VG
MAINS
Turkey GF
Giblet Gravy
Three Onion & Sage Stuffing
SQUASH-TACULAR! Chili & Honey Roasted Squash on Einkorn Pilaf V GF
Pecan Coconut Crusted Thai Red Curry Sweet Potatoes VG GF
Grandma's Rice VG GF
Jax Mac & Cheese VG
Creamed Rutabagas VG GF
Craig Claiborne's Red Cabbage Alsatian Style* VG GF
Chive & Mushroom Cobbler VG
String beans, Broccoli & Asparagus Medley V GF
CONDIMENTS
Cranberry Sauce V
Beet & Apple & Ginger Chutney V
Canned cranberry V
DESSERTS
Chocolate & Passionfruit Curd Squares VG
Cupboard Harvest Gallette with Ginger Crème fraiche VG
Assorted Danish pastries: Sour Cherry & Cheese; Raspberry & Marzipan; Apricot & Marzipan; Lemon Curd & Cheese; Cinnamon Walnut & Prune VG
Chocolate Espresso Trifle-misu: Queen of Sheba cake bits, caramel whipped cream, chocolate pastry cream; amaretto-espresso soaked homemade lady fingers, brownie crumbs, marscapone whipped cream, espresso gelatin and chocolate decorations VG
---
Thanksgiving 2018
APPETIZERS
Peanutty Ham Balls with Pineapple Chili Glaze
Salami tacos with Egg Salad & Everything Crunch | Bocconcini, red pepper & pesto
Vegetarian Alternative: Toast points with egg salad | Bocconcini with red pepper, pesto, tomato skewers VG
Shrimp Toast
Pretzel Bites filled with mushrooms, onions & truffle cheddar VG
Sev Batata Chaat Spoons VG
MAINS
Turkey GF
Giblet Gravy
Wild Mushroom Stuffing
Candied & Ombre'd Scallop of Kabocha, Butternut & Sweet Potato V GF
Dilly Mashed Celeriac & Potatoes VG GF
Grandma's Rice VG GF
Jax Mac & Cheese VG
Creamed Rutabagas VG GF
Craig Claiborne's Red Cabbage Alsatian Style* VG
Roasted Carrots with Charred Onion Vinaigrette & Tahini Sauce V
Steamed Green Veggies V
CONDIMENTS
Cranberry Sauce V
Ruby Sun Splash Relish V
DESSERTS
Espresso Chocolate Cake VG
Pecan Diamonds VG
Concord Grape Pate de Fruit V
Deconstructed Sweet Potato Pie with Sugared Pie Crust Shards VG
Chocolate Glazed Almond Financiers VG
---
Thanksgiving 2017
APPETIZERS


Deviled Crab mousse — endive & crackers GF
Mortadella packages with pesto, semi-dried tomatoes & mozzarella - chives, balsamic glaze GF


Mortadella packages with quince paste and Asiago fried sage & pistachio sprinkles GF
Shallot Fricos with fig jam and blue cheese topping VG
Lefse sausage rolls with onion thyme marmalade
Tamago on nori chips with oshinko and soy glaze VG
Clam stuffed mushrooms
MAINS


Turkey GF
Giblet Gravy
Six Mushroom & Sage Stuffing
Roasted Fennel, Cauliflower, Kale, Apricot & Kasha Stuffing V GF
Grandma's Rice VG GF
Jax Mac & Cheese VG
Coconut Cardamom Whipped Sweet Potatoes VG GF
Creamed Rutabagas VG GF
Craig Claiborne's Red Cabbage Alsatian Style* VG
Mélange of steamed green veggies V GF
CONDIMENTS
Traditional Cranberry V GF
Jellied Cranberry (canned) V GF
DESSERTS
Sour Cream Apple Pie VG
Pumpkin Cranberry Bread Pudding with Makers Mark Sauce and Ginger Ice Cream VG
Passion Fruit Chocolate with Coconut Almond Dacquoise Slice VG GF
Cream Cheese Flan VG GF
Pecan Cookies VG
Caramel & Chocolate Macarons VG GF
---
Thanksgiving 2016
APPETIZERS
Sesame-Poppy Pizzelle Cones filled with Horseradish Smoked Salmon Spread and Chives or Deviled Ham Spread and Shaved Pickled Okra Slices
Beet Tartare on Endive with Whipped Goat Cheese and Toasted Pistachios VG GF
Roasted Pear, Gorgonzola, Toasted Pine Nuts and Mike's Hot Honey in Endive VG GF
Pesto Ricotta Cheese Stuffed Mushrooms Topped with Roasted Carrots and Roasted Scallions and a Dukkah Flax Seed Crunch VG GF
Picadillo Stuffed Tostones Cups with Garlic Chips GF
MAINS
Turkey GF
Giblet Gravy
Roasted Shallot and Mushroom Stuffing
Grandma's Rice VG GF
Jax Mac & Cheese VG
Gingered Apple Cranberry Sweet Potatoes VG GF
Corn Green Chile Casserole VG
Creamed Rutabagas VG GF
Craig Claiborne's Red Cabbage Alsatian Style* VG
Steamed Asparagus V GF
CONDIMENTS
Concord Grape Cranberry Relish V GF
Traditional Cranberry V GF
Jellied Cranberry (canned) V GF
DESSERTS
Maple Chocolate Pecan Galette VG
Cardamom Coconut Roasted Fruit Pavlova — roasted mango, pineapple, banana on a cardamom coconut meringue with whipped coconut cream and toasted coconut VG GF
Mini Cheesecakes Squares with Lemon Curd and Blueberries VG GF
Espresso Flan with Homemade Cinnamon Ice Cream VG GF
---
In 2015, I coded the menu and put it on the fridge so my guests would be able to see what they needed to avoid. VG = vegetarian, V = vegan, and GF = gluten-free.
Thanksgiving 2015
APPETIZERS
Chaat in Lettuce Cups: potatoes, puris, pomegranate, peanuts, bhuja mix, yogurt sauce, green chutney, and tamarind chutney in lettuce cups VG
Deviled Ham-Deviled Eggs GF
Rumaki: teriyaki bacon and chicken liver wrapped water chestnuts GF
Vegmaki: Italian long hot pepper wrapped water chestnuts with scallions and hoisin ginger peanut sauce VG
Crab & Scallion Stuffed Mushrooms GF
Butternut, Feta & Rosemary Stuffed Mushrooms VG GF
MAINS
Turkey GF
Gravy
Chinese Sausage, Chinese Mushroom & Garlic Chive Stuffing
Chinese Mushroom & Garlic Chive Stuffing V
Grandma's Rice VG GF
Jax Mac & Cheese VG
Two Tone Sweets: two recipes combined with a candied ginger crust: Concord Grape Sweet Potatoes on top of Coconut Whipped Sweet Potatoes V GF
Creamed Rutabagas VG GF
Five Greens-Five Spiced & Curry Leafed: Braised cabbage, collards, kale, Swiss chard and mustard greens in Indian five-spice and curry leaves V GF
A Lotta Onions Casserole: Vidalia, yellow onions, chives, leeks & shallots in a corn casserole VG GF
Succotash: lima beans, corn, and tomatoes V GF
CONDIMENTS
Cranberry Sauce V
Fermented Cranberry Sauce V
Jellied Cranberry Sauce
All condiments are vegan and gluten free
DESSERTS
Jay's Sweets - Chocolate Covered Peanut Butter-Coconut-Honey Coated Caramel Balls VG GF
Brigadeirao: Brazilian Chocolate Fudge Flan with Crème Anglaise VG GF
Cardamom & Orange Nut Squares VG
Cranberry Apple Slab Pie VG
Cinnamon Coffee Trifle with Kahlua Bavarian Cream & White chocolate curls VG GF
---
Thanksgiving 2014
APPETIZERS
Shrimp & Lentil Cakes with Curried Roasted Carrot Habanero Sauce
Roasted Butternut, Manchego & Pesto Risotto Balls
Banh Beo with dried shrimp, garlic chives, mushrooms, jicama, carrots (pork dust on the side)
Roast Pork Egg Rolls with plum sauce and sweet chili sauce
10 Veggie Egg Rolls with plum sauce and sweet chili sauce
MAINS
Turkey
Giblet Gravy
Fennel Sausage, Roasted Vidalia Onion, Apple, & Sage Dressing
Grandma's Rice
Jax Mac & Cheese
Coconut Ginger Scalloped Sweet Potatoes
Creamed Rutabagas
Steamed Broccoli and Asparagus
Braised Mushrooms with Bacon & Leeks
Cheese Onion Tomato Pie
CONDIMENTS
Fermented Cranberry Apple Sauce
Traditional Cranberry Sauce
4G Chutney (green apple, green tomatoes, green chilies, green mint and lemon)
DESSERTS
Pear Cupboard Harvest Pie with Gingered Creme Fraiche
Chocolate Toffee Banana Crêpe Terrine Cake
Baked Ile Flottante in Crème Anglaise Lake with Caramel and Toasted Almonds
Karen's Apple Crumble Pie
Steamed Lemon Pudding with raspberries and whipped cream
Maple Sugar and Pink Salted Cranberry Orange Walnut Chocolate Clusters
---
Thanksgiving 2013
APPETIZERS
Roast Duck & Garlic Chive Steamed Buns (pink with beet juice), Mushroom Veggie Steamed Buns (yellow with turmeric juice) served w Soy-Scallion-Ginger Sauce & Sriracha
Shrimp & Grits Balls served with Creole Butter Sauce (David Leite inspired)
Buffalo Cracklin' Sticks (blue cheese stuffed celery with hot sauced chicken cracklings)
MAINS
Turkey
Giblet Gravy
Mega Mushroom Stuffing
Latke Stuffing (Laura Kumin inspired)
Grandma's Rice
Orange Maple Walnut Scalloped Sweet Potatoes
Jax Mac & Cheese
Creamed Rutabagas
Coriander Roasted Butternut & Shallots with Barley, Lentils & Chick Peas
Five Shade Of Greens: String Beans, Swiss Chard, Zukes, Scallions & Garlic Chives
CONDIMENTS
Traditional Cranberry Sauce
Cranberry Orange Mostarda (Judy Witts Francini inspired)
4G Chutney
DESSERTS
Apple Pie (Thanks Karen Carzo!)
Gingered Sour Cherry, Apricot, Currant, Cranberry Gallette
Coconut Flan
Banana Brûlée Tart in a Chocolate Crust
Tiramisu Heavenly Pie ( Dennis K. Littley 's tiramisu filling recipe)
Browned Butter Almond Cherry Cake-lettes
Chocolate Pecan Whipped Cream Roll with Cajeta, Chocolate Sauce & Spiced Pecans
Chocolate Peanut Butter Cups, Dipped Apricots & Grahams
---
Thanksgiving 2012
APPETIZERS
Pork Stuffed Sticky Rice Rolls with Scallion-Ginger Condiment & Chili Soy Sauce
Peanut & Sesame Crusted Vietnamese Beef Balls
Yuzu Smoked Salmon Tatare in Cucumber Cups with Nori Flakes
MAINS
Turkey (Dry Brined = amazing! Russ Parsons = genius!)
A Foursome Of Mushrooms Stuffing
Giblet Gravy
Jax Mac n Cheese
Apple Cider Glazed Sweet Potatoes, Apples & Cranberries
Salumi'd, Spinach'd & Shallot'd Potato Stuffing
Grandma's Rice
Lemony Asparagus
G'Roots: amaranth, millet, quinoa & buckwheat topped with roasted rutabagas, turnips, carrots and garlic chips
Slow Roasted Tomatoes, Fennel, Zucchini & Eggplant
CONDIMENTS
Maija's Maine Picked Cranberry Sauce
Tangerine Cranberry Sauce
DESSERTS
Pine Nut-Cherry-Apricot, Browned Butter Frangipane Tart
Cajeta, Chocolate Ganache & Toasted Pecan Cheesecake
Tropi-Panna Cotta Layers of Coconut Panna Cotta, Pineapple Lime Jelly & Roasted Banana Panna Cotta
Maple Butternut Pie with a Rum Toffee Sauce
Blueberries, Raspberries, Almond and Pistachio Nougat
---
Thanksgiving 2011
APPETIZERS
Roasted Garlic Feta Butternut Squash Beet Parfait w Spiced Apple Chips
Beef Jerky
Scotch Eggs
MAINS
Turkey
Mushroom Stuffing
Giblet Gravy
Jax Mac n Cheese
Creamed Rutabagas
Heritage Beans & Bacon
Grandma's Rice
Coconut Whipped Sweet Potatoes
Okra Corn & Tomatoes
Green Veggies
CONDIMENTS
Old School Cranberry Sauce
Roasted Italian Plum, Beet & Ginger chutney
DESSERTS
Heavenly Pie
Granddad's Rice Pudding
Apple Cherry Crumble Pie
Chocolate Pecan Squares
Marshmallows
---
Thanksgiving 2010
APPETIZERS
Bacon Wrapped Plantains w Lime Mojo
Steel Cut "Shrooms' with tomatoes, zucchini feta
Pimp Your Egg Platter (NOTE: serve some white bean dip & toast points as well for folks who don't like eggs)
bacon
scallions
fried capers
fried croutons
anchovies
cheese chips
spiced nuts
radishes
garden tomatoes
tobiko
smoked trout
beet relish
pickled onions
pickled green tomatoes
pickled shallots
MAINS
Turkey
Seriously Mushroomy Stuffing
Gravy
Browned Butter Squash Medley: delicata, butternut & sweet potatoes w cranberries & walnuts
Mac n Cheese
Grandma's Rice
Roast Garlic & Pearl Onion Scalloped Potatoes
Steamed Green Veggies & Carrots
CONDIMENTS
Traditional Cranberry Sauce
Orange Cranberry Relish
DESSERTS
East 62nd St Lemon Cake
Salted Pecan Chocolate Caramel Slice
Funny Bone Roulade Chocolate roll filled with white chocolate and peanut butter filling and encased in chocolate glaze
Sour Cream Apple Pie
Pear Harvest Pie
---
Thanksgiving 2009
APPETIZERS
Panko Crusted Sesame Scallion Shrimp Balls with a trio of dipping sauces: Chinese mustard, soy ginger reduction, sweet & hot Chili
Bacon & Parmesan Johnny Cakes with Green Tomato Apple Chutney & Sour Cream
Jax Summer Harvest Pickled Veggies
MAINS
Roast Turkey
Wild Mushroom & Roasted Shallot Stuffing
Giblet Gravy
Almond &Toffee Crusted Scalloped Sweet Potatoes & Pears
Smashed and Creamed Turnips
Jax Classic Macaroni & Cheese
Grandma's Rice
Steamed Green Veggies
CONDIMENTS
Orange Cranberry Sauce
Concorde Grape Chutney
Apple Chutney
DESSERTS
Mixed Nut Tart
Hazelnut Chocolate Banana Slice
Apple Harvest Pie
Chocolate Oblivion Torte
---
Thanksgiving 2008
APPETIZERS
Prosciutto Asparagus Rolls
Hot Deviled Crab Dip
MAINS
Turkey
Mushroom Stuffing
Gravy
Date Nut Sweet Potatoes
Grandmas Rice
Collard Greens
Mac n Cheese
Roast Garlic Scalloped Potato
Bacon Parmesan Creamed Pearl Onions
String Beans & Cauliflower
CONDIMENTS
Cranberry Sauce
Concord Grape & Apple Chutney
DESSERTS
Chocolate Peanut Butter Pie
Cherry Apple Pie
Lemon Chiffon Roll
Pecan Squares
Share This:
Roasted Garlic and Feta Dip
Jackie Gordon
Appetizers & Snacks
How do you say crowd pleaser? Your guests will hoover this dip. It reminds me a little of Boursin, but with a whole lot more roasted garlicky goodness.
Ingredients
8 - 12 cloves of garlic, roasted
4 anchovy fillets
8 ounces feta cheese
8 ounces cream cheese
6 ounces sour cream
4 scallions, chopped
freshly ground black pepper to taste
Tabasco sauce; few drops
Directions
Combine all ingredients in food processor until very smooth and creamy. Serve with your favorite crackers and/or raw veggies.
Total time:
Yield: About 3 cups
Buffalo Chicken Crackling Celery Sticks
Jackie Gordon
Appetizers & Snacks, Gluten-Free
I added some spunk to a classic appetizer that no one would have considered whether or not was gluten free back in the 60's, but it is. I leave a few of them crackling free so the vegetarians can enjoy an old favorite.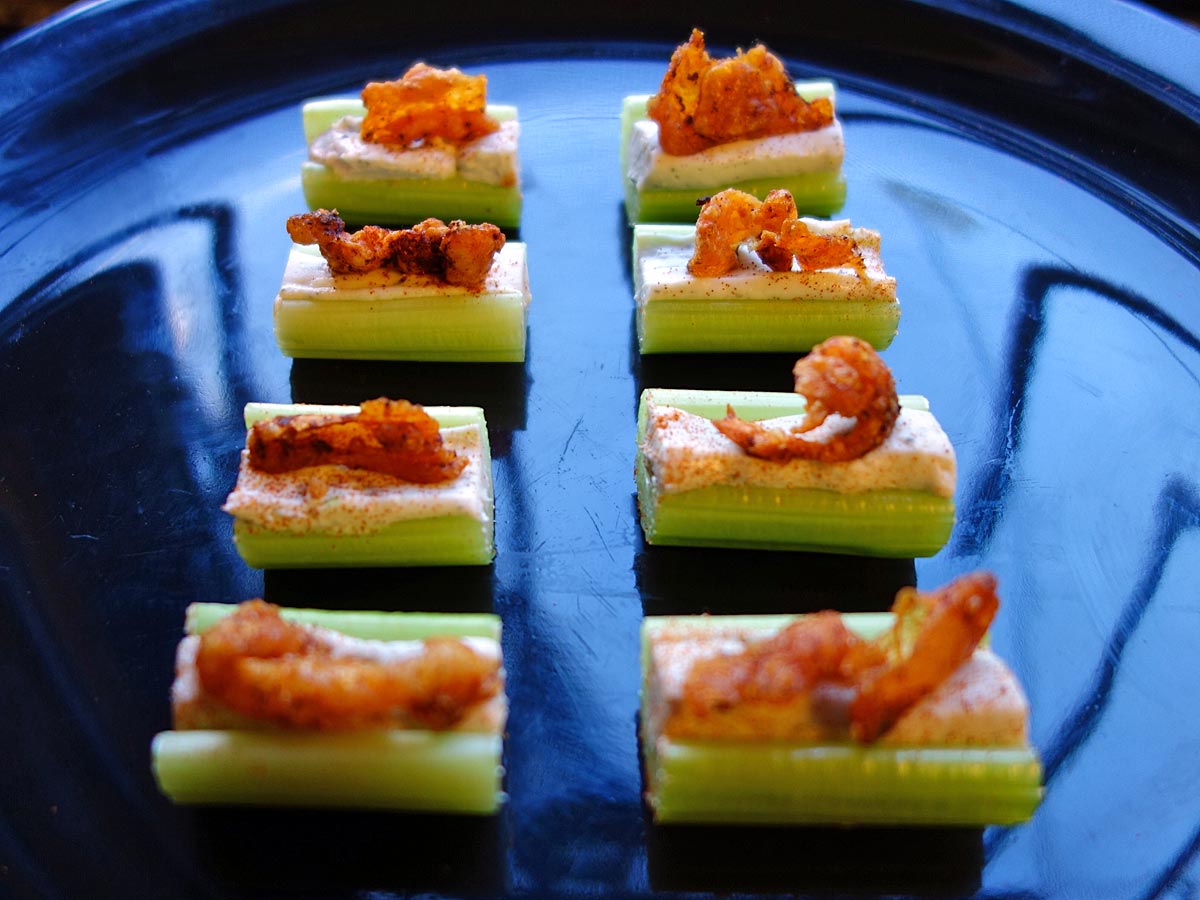 Ingredients
5 celery stalks, washed and dried with their bottoms trimmed so they sit flat on a platter
4 ounces chicken skins
Kosher salt
Freshly ground pepper
2 teaspoons of your preferred hot sauce
4 ounces blue cheese, at room temperature
4 ounces cream cheese, at room temperature
Paprika or smoked paprika
Directions
Preheat oven to 400°F
Salt the chicken skins and place them flat on a half sheet pan.
Roast for 5 minutes, then flip them over and roast for 5 minutes more until golden brown and crispy.
Remove pan from the oven and drain the excess fat. Pepper the skins, sprinkle and stir on the hot sauce. Return pan to oven and cook for 5 minutes more, being careful not to burn them.
When done, remove them from the oven and cool them completely. Break the skins into shards or chop them roughly.
Mix blue cheese and cream cheese and add freshly ground black pepper to taste.
By hand or by using a piping bag (fitting it with a star tube, makes it fancy) or a plastic bag with a hole cut out, stuff the cheese into the celery stalks.
Sprinkle lightly with paprika and top with chicken cracklings.
Slice each stalk into 2" lengths, platter and serve.
Total time:
Yield: 20-24 pieces
4G Green Tomato Chutney
Jackie Gordon
Gluten-Free, Condiments & Canning
The end of tomatoes brings me to tears. But the bright side is chutney. I rescue the green tomatoes and I make 4G green tomato chutney.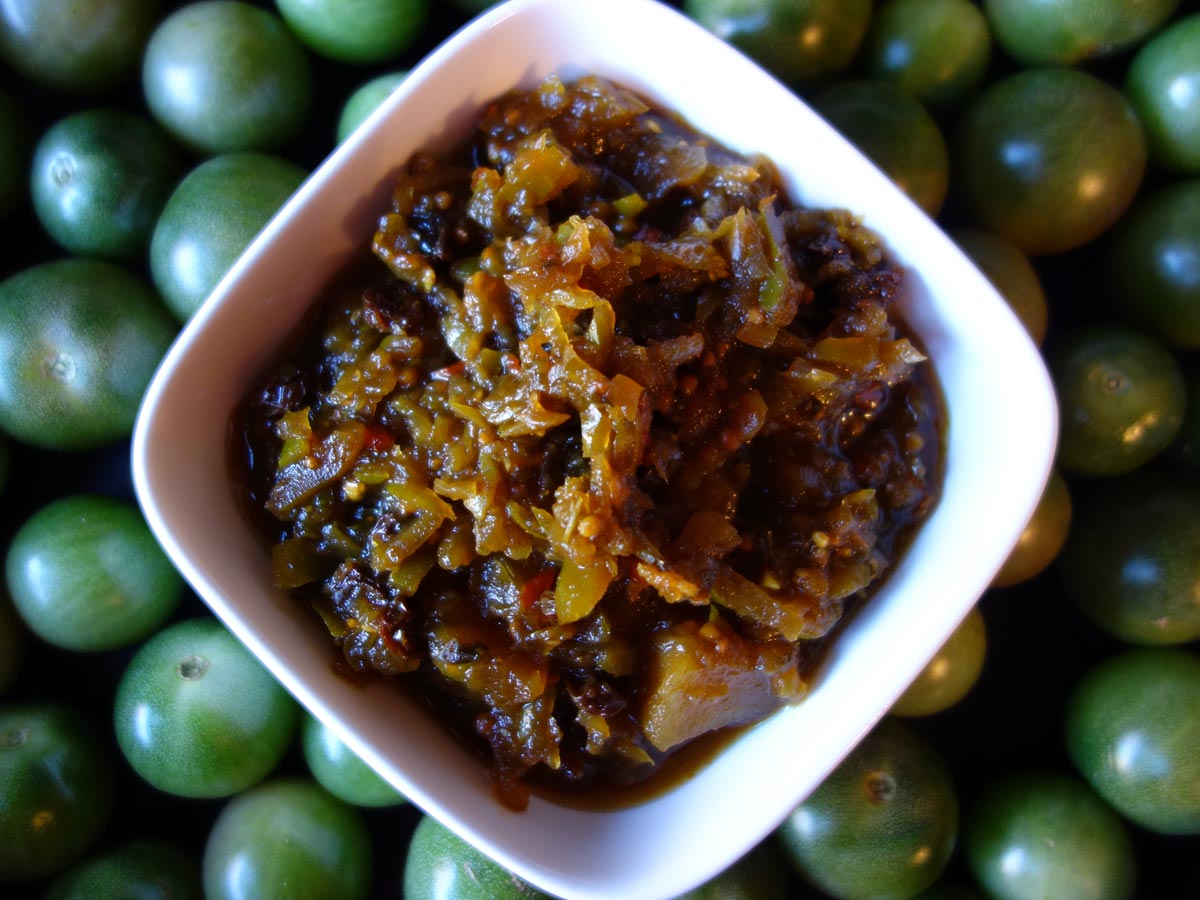 Ingredients
Spice Bag1 tablespoon coriander seeds
2 teaspoons black peppercorns
2 teaspoons allspice berries
1 teaspoon cloves
2 cinnamon sticks
Chutney3 pounds green apple, peeled and diced
3 pounds green tomatoes, diced
1 pound onions, diced
2 tablespoons salt
1/2 pounds currants
1 large red pepper, diced
2 pounds brown sugar
16 ounces cider vinegar
3 lemons, rind and juice
4 teaspoons black or yellow mustard seeds
1 tablespoon turmeric powder
1/2 cup loosely chopped fresh mint
1/4 pound jalapeño chilies, seeded and chopped
Directions
Prepare the spice bag by tying the spices in cheese cloth or a large tea strainer that will not open.
Mix all remaining ingredients in a 7 quart stainless steel stockpot.
Add spice bag. Bring to a simmer and cook for about two hours.
Remove spice bag and cool slightly.
Can in sterilized jars.
Total time:
Yield: 5 quarts
Creamed Rutabagas
Jackie Gordon
Sides, Gluten-Free, Vegetarian & Vegan
Originally a cross between a cabbage and turnip, the humble rutabaga is silky and elegant pureed with cream in this simple, yet addictive recipe. I often wonder why I only make them for Thanksgiving? They definitely taste like a special occasion.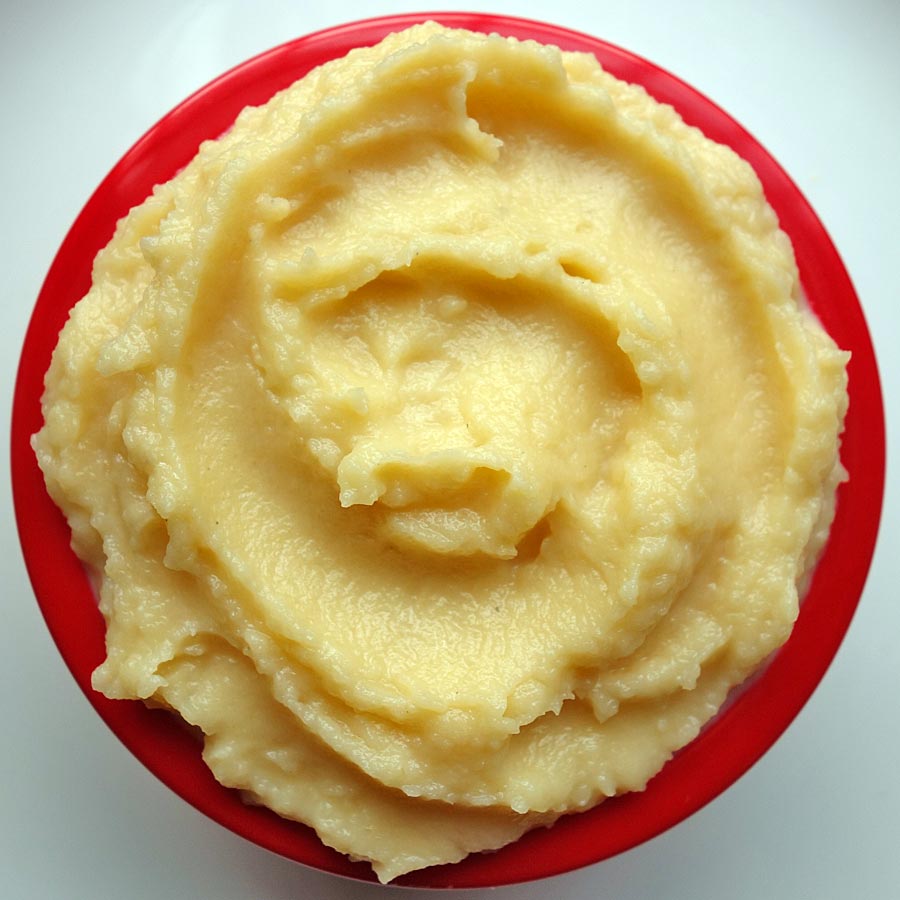 Ingredients
2 pounds of rutabagas
1/2 cup milk
1/2 cup cream
4 ounces butter
kosher salt
freshly ground black pepper or white pepper
Directions
Peel the rutabagas — save the peels for stock, if they are unwaxed, they have tons of flavor— and chop them into chunks or slices.
Place rutabagas in a medium saucepan and cover with cold water and 1 teaspoon of salt. Bring to a boil and cook over medium heat until the rutabagas are tender, about 30 minutes. Drain.
In the food processor, fitted with the steel knife, puree the rutabagas with the milk, cream and butter. Season with salt and pepper to taste.
Total time:
Yield: Six servings
Notes
You can use a blender or a hand blender to puree them. They are also lovely mashed, but they lose a bit of the sensuousness when they are a littl chunky.
Grandma's Rice
Jackie Gordon
Sides, Gluten-Free
No one ever asks if I'm making Grandma's Rice, a buttery, cheesy rice pilaf studded with green olives, for Thanksgiving because it's the law. I always make a lot so there's leftovers. It was my Grandma's tradition that she not only stuffed her guests, but they got food to take home for the next day. I won't twist your arm to take food home like she did, but I make enough if you'd like to. Giving away our leftovers made my brother wince, but tradition is tradition. Now he always brings his own stack of take-out containers.
Ingredients
2 cups onions, diced
2 tablespoons garlic, minced
1 cup celery stalks with leaves, stalks diced, leaves minced
1/2 cup red pepper, diced
7 cups low-salt rich chicken or vegetable stock
2-3 bay leaves
1 sprig of fresh thyme
1 cup green olives with pimentos
4 cups of white, long grain rice
1 cup Parmesan cheese
8 ounces unsalted butter
Kosher salt
Freshly ground black pepper
Directions
In a 4-6 quart heavy bottomed saucepan, over medium heat, melt 4 ounces of butter.
Add onions and garlic and sauté until the onions are translucent.
Add celery stalks, celery leaves, red pepper and season with 2 teaspoons of kosher salt and a couple of grinds of pepper. Cook for 3 minutes.
Add the rice, then lower the heat and continue cooking and stirring until the rice loses it's translucency and starts to smell nutty.
Add the stock, bay leaves, thyme and olives, 1 teaspoon of kosher salt, then stir to incorporate and put on the lid. Cook without stirring for about 20 minutes, until the stock is absorbed.
Allow pilaf to sit for 5 minutes with the lid on.
Stir in remaining butter and Parmesan cheese. Adjust seasoning with salt and freshly ground black pepper as needed.
Total time:
Yield: 8 servings
Notes
For Thanksgiving, I like to make the rice ahead of time and reheat it in a baking dish dotted with butter and maybe even some more Parmesan cheese.
Macaroni and Cheese aka Jax Max Mac and Cheese Recipe
Jackie Gordon
Mains, Sides, Vegetarian & Vegan
I can make all sorts of new fangled, over-the-top and invented dishes I want for turkey day, but I know my family and friends would turn on me if I didn't make macaroni and cheese. It's on the menu every year. It's rich because it has a lot of CHEESE in it and BUTTER and that's what makes it DELICIOUS! This is recipe for a crowd or just a few Mac 'n' Cheese enthusiasts. You know your people. Be sure to make enough. It also freezes beautifully.
Ingredients
3 pounds dry pasta (macaroni, penne, rigatoni, etc), cooked (I like it slightly more cooked than al dente.) and cooled
3 pounds extra sharp cheddar, 1/2 grated, 1/2 cut into 1" cubes
1 quart milk, warmed
1 cup flour
1 cups unsalted butter
pinch nutmeg ground (optional)
2 teaspoons salt
1 teaspoon freshly ground black pepper
1 cup grated cheese (Parmesan, pecorino, aged gouda)
1/3 cup butter, cut into small pats
1 cup plain bread crumbs
Directions
Preheat to 350°.
Have pasta ready in a large bowl.
Prepare the baking pans by greasing thoroughly with butter.
Prepare the béchamel by melting the butter in a medium sauce pan, then adding the flour, stirring constantly with a wooden spoon. It will make a paste and keep stirring and cooking it for about two minutes. Do not brown it or burn it.
Stir in the warm milk and continue to stir until the sauce thickens and comes to a boil. Add nutmeg, salt and pepper and continue to cook for another few minutes to let the sauce thicken a little and cook off the floury taste. Remove from heat. Add the grated and cubed cheddar cheese and stir until the cubed cheese is 1/2 melted. If the cheese doesn't melt, you can return the pan to the stove on a low flame, stirring constantly to keep the sauce from scorching.
Add cheese sauce to the pasta and mix thoroughly. Press the pasta mixture into the pans and top with the bread crumbs, grated cheese and dot with the butter pats.
Bake for 30 minutes. The dish is ready when the top is browned and the mac 'n' cheese is bubbly.
Total time:
Yield: 16 servings
Notes
I've been know to mix two or three different types of pasta in my make and cheese to play with the texture a little. I like to mix small macaroni and penne and the curly macaroni.
To freeze it, cut the Mac 'n' Cheese into pieces, wrap them individually in waxed paper and put them in a large freezer bag.
Collard Greens
Jackie Gordon
Sides, Gluten-Free
You can use any hearty greens to make this dish, but my Grandma always used collards, turnip and mustard greens in whatever combination she could find them. You need a lot of greens to make collards since they cook down to nothing. As a former slave food, collards used to be very cheap to buy and make. When I took over making them, Grandma would ask how much they cost. When I told her she would be horrified and tell me stories of how they were a nickel a pound in her day. She was also a stickler for not using the stems. "Stemmy" greens were a sign of being cheap or low-class. When greens were cheap, maybe you could afford to throw out the stems, but these days they're not. I find if you don't use the stems you have to buy a lot more greens. I strip off the leaves and chiffonade the stems. I cook them for a long time so they're nice and tender.
Ingredients
6 pounds of collard with some turnip or mustard greens mixed in, washed. Leave wet.
1/2 pound of fatty bacon, diced
10 cloves garlic, peeled and smashed
1/4 cup olive oil
1 pound smoked ham hocks or neck bones
1 pound of rutabagas, peeled and cubed
Kosher salt
Freshly ground black pepper
Hot sauce (optional)
Directions
Prepare the greens by stripping the leaves off the stems. Slice the leaves into 1/4" strips and julienne the stems, diagonally very finely.
In a small saucepan, cover the ham hocks or neck bones with water and bring them to a boil. Drain off the water.
In a large heavy bottomed stock pot,over a medium low flame, render the bacon until is crispy.
Remove the bacon bits from the pan, leave the fat and add olive oil. When the oil is hot, add the garlic and sauté until just golden.
Add the ham hocks or neck bones, the bacon bits and as many greens as will fit in the pot. Put on the lid. Allow the greens to steam for 10 minutes, open the pot, stir them, add more greens, continuing until you fit all the greens in the pot. Season with salt and pepper.
At this point, you can continue to cook the greens on the stove, but I like to transfer them to a large baking pan. I cover them with aluminum foil and cook them in a 300° oven, so I don't have to watch them carefully.
If you leave them in the pot, lower the flame.
Cook the greens for an hour and a half until they are tender. Adjust seasoning. Add a dash of hot sauce (or serve it on the side). Cool completely.
Total time:
Notes
I find that the greens taste better the next day after the flavors have a chance to meld. We call them Collard Greens even if we mix in turnip or mustard greens. You can also use kale, Swiss chard, cabbage, beet greens, and so forth.
Cheese Onion & Tomato Pie
Jackie Gordon
Mains, Sides, Vegetarian & Vegan, Breakfast & Brunch, Parties & Potlucks
This is my mom's Cheese, Onion & Tomato Pie based on the Savory Cheese and Onion Pie in "The Vegetarian Epicure" by Anna Thomas published in 1972. All my life, we've called it Cheese, Onion & Tomato Pie, but after I reached out to Anna Thomas and asked permission to publish this recipe, I looked it up and see that she has another recipe called Cheese & Tomato Pie in her book, The Vegetarian Epicure, Book Two. This is not that recipe although that one looks good too. My mom uses a frozen 9" pie crust for the pie, but the original recipe calls for a 10" shortcrust pastry. My mom adds Parmesan cheese to the recipe as well.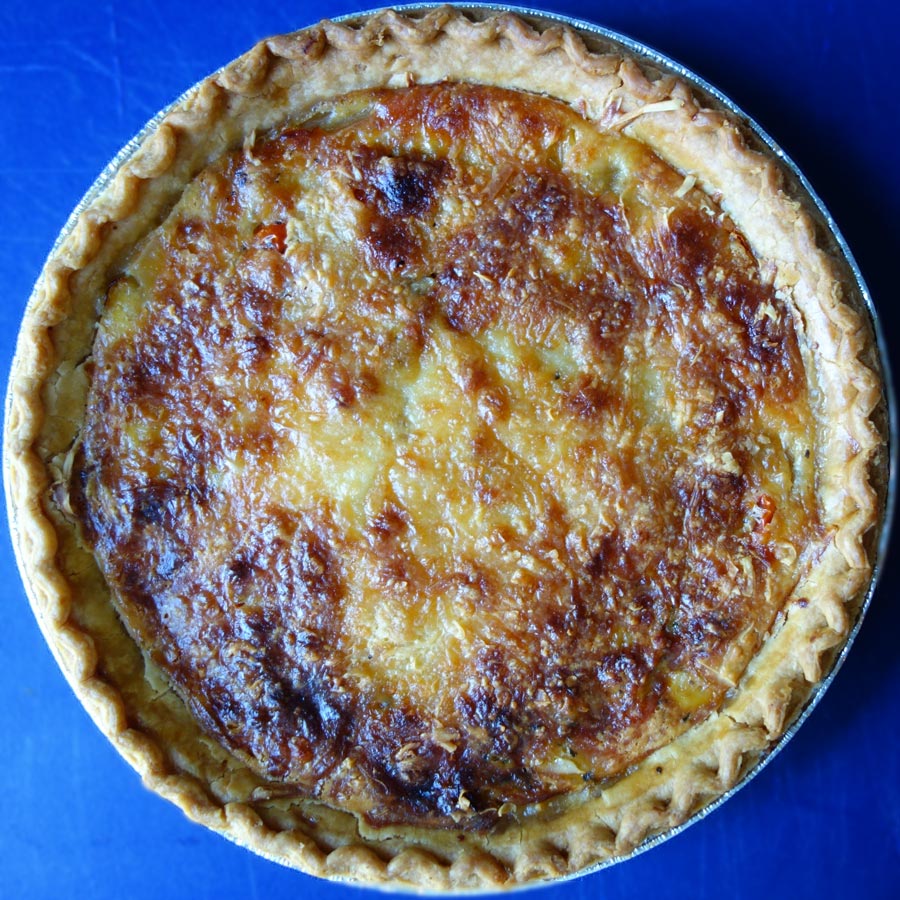 Ingredients
3 ounces Parmesan cheese, grated
10 ounces cheese: half Gruyere and half Swiss, grated and combined
2 tablespoons all-purpose flour
2 large onions, sliced
4 tablespoons butter
1 teaspoon fresh basil, chopped
2 large ripe, firm tomatoes, sliced
2 eggs
3/4 cup heavy cream
Directions
Defrost the pie crust or use a homemade crust.
Preheat the oven to 350 °.
Press the Parmesan cheese into the crust.
Grate all the cheese and toss with the flour.
Melt butter in a large skillet and sauté the onions, very gently in the butter until they begin to turn golden, about a half hour. Spread about 1/3 of the Gruyere-Swiss cheese over the bottom of a pie dish. Then spread the onions over it.
In the butter that is left in the pan, heat the tomato slices with the chopped basil for a minute or two. Arrange the tomato slices over the onions, then cover them with the remaining cheese.
Beat the eggs with the cream. Add salt and pepper and pour over the cheese.
Bake for 35 - 40 minutes
Total time:
Yield: 6 servings
Notes
We usually serve this as a side dish for Thanksgiving so we serve smaller portions. The original recipe says it's six servings.

Cupboard Harvest Pie
Jackie Gordon
Desserts & Chocolate
This pie recipe is perfect for using up leftover dried fruits that seem to accumulate in your cupboards. You can use any type and combination of dried fruits. They will plump up when you cook them with fresh apples or pears by absorbing their juices so the pie needs no thickeners.
Ingredients
6 large just ripe apples (or 8 large pears) peeled and cored, sliced chunky
3/4 cup granulated sugar
1/2 c dried cherries
1/2 c dried apricots
1/2 c dried golden raisins
1/2 c dried raisins or currants
1/2 lemon juiced and finely grated rind
1 tsp cinnamon
1/2 tsp freshly ground nutmeg
1/4 tsp powder ginger
pinch ground cloves
1/2 tsp salt
white sugar for sprinkling
Flaky pastry for a 9" double-crust pie. (I've included the lard pie crust recipe I used. It makes three crusts, so you'll have one extra one which opens a world of possibilities.)
Directions
Put all the ingredients, except the pie crust, in a heavy saucepan and bring to a gentle boil, stirring periodically. As the fresh fruit releases its juices, the dried fruit will absorb them. Be careful not to scorch the filling. If it gets too dry, add a little bit of water. Cook until the apples/pears are tender. Cool completely.
Preheat oven to 350 °. Line a 9" pie shell with pastry. Fill the pie shell with the filling mounding it slightly in the center. Add the top crust, seal the edges and cut four vents in the top to release excess moisture. Use the scraps to make pastry decorations, if you like.
Wet a pastry brush slightly an egg wash/egg whites/egg yolk mixed with a little water and brush the top crust and sprinkle it with sugar. Bake pie until the pastry is nicely browned about 35 minutes. Remove from the oven. Cool slightly. Serve with gingered creme fraiche.
Yield: 1 9" pie, eight servings
Notes
Use whatever dried fruits you want to get rid of to make this pie as long as you have 2 cups worth.