Wave Bye-Bye To Dry-Dry Turkey Meatballs
When someone says turkey meatloaf or turkey meatballs, I swear I can see a little puff of sawdust fly out of their mouth. Ground turkey is lean people! LEAN = DRY. Yeah, yeah… it's supposedly good for you… whatever! But it's no fun to eat if you have guzzle a can of lube to get it down your throat before eating it—that's disgusting! Did I write that?
You have to add moisture back into ground turkey and that's what I did by adding apples, cheddar cheese, and sautéed vegetables in my gluten-free turkey meatballs aka Fall Fowl Balls. I rolled them in crushed nuts for extra texture.
I was riffing off the classic pork sausage cheddar balls which I learned about a few years ago when I was looking for round food for my International Men With Balls brunch that I hosted when Obama was inaugurated for the second time. They're normally made with Bisquick, but I made them gluten-free then and continued the theme here. Here's the recipe for my Gluten Free Sausage, Cheddar & Chive Balls.You can substitute flour for potato starch if you want in this recipe. You could also use turkey sausage for this recipe and skip the spices depending on how delicious the turkey sausage meat you get is.
Share This:
Gluten Free Sausage, Cheddar & Chive Balls
Jackie Gordon
Appetizers & Snacks, Gluten-Free, Breakfast & Brunch, Parties & Potlucks
I live around the corner from Paisano's Meat Market on Smith Street in Brooklyn. They sell Italian sausage meat which is a fatty, spiced ground pork mixture studded with fennel seeds. You could pretty much mix anything into it and it would be AMAZING. When I was researching my International Men With Balls Brunch I came across this popular dish that's often made with Bisquick. Mine have a much higher ratio of I made gluten free sausage and cheddar balls.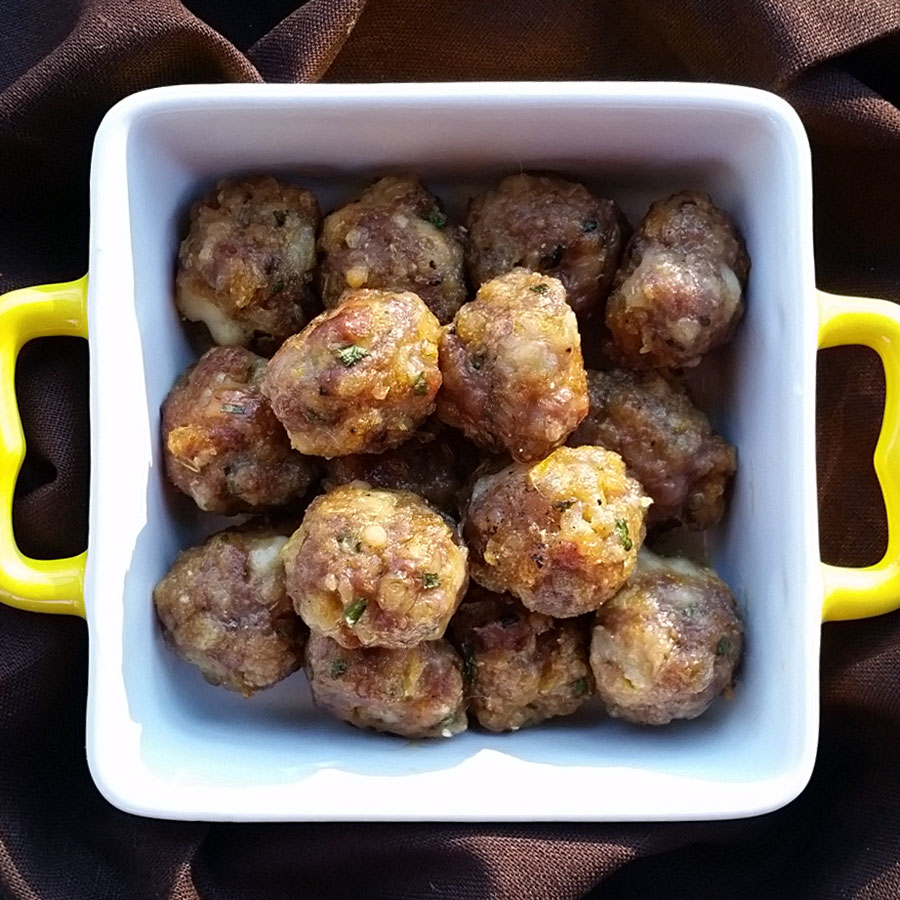 Ingredients
2 tablespoons cooking oil
1 large yellow onion, diced fine
2 pounds of sausage meat
1/2 cup tapioca starch
1/2 cup potato starch
1 tablespoon fresh parsley, chopped
1 tablespoon chives, chopped fine
2 cups grated extra sharp cheddar cheese
1 teaspoon smoked paprika
1 teaspoon of kosher salt
freshly ground black pepper
1/2 tsp cayenne powder (optional)
Cooking spray
Directions
Preheat oven to 350 °.
In a small skillet, sauté the onions until golden, stirring occasionally. Remove from heat. Cool.
In a small bowl, mix the sausage meat with the onions and the remaining ingredients.
Roll one ball. Heat the small skillet and cook off the ball to do a taste test. Adjust seasoning if necessary.
Roll remaining mixture into 1" round balls. Place on a lightly greased sheet pan.
Bake for 25 minutes until the balls are cooked through.
Total time:
Yield: 6 dozen balls
Notes
A number of recipes call for a dipping sauce or a glaze, but I think this meatier version is fine on it's own. That said, if you want prefer you can serve it with a bbq sauce or a spicy ketchup or sriracha.