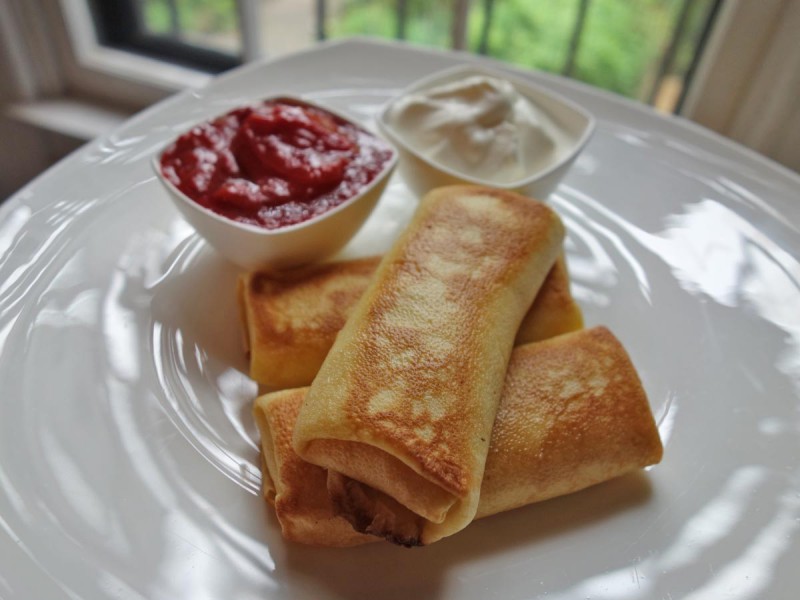 My mother's main request of me this Mother's Day was to PLEASE keep it simple. "I just want bagels, lox and cream cheese, to play Scrabble and watch Toy Story 3," she said.
I rolled my eyes. She knows I hate simple.
I said, "I have to make something—how about blintz soufflé?" She lit up because she LOVES blintzes and this casserole style of making them is pretty simple. Done.
Then I thought, there's no reason to take the easy way out since I wasn't making anything else. So I offered to make real blintzes and she didn't roll her eyes, so it was all good.
I like classic blintzes with a plain cheese filling on the inside, served with jam or fruit and sour cream. She found beautiful rhubarb at the market and adding strawberries was a natural and tasty progression.
The original recipe for Jewish cheese blintzes comes from Fran Zacharias of Munster, Indiana. Blintzes are similar to French crêpes, Polish nalesniki, Hungarian palacsinta and Serbian palachinke—thin pancakes that are rolled around various sweet or savory fillings. The difference is that blintz batter has twice the amount of eggs as crêpe batter.