Friday, February 14, 2014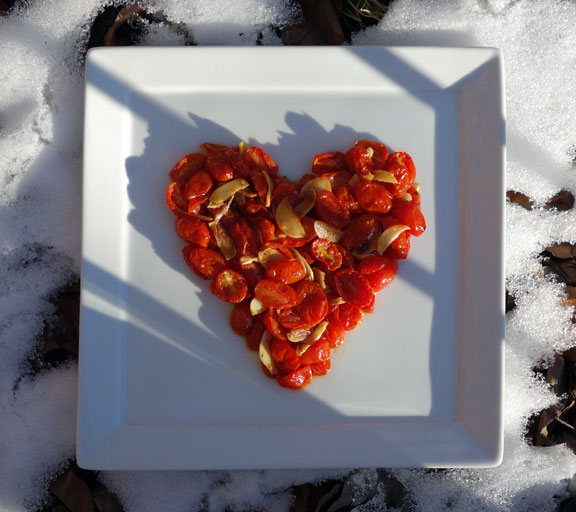 I never post seasonally because let's face it, I'm not that organized and methodical. The only thing that is predictable about me is that I resist predictability.
I like this about myself and only begrudgingly do anything orderly and repetitious, like drinking lemon water nearly every day because it's good for me (I hate it, but I do it).
Case in point, this was supposed to be my post for Valentines Day, but that did not work out. BUT, that's OK because the heart still makes sense since I'm in love. BUT… it's not unconditional love. It's highly conditional. Or should I say seasonal. [SINGS: This is no ordinary love]
Ode to a Grape Tomato
When my home grown tomatoes are et,
And the dark days of winter are set,
I don't wallow in grief and regret,
With grape tomatoes to stave off the threat.
I rely heavily on grape tomatoes to see me through the dark days of winter. Luckily, I'm not affected by the S.A.D. (Seasonal affective disorder) — the light or lack of light doesn't bother me one bit. But if it weren't for grape tomatoes, I would suffer from N.A.G.P.T.D (Not Another Pink Goddamn Tomato Disgust). Pink, tasteless, winter tomatoes make me want to cry. Why bother even eating or serving them? Do they have any nutritional value? Even the hot house roma tomatoes that are actually red, but tasteless, make me sad.
Grape tomatoes — preferably organic—are my solace. I slow roast them with lots of garlic all winter long. I always keep a batch of them in the fridge to remind me that tomatoes have flavor and my home grown ones will be coming back soon.
Here's a list of the ways I use them (pretty much anywhere and everywhere) and make them.